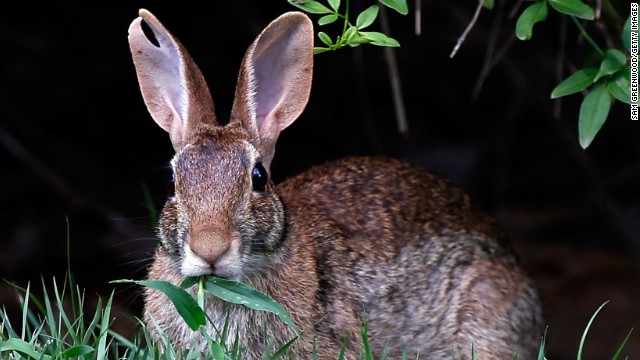 The Easter Bunny has long been associated with Christianity's most important holiday. Rabbits are an ancient symbol of
fertility, the moon and spring
. In Germany, springtime celebrations including a magical egg-laying hare called
Osterhase
helped lay the foundations for Easter baskets full of eggs and other goodies.
Chicks have long been part of Easter celebrations in many parts of the world. In Lebanon, where the chicks pictured here were found, people traditionally buy
Jews and Christians often eat lamb while celebrating Passover and Easter
, respectively.
Polish Easter tradition
includes sweets shaped like lambs, including sugar lambs and cake that's decorated to look like a lamb.
Lambs are associated with the resurrection of Jesus Christ and often the Christian faithful, but have old testament significance from the Exodus story.
Marc Morrone
, but they are difficult to care for as babies, and are often abandoned at local ponds after Easter.
Easter ducklings, like their feathery friends the chicks, also have a history as Easter gifts. It's hard to resist the fluffy down of a 2-week-old duckling. Ducks make excellent and loyal pets, according to animal expert
perhaps infamous, this year
) Punxsutawney Phil in Punxsutawney, Pennsylvania.
Groundhog Day
is a tradition in the United States and Canada that celebrates a groundhog's emergence from his winter den. Superstition holds that if a groundhog sees his shadow as he leaves the burrow, there will be six more weeks of winter weather. If the groundhog does not see his shadow, you can expect an early spring. Native Americans also have traditions of animals predicting the weather, and
groundhogs figure prominently in their religions and mythology
.
This is the famous (
fear of witches (said to turn into cats
) in the middle ages linked felines to the holiday.
Magical beasts have been part of Halloween since pre-Christian times. Hysterical
ancient religions
. The myths surrounding gods and supernatural beings who can predict the future or plot fate are often associated with spinning, thread, weaving and spider webs. But after all, spiders can be scary -- some bite! -- and spooky imagery is part of the Halloween tradition.
Spiders are also associated with Halloween imagery, thanks in part to their historic association with
nighttime bonfire
, which lit up the night sky. Bats don't have ancient associations with Halloween, but the night sky does -- and that's often where bats can be seen.
Bats are an unmistakable hallmark of Halloween. An ancient tradition associated with the holiday is the
46 million turkeys
. Benjamin Franklin was
so enamored of turkeys
that he suggested it represent the country as the national bird -- but the rest of the founding fathers preferred the bald eagle.
Cobbler, seen here, is one lucky Thanksgiving turkey. He was pardoned by President Barack Obama on November 21, 2012, at the White House, and avoided a roasty demise. The holiday is a unique American tradition that the turkey has come to represent: For Thanksgiving, 2011, people in the United States ate an estimated
born in modern-day Turkey
, far away from the nordic stomping grounds of reindeer. But Dutch and German traditions of "Sinterklaas" shaped the idea of Santa Claus, a jolly old man who lives at the North Pole -- with reindeer. Then, in 1939, the story of "Rudolph, the Red-Nosed Reindeer" was written by a Montgomery Ward department store copy editor. It hooked Americans on these adorable, wintery beasts.
Christmas is a Christian holiday celebrating the birth of Jesus Christ, but it was the worship of St. Nicholas that made reindeer significant to the holiday. St. Nicholas was
The Easter Bunny and his festive friends
Festive friends: Chicks
Festive friends: Lambs
Festive friends: Ducklings
Festive friends: Groundhogs
Festive friends: Black cats
Festive friends: Spiders
Festive friends: Bats
Festive friends: Turkeys
Festive friends: Reindeer