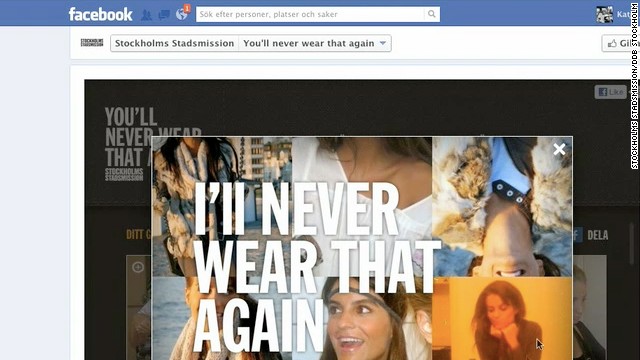 We all want to re-organize our closets and get rid of clothes, but none of us feel good about dragging a bag of clothes to the trash,right? By employing social media,
the Stockholm City Mission in Sweden
is hoping to save discarded treasures from the trash. Here's how it works:
a Facebook app
lets users tag photos with "you'll never wear that again," generating a collage of undesirable clothing that they can share on Facebook, Twitter or Instagram to encourage others. The app also shows where people can drop off their goods.
the first "farm-to-desk" initiative of its kind
. Innovating urban food production is directly rooted in the trend of sustainability, but what would it take for your company to go green like this?
Here's something you don't see every day: An office building with fruits and vegetables growing from its windows. It's called vertical farming and proponents say it has the potential to bring more fresh food into urban areas. The Tokyo headquarters of Japanese staffing agency Pasona uses the concept to save energy and grow food for their employees in what design blog Inhabit has called
aptly named "When Nature Calls" urinal pod
, which filters urine before delivering it to plants. Gandelman, an industrial designer for Priority Designs, created the concept while at the University of Cincinnati. The circular shape of the pods creates more privacy for users to "water the plants" than your average public bathroom urinal. They're also attached to planters so the filtered urine can water plants. For now, it's just a concept that has not been implemented anywhere, but which guy wouldn't love this?
Apparently, properly filtered urine can make a great plant fertilizer. I must've missed that part of science class. But Ohio-based industrial designer Eddie Gandelman says he has found a way to make peeing in public less embarrassing and more eco-friendly with his
According to designer Frederic Perers
, the eco-friendly cleaning center features steel surfaces that reflect orange tones on the opposite wall, serving as a "warm counterelement to the coldness of the metal." But will a club-like atmosphere really attract a younger clientele?
What do you get when you cross being fresh with even fresher? A laundromat that looks like a club! Splash, a chain of self-service laundromats in Spain, are a far cry from your average dingy neighborhood washhouse.
A playground at the Charter School for Science and Technology in Louisiana
powers solar add-ons like fans, water dispensers and illuminated inspirational phrases via 400 solar panels installed on the canopy. Energy company NRG Solar says the renewable energy provided by this setup reduces the school's energy usage by one-third. If that proves to be true, we'll probably be seeing more outdoor installations like this in the near future.
Say what you will about technology but it's certainly allowing children to grow up in a very interesting time. Who would have ever thought of swing-sets, slides and solar panels all in one space?
Using Facebook photos to empty your closet
Vertical farming helps feed urban dwellers
A public urinal that fertilizes urban greenery
Eco-friendly laudromat or nightclub?
Solar panels power playground add-ons