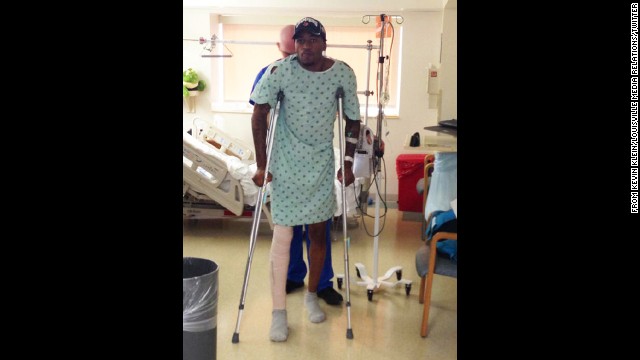 Louisville Cardinals guard Kevin Ware stands up with the aid of crutches on Monday, April 1, in a photo posted on Twitter by Kenny Klein from Louisville media relations. Ware snapped his leg after trying to block a shot against the Duke Blue Devils during their Midwest Regional NCAA men's basketball game on Sunday, March 31, in Indianapolis. Ware was taken to the hospital and had surgery that night. The gruesome injury left his teammates in tears, but they went on to defeat Duke 85-63.
Medical staff tend to Ware after he broke his leg on Sunday, March 31.
Ware tries to block Duke guard Tyler Thornton in the first half before landing awkwardly, snapping the bones in his lower leg.
From left, Russ Smith, Gorgui Dieng, Chane Behanan and assistant coach Kevin Keatts of the Cardinals react after Ware's injury.
Duke head coach Mike Krzyzewski, right, shares a moment with Louisville head coach Rick Pitino as medical technicians take care of Ware.
Teammates Peyton Siva, left, and Russ Smith hold Ware's hands.
Wayne Blackshear of the Louisville Cardinals sits dejected under the basket.
Louisville players react to Ware's injury.
The Cardinals huddle up on the court.
Ware is taken off the court on a stretcher.
Ware's teammates hold his jersey with the Midwest regional champion trophy after they won 85-63 against Duke.
Peyton Siva posted a photo of Ware in the hospital with the trophy.
Kevin Ware's gruesome leg break
Kevin Ware's gruesome leg break
Kevin Ware's gruesome leg break
Kevin Ware's gruesome leg break
Kevin Ware's gruesome leg break
Kevin Ware's gruesome leg break
Kevin Ware's gruesome leg break
Kevin Ware's gruesome leg break
Kevin Ware's gruesome leg break
Kevin Ware's gruesome leg break
Kevin Ware's gruesome leg break
Kevin Ware's gruesome leg break