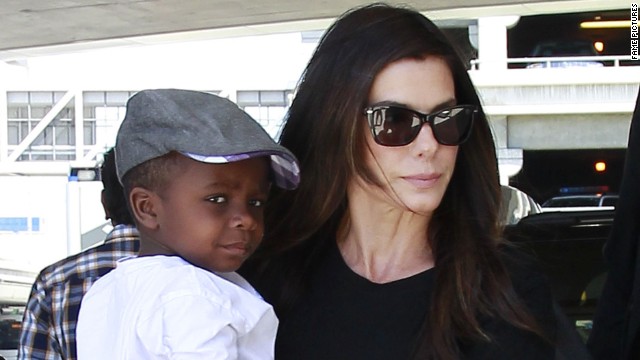 At age 45,
Sandra Bullock revealed in April 2010
that she'd adopted a baby boy, Louis Bardo, from New Orleans.
Halle Berry gave birth to her daughter, Nahla, in March 2008. Nahla's father is Gabriel Aubry. The actress, 46, is pregnant with her second child -- her first with husband Olivier Martinez.
Kelly Preston was 47 when she and husband John Travolta welcomed Benjamin.
Julianne Moore's daughter, Liv Helen, was born in April 2002. Moore was 41 at the time. Her son, Caleb, was born in 1997.
Luna
for short.) Thurman also has two children with Ethan Hawke. She is pictured here with son Levon Hawke.
At 42, Uma Thurman welcomed her first child with Arpad Busson, Rosalind Arusha Arkadina Altalune Florence Thurman-Busson, in 2012. (But you can call her
Nicole Kidman, 41 at the time, and Keith Urban welcomed daughter Sunday Rose into the world in 2008.
Celine Dion and her husband, René Angelil, welcomed twin boys in 2010. Dion was 42 at the time.
Tina Fey gave birth to her second daughter, Penelope, in 2011, when she was 41. Her daughter Alice was born in 2005.
Salma Hayek was 41 when she gave birth to Valentina Paloma Pinault in 2007. Her husband is Francois-Henri Pinault.
Meryl Streep gave birth to her fourth child, daughter Louisa, just before her 42nd birthday. Streep's husband is sculptor Donald Gummer.
At 41, Nia Long welcomed her second child in November 2011. Long is shown here with her first child, Massai Dorsey II.
Celeb moms older than 40
Celeb moms older than 40
Celeb moms older than 40
Celeb moms older than 40
Celeb moms older than 40
Celeb moms older than 40
Celeb moms older than 40
Celeb moms older than 40
Celeb moms older than 40
Celeb moms over 40
Celeb moms older than 40