China to open disputed islands to tourism
April 8, 2013 -- Updated 1753 GMT (0153 HKT)
STORY HIGHLIGHTS
Sightseeing cruises flagged to start in April on disputed island
Area is in a region claimed by a number of Asian countries
China considers Sansha its newest city
Hong Kong (CNN) -- Sightseeing cruises to China's newest city, Sansha, located on a disputed island in the South China Sea, are set to commence this month, according to a Chinese official.
The move is certain to add to the dispute over sovereignty claims to the area.
Woody Island, known as Yongxing Island in Chinese, has a population of about a thousand, including military personnel. It's located 300 kilometers southeast of Hainan and was established as China's latest prefecture in June 2012.
The city of Sansha has the smallest land area, but the largest sea area in China.
Sansha's government has been set up to administer the Spratly Islands (Nansha Islands), the Macclesfield Bank (Zhongsha Islands) and the Paracel Islands (Xisha Islands), which include Woody Island.
The islands are partly claimed by Vietnam, Malaysia, the Philippines, Brunei and Taiwan.
Shown in the map above are the islands. Closest to Sanya are the Paracel Islands. Further east is the Macclesfield Bank and south are the Spratlys.
Sightseeing only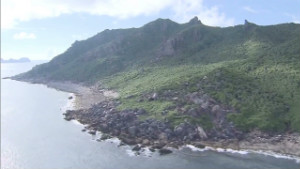 Islands in dispute.
The cruise tour statement is a sign that China is bolstering its claim to the territory.
Visitors won't be allowed to stay on the island. Instead, cruise-goers will eat and sleep onboard and only sightsee on the island, said Hainan deputy governor Tan Li at press conference at the annual Boao Forum for Asia over the weekend.
"We have started the planning and development of Sansha, including basic infrastructure, at full speed," Tan was quoted by state-run Xinhua News Agency (Chinese).
"Sansha's sightseeing routes, scenic spots and docking locations have been confirmed. We are hoping to begin [the cruise operation] before May 1."
Some 12 projects, including a berth for larger supply ship, freshwater supply, sewage and garbage treatment facilities are under development in Sansha.
The first phrase of Yongxing Pier has been completed and begun trial operation.
Sansha's first mayor, Xiao Jie, said last month the development and improvement of Sansha city will strengthen China's sovereignty of the islands.
Xiao said that the priority would be conservation of the natural habitat, according to the state's travel network, The Travel Channel.

Today's five most popular stories
Part of complete coverage on
November 16, 2014 -- Updated 2326 GMT (0726 HKT)

Take a trip to the Chinese town that has more relics than people.
November 13, 2014 -- Updated 1742 GMT (0142 HKT)
You know about reggae and Usain Bolt -- but you probably aren't aware of these other Jamaican superlatives.
November 14, 2014 -- Updated 1152 GMT (1952 HKT)

Artist creates brilliant tribute to Dutch impressionist painter -- a cycle route that glows in the dark
November 14, 2014 -- Updated 0633 GMT (1433 HKT)

European airlines beware: These 320kph trains are upping the travel game with roomy seats and onboard wi-fi.
November 13, 2014 -- Updated 1053 GMT (1853 HKT)
For such a relatively small collection of islands, the UK packs in an phenomenal range of beautiful scenery.
November 12, 2014 -- Updated 2237 GMT (0637 HKT)

Rovos Rail's epic trips out of South Africa pamper passengers with fine dining, vintage comfort and even a bathtub.
November 18, 2014 -- Updated 0137 GMT (0937 HKT)

Self-taught Iranian photographer gains rare access to shoot religious buildings as they've never been seen.
November 11, 2014 -- Updated 0345 GMT (1145 HKT)

The subject of erotica has a way of making people uncomfortable.
November 7, 2014 -- Updated 0037 GMT (0837 HKT)

UK's Heathrow Airport pairs destinations with fragrances to evoke long distance travel. We do too.
November 6, 2014 -- Updated 2100 GMT (0500 HKT)

Bumper cars, a freefall simulator and robot bartenders are just a few of the cool features on Royal Caribbean's new Quantum of the Seas.
November 2, 2014 -- Updated 2258 GMT (0658 HKT)

Up in the mountains and across deep chasms, these bridges are both spectacular and terrifying.