STORY HIGHLIGHTS
Margaret Thatcher was the UK's first female prime minister
She had changed the philosophy of the Conservatives as well other parties
Thatcher founded popular capitalism in Britain
Her strength made her an icon to conservatives in many parts of the world
Editor's note: Robin Oakley was political editor and columnist for The Times newspaper in London from 1986 to 1992, and the BBC's political editor from 2000 to 2008.
(CNN) -- Margaret Thatcher was one of the defining personalities of the 20th century.
In diplomacy, economics, society and as a woman, she had enormous impact at home and abroad.
The test of a statesman is whether he or she changes the political weather. Thatcher, who won an unprecedented three consecutive general elections, certainly did that as UK prime minister from 1979 to 1990.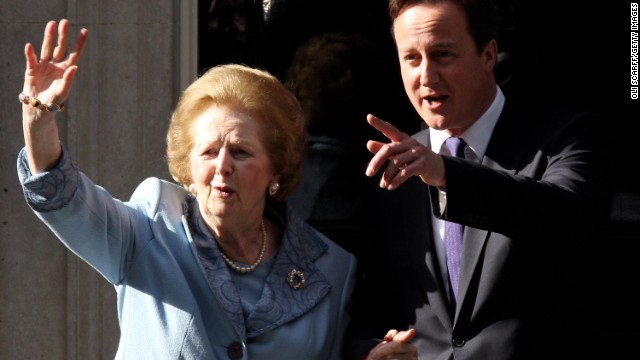 Margaret Thatcher, the first woman to become British prime minister, has died at 87 after a stroke, a spokeswoman said Monday, April 8. Known as the "Iron Lady," Thatcher, as Conservative Party leader, was prime minister from 1979 to 1990. Here she visits British Prime Minister David Cameron at 10 Downing Street in London in June 2010.
Thatcher with her parents and sister Muriel in 1945. Thatcher, born Margaret Hilda Roberts in 1925, studied chemistry at Oxford University and worked as a research chemist before becoming a barrister in 1954.
Conservative Party candidate Margaret Roberts, the youngest candidate for any party in the 1950 general election, works in a laboratory where she was a research chemist.
The Conservative Party candidate for Dartford in Kent, England, meets some potential constituents in January 1950.
Thatcher chats with a police officer outside the House of Commons, where she took a seat as a member of Parliament for Finchley in October 1959.
Thatcher addresses a Conservative Party conference in October 1967.
Thatcher in 1970. Within five years, she would become leader of the Conservatives.
Prime Minister Edward Heath with 13 of 15 newly elected Conservative women members of Parliament outside the House of Commons in June 1970. Thatcher became secretary of state for education and science under Heath.
Thatcher plays the piano for her husband, Denis, and their twins, Mark and Carol, then 17, in September 1970.
Thatcher takes over from Edward Heath as leader of the Conservative Party in 1975.
Thatcher addresses Conservatives at the start of the 1979 election campaign. William Whitelaw, at her right, later became home secretary and deputy prime minister under Thatcher.
Thatcher, becoming the first female prime minister of a European country, stands with her husband, Denis, outside 10 Downing Street in May 1979 after her party's success in the general election.
Thatcher with her new Cabinet in June 1979.
Chinese leader Deng Xiaoping and Thatcher at the Great Hall of the People in Beijing in September 1982. They were holding meetings leading up to the signing of the Sino-British Joint Declaration on the future of Hong Kong in 1984.
Thatcher meets personnel aboard the HMS Antrim during her trip to the Falkand Islands in January 1983. The United Kingdom fought a short war with Argentina over the Falklands in 1982, responding with force when Buenos Aires laid claim to the islands.
Thatcher and her husband, Denis, left, visit a school in the Falkland Islands in 1983.
Thatcher secures her second term of office in June 1983. She won a landslide re-election on the heels of the Falklands victory, with her Conservative Party taking a majority of seats in Parliament with 42% of the vote.
Thatcher and President Ronald Reagan share a joke in London in June 1984. The British politician enjoyed a close working relationship with Reagan, with whom she shared similar conservative views.
Thatcher addresses a Conservative Party conference in Brighton, England, following an IRA bombing of the Grand Hotel, where many delegates were staying, in October 1984.
Thatcher addresses the Conservative Party in May 1985.
Thatcher receives Spain's King Juan Carlos and Queen Sofia at 10 Downing Street in April 1986.
Thatcher and Soviet leader Mikhail Gorbachev at the start of talks at the Kremlin in Moscow in March 1987.
Thatcher and her husband, Denis, wave to the crowd at a London polling station in June 1987. She was re-elected to another term as prime minister that year with a slightly reduced majority.
Thatcher dances with Reagan in November 1988 following a state dinner given in her honor at the White House.
Thatcher greets Nelson Mandela on the steps of 10 Downing Street in July 1990. The anti-apartheid activist and future South African president had been freed that year after more than 25 years as political prisoner.
Thatcher, flanked by her husband Denis, addresses the press for the last time at 10 Downing Street before her resignation as prime minister in November 1990 after an internal leadership struggle among Conservatives.
The former prime minister chats with President George H.W. Bush in March 1991 in the White House Oval Office before receiving the Presidential Medal of Freedom. The award is the highest civilian honor bestowed in the United States.
Thatcher, with her son, Mark, and her daughter, Carol, watches the coffin of her husband, Denis, during his funeral in July 2003 in London. Denis Thatcher died at age 88.
Thatcher touches the flag-draped coffin of Reagan as he lies in state in the U.S. Capitol Rotunda in June 2004. In a prerecorded video at his funeral, she called Reagan "a great president, a great American and a great man." "And I have lost a dear friend," she said.
Thatcher, from left, Cherie Blair, Queen Elizabeth II and Prime Minister Tony Blair attend a church service at Pangbourne College in June 2007 to mark the 25th anniversary of victory in the Falklands War.
An usher helps Thatcher, now a baroness, to her seat during the state opening of Parliament in November 2009.
The ex-prime minister helps unveil a portrait of herself at the opening of the Margaret Thatcher Infirmary at the Royal Hospital Chelsea in London in March 2009.
Pope Benedict XVI greets Thatcher in St. Peter's Square at the Vatican in May 2009.
Thatcher attends the House of Lords during the state opening of Parliament in May 2010.
Thatcher waves from the door of her London home after a hospital stay to operate on a broken arm in June 2009. She had a pin placed in her shoulder after suffering a fall.
Thatcher waves to journalists from her London home after another hospital visit -- this time with a bout of flu -- in November 2010.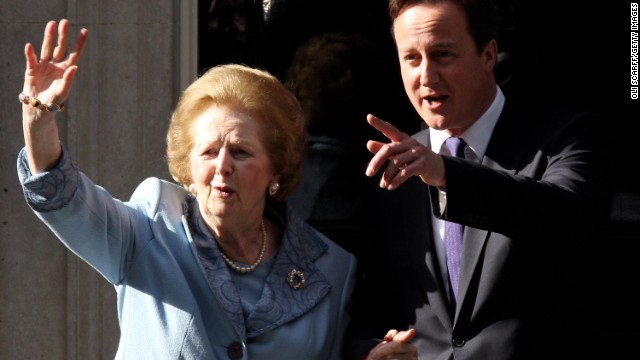 Photos: Thatcher through the years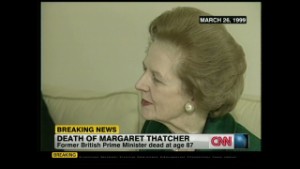 Kissinger: Thatcher was a great lady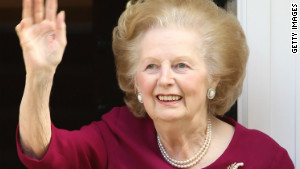 Margaret Thatcher's economic legacy
What do you think about the loss of Britain's 'Iron Lady'? Share your thoughts on CNN iReport
But Thatcher not only changed the philosophy of her own party, the right-leaning Conservatives, she also forced other parties to change their whole approach to politics. Since Thatcher, all British mainstream parties have been believers, more or less, in the market economy.
No other British politician during the second half of the 20th century had his or her own "ism" -- but Margaret Thatcher did with "Thatcherism," defined by some as the application of a housewife's home budgeting to the national economy, coupled with the encouragement of home ownership and entrepreneurial capitalism.
READ: Margaret Thatcher, Britain's first female PM, dead at 87
Her first achievement, easily forgotten now, was to go as far as she did in politics as a woman: She was, after all, the UK's first female prime minister. It was much harder then, and the best she had hoped for when she started her political career was to become chief finance minister as Chancellor of the Exchequer.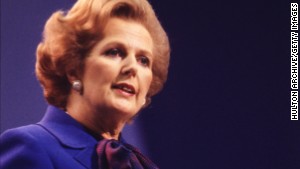 2012: Photographing the 'Iron Lady'
When she entered 10 Downing Street, the prime minister's official residence, Thatcher headed a Cabinet in which most ministers had voted for her predecessor Edward Heath. Soon, in scribbled comments on the margins of Cabinet papers, the prime minister derided as "wets" those fellow ministers who were aghast at the budgets driven through by herself and Chancellor Geoffrey Howe.
Her colleagues and advisers told her that she could not reform the trades' unions that had brought the country to its knees during the 1970s through industrial action and seen off the previous Conservative government. Only governments run by Labour - the Conservatives' main rivals for power -- could do that, they said. But Thatcher brought the unions under control and no government since has reversed the measures she took.
READ: Tributes paid to 'great leader, great Briton'
Diplomats and ambassadors told her she could not get back from the European Union what she liked to refer to as "our money," the contribution paid by the UK as part of its membership of Europe. But Thatcher "handbagged" her way through European summits till the UK secured a unique budget rebate which no prime minister has dared to negotiate away ever since.
Unafraid to go to war, at home and in the Falklands
Above all, advisers told her there was no prospect of fighting a far-away war and winning back the Falklands Islands after Argentina's invasion in 1982 -- but she did. As the late Washington diplomat Lawrence Eagleburger later confirmed, it was U.S. officials' fear of her personal wrath which brought crucial intelligence help from Washington.
With her program of selling off homes rented to tenants by regional councils and the privatization of state-controlled industries, Thatcher founded popular capitalism in Britain. Nobody would understand what was meant by "Heathism" or "Wilsonianism" or even "Blairism," all creeds associated with previous prime ministers. But the British people still have a clear idea of what Thatcherism was all about.
Thatcher took power in a period when most commentators and politicians had accepted that the only role for Britain was the least painful management possible of gentle decline. Instead, she restored a sense of national pride and purpose, enabling Britain to continue punching above its weight in international affairs.
By taking on the power of the trades' unions, many say she gave managements back the power to manage. But in her revolutionary march through the institutions of British society, she didn't go as far as many Thatcher zealots would have liked, especially when it came to introducing the open market to health and education services.
WATCH: Falklands War clouds Thatcher's legacy
Soviets respected her as 'The Iron Lady'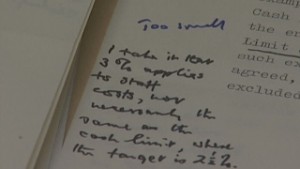 2009: Inside Margaret Thatcher's papers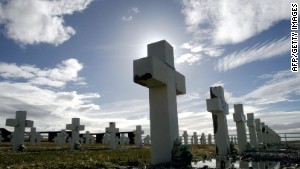 Falklands War clouds Thatcher's legacy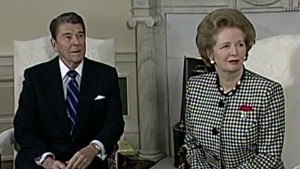 How Thatcher, Reagan clicked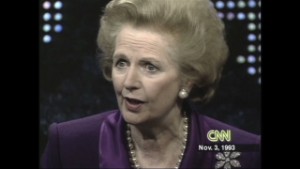 Remembering Margaret Thatcher
Overseas, Thatcher became a true power broker on the international scene, seeing Russia's President Mikhail Gorbachev as a man with whom she could "do business" and re-charging her ideological batteries in exchanges with U.S. President Ronald Reagan.
The "Iron Lady," as the Moscow media christened her, became a world figure. Her fondness for Ronald Reagan did not stop her bawling him out in 1983 when he allowed American forces to invade Grenada, a member of the Commonwealth, or telling him off for (in her view) conceding too much to Gorbachev in arms negotiations. But she engendered respect rather than love, especially when she fought the rest of the Commonwealth by opposing economic sanctions against the apartheid regime in South Africa.
The authority she gained did not mean there were not mistakes along the way. Some economists blame her governments for wrecking British manufacturing. They say it was under Thatcher's financial ministers that chronic underspending on Britain's public services created problems that are still being rectified today. Critics contend that hers was not a tolerant society and she ensured that Britain's role in Europe become that of permanent irritant rather than profitable partner.
Aided and abetted by sections of the media, it seemed Thatcher came to believe in the myth of her own invincibility. That was what led her into mistakes including the poll tax -- a charge that saw dukes and domestic cleaners paying the same local dues -- and increasingly shrill anti-Europeanism, which alarmed even her own party and eventually led them to discard a leader who had won them three consecutive elections.
U.S. political figures react to Lady Thatcher's death
Proud but isolated
Thatcher's vote-winning drive had forced Britain's other parties to change their thinking to remain in touch with the electorate. But when the poll tax - a levy on individuals -- and her "no, no, no" response to Europe frightened her party into dumping her in 1990, they woke up the next morning and felt guilty about what they had done to their one-time heroine.
Many Tories then adopted Euro-skepticism as a badge of loyalty to the discarded leader and made the party virtually unleadable under Thatcher's successor John Major. As her friend the novelist Jeffrey Archer put it, this turned the Conservative party into the only known example of a "circular firing squad." The appealing certainties of a "conviction politician" had turned a party that had been interested previously in the gaining and retention of power into an ideological sect more concerned with winning arguments than elections.
During Thatcher's party leadership she purged her team of moderates who backed previous leaders like Ted Heath as well as other doubters. She quarreled with other strong figures like Chancellor Nigel Lawson and leadership rival Michael Heseltine, and she sought compliant government officials, inquiring in advance of key Civil Service appointments: "Is he one of us?"
By the time she fell out with Howe, provoking him to deliver a ministerial resignation speech which began her own downfall, he was the only survivor of her first Cabinet.
Thatcher's strength and drive made her an icon to conservatives in many parts of the world, especially in eastern Europe. She possessed the certainties of a tabloid newspaper editor, and her eagerness to see the power of central government reduced even made her a heroine to some of today's Tea Party enthusiasts in the United States. Few European politicians since have been so capable of drawing an American audience.
The irony though is that while her election results show the pull she exerted through her strong leadership, her populist streak and her raising of the British profile, many Britons never really identified with the underlying values of the woman who became, both in her time as prime minister and in the years to come, a national icon.
READ: Opinion: Thatcher biopic 'useful propaganda' for UK Conservatives