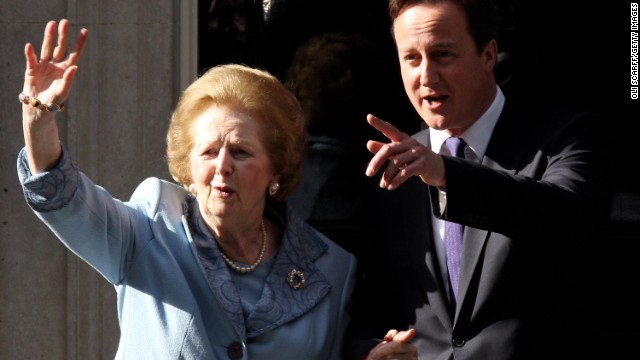 Margaret Thatcher
, the first woman to become British prime minister, has died at 87 after a stroke, a spokeswoman said Monday, April 8.
Known as the "Iron Lady,"
Thatcher, as Conservative Party leader, was prime minister from 1979 to 1990. Here she visits British Prime Minister David Cameron at 10 Downing Street in London in June 2010.
Thatcher with her parents and sister Muriel in 1945. Thatcher, born Margaret Hilda Roberts in 1925, studied chemistry at Oxford University and worked as a research chemist before becoming a barrister in 1954.
Conservative Party candidate Margaret Roberts, the youngest candidate for any party in the 1950 general election, works in a laboratory where she was a research chemist.
The Conservative Party candidate for Dartford in Kent, England, meets some potential constituents in January 1950.
Thatcher chats with a police officer outside the House of Commons, where she took a seat as a member of Parliament for Finchley in October 1959.
Thatcher addresses a Conservative Party conference in October 1967.
Thatcher in 1970. Within five years, she would become leader of the Conservatives.
Prime Minister Edward Heath with 13 of 15 newly elected Conservative women members of Parliament outside the House of Commons in June 1970. Thatcher became secretary of state for education and science under Heath.
Thatcher plays the piano for her husband, Denis, and their twins, Mark and Carol, then 17, in September 1970.
Thatcher takes over from Edward Heath as leader of the Conservative Party in 1975.
Thatcher addresses Conservatives at the start of the 1979 election campaign. William Whitelaw, at her right, later became home secretary and deputy prime minister under Thatcher.
Thatcher, becoming the first female prime minister of a European country, stands with her husband, Denis, outside 10 Downing Street in May 1979 after her party's success in the general election.
Thatcher with her new Cabinet in June 1979.
Chinese leader Deng Xiaoping and Thatcher at the Great Hall of the People in Beijing in September 1982. They were holding meetings leading up to the signing of the Sino-British Joint Declaration on the future of Hong Kong in 1984.
Thatcher meets personnel aboard the HMS Antrim during her trip to the Falkand Islands in January 1983. The United Kingdom fought a short war with Argentina over the Falklands in 1982, responding with force when Buenos Aires laid claim to the islands.
Thatcher and her husband, Denis, left, visit a school in the Falkland Islands in 1983.
Thatcher secures her second term of office in June 1983. She won a landslide re-election on the heels of the Falklands victory, with her Conservative Party taking a majority of seats in Parliament with 42% of the vote.
Thatcher and President Ronald Reagan share a joke in London in June 1984. The British politician enjoyed a close working relationship with Reagan, with whom she shared similar conservative views.
Thatcher addresses a Conservative Party conference in Brighton, England, following an IRA bombing of the Grand Hotel, where many delegates were staying, in October 1984.
Thatcher addresses the Conservative Party in May 1985.
Thatcher receives Spain's King Juan Carlos and Queen Sofia at 10 Downing Street in April 1986.
Thatcher and Soviet leader Mikhail Gorbachev at the start of talks at the Kremlin in Moscow in March 1987.
Thatcher and her husband, Denis, wave to the crowd at a London polling station in June 1987. She was re-elected to another term as prime minister that year with a slightly reduced majority.
Thatcher dances with Reagan in November 1988 following a state dinner given in her honor at the White House.
Thatcher greets Nelson Mandela on the steps of 10 Downing Street in July 1990. The anti-apartheid activist and future South African president had been freed that year after more than 25 years as political prisoner.
Thatcher, flanked by her husband Denis, addresses the press for the last time at 10 Downing Street before her resignation as prime minister in November 1990 after an internal leadership struggle among Conservatives.
The former prime minister chats with President George H.W. Bush in March 1991 in the White House Oval Office before receiving the Presidential Medal of Freedom. The award is the highest civilian honor bestowed in the United States.
Thatcher, with her son, Mark, and her daughter, Carol, watches the coffin of her husband, Denis, during his funeral in July 2003 in London. Denis Thatcher died at age 88.
Thatcher touches the flag-draped coffin of Reagan as he lies in state in the U.S. Capitol Rotunda in June 2004. In a prerecorded video at his funeral, she called Reagan "a great president, a great American and a great man." "And I have lost a dear friend," she said.
Thatcher, from left, Cherie Blair, Queen Elizabeth II and Prime Minister Tony Blair attend a church service at Pangbourne College in June 2007 to mark the 25th anniversary of victory in the Falklands War.
An usher helps Thatcher, now a baroness, to her seat during the state opening of Parliament in November 2009.
The ex-prime minister helps unveil a portrait of herself at the opening of the Margaret Thatcher Infirmary at the Royal Hospital Chelsea in London in March 2009.
Pope Benedict XVI greets Thatcher in St. Peter's Square at the Vatican in May 2009.
Thatcher attends the House of Lords during the state opening of Parliament in May 2010.
Thatcher waves from the door of her London home after a hospital stay to operate on a broken arm in June 2009. She had a pin placed in her shoulder after suffering a fall.
Thatcher waves to journalists from her London home after another hospital visit -- this time with a bout of flu -- in November 2010.
Margaret Thatcher through the years
Margaret Thatcher through the years
Margaret Thatcher through the years
Margaret Thatcher through the years
Margaret Thatcher through the years
Margaret Thatcher through the years
Margaret Thatcher through the years
Margaret Thatcher through the years
Margaret Thatcher through the years
Margaret Thatcher through the years
Margaret Thatcher through the years
Margaret Thatcher through the years
Margaret Thatcher through the years
Margaret Thatcher through the years
Margaret Thatcher through the years
Margaret Thatcher through the years
Margaret Thatcher through the years
Margaret Thatcher through the years
Margaret Thatcher through the years
Margaret Thatcher through the years
Margaret Thatcher through the years
Margaret Thatcher through the years
Margaret Thatcher through the years
Margaret Thatcher through the years
Margaret Thatcher through the years
Margaret Thatcher through the years
Margaret Thatcher through the years
Margaret Thatcher through the years
Margaret Thatcher through the years
Margaret Thatcher through the years
Margaret Thatcher through the years
Margaret Thatcher through the years
Margaret Thatcher through the years
Margaret Thatcher through the years
Margaret Thatcher through the years
Margaret Thatcher through the years