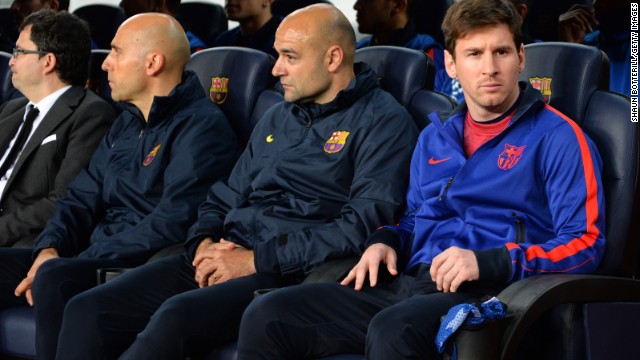 Lionel Messi started the evening on the bench after picking up a hamstring injury during last week's first leg in Paris. The four-time World Player of the Year missed the weekend's win over Mallorca and was deemed fit enough to be named as a substitute.
David Beckham had to make do with a place on the substitutes bench for Paris Saint-Germain. The former Real Madrid man had hoped to earn a start against his old club's great rival.
Andres Iniesta is surrounded by PSG defenders during a frantic first half at Camp Nou. Both teams pushed forward in a contest played at rapid pace.
Former Barcelona striker Zlatan Ibrahimovic, now in the colors of PSG, proved a constant menace in the first half. The Swede, who scored in the first leg, gave the home defense plenty to think about.
After wasting a whole host of chances in the first half, PSG finally made the breakthrough when Javier Pastore fired home five minutes after the interval. The Argentina international ran onto Ibrahimovic's through ball before beating Barcelona keeper Victor Valdes.
Within nine minutes of Messi's introduction, Barcelona moved level when Pedro fired a rasping effort into the corner following a lovely, intricate move. That strike made it 1-1 on the night, 3-3 on aggregate and put the home side back in front on away goals.
Messi's 62nd minute introduction ultimately made the difference, while Beckham was left to reflect on what might have been following his team's exit from the competition.
Bayern Munich's Mario Mandzukic and Juventus' Giorgio Chiellini challenge for the ball during the second leg of the Champions League quarterfinal tie. Bayern won the opening contest 2-0 last week and arrived in Italy just days after winning the German title.
Mandzukic killed off any hopes of a Juventus comeback by heading from close-range with 64 minutes on the clock.
Claudio Pizarro wrapped up a 2-0 win for Bayern in the last minute to seal a 4-0 aggregate victory and make it two German teams in the last four. Bayern joins Borussia Dortmund, which defeated Malaga Tuesday.
Watching brief
Becks appeal
French resistance
Zlatan's back
Perfect Pastore
Pedro power
Star quality
Bayern cruise
Super Mario
End game
STORY HIGHLIGHTS
Barcelona claims 1-1 draw against PSG to qualify for semifinals
Barca progresses on away goals after teams finish level at 3-3 on aggregate
Bayern Munich eased past Juventus 2-0 in Turin
Last year's runner-up Bayern won 4-0 on aggregate
(CNN) -- Las Ramblas rumbled. The foundations of La Sagrada Familia began to shake. Camp Nou was silenced.
A shadow cast itself across the city as the sun dipped beneath the stands.
Amidst the rising tension a diminutive figure rose. He bent down, tied his laces and strode forward.
Cometh the hour, cometh the man.
Read: Is Barca's backline strong enough?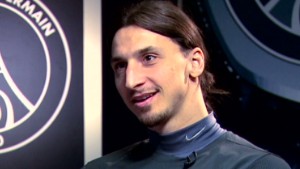 Exclusive: What makes Ibrahimovic tick?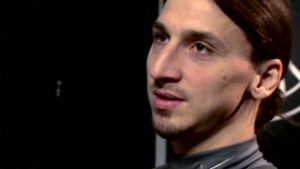 Ibrahimovic reveals biggest weakness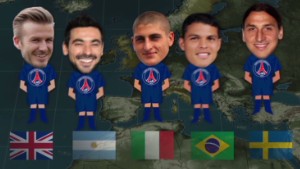 PSG: One year on
Those sat around the amphitheater rose in celebration, the enemy shrunk back into their skins, the victory was already assured.
As Lionel Messi placed his feet onto the Camp Nou turf you could see a visible chill go down the spine of each and every Paris Saint-Germain player.
Leading 1-0 and with a place in the semifinals of the Champions League within touching distance, PSG looked set to produce one of the most remarkable results of the competition.
A 2-2 draw in last week's first leg appeared to have given Barcelona the edge in a tie which the Catalan club was expected to breeze through.
But when Javier Pastore shook the very foundations of one of Europe's greatest bastions, a cloud began to descend upon manager Tito Vilanova and his ailing players.
Barcelona might be 13 points clear at the top of La Liga, but this was not a performance which engendered confidence.
Suddenly there was doubt, anxiety, even fear. And then in a matter of minutes, everything had changed. Order had been restored.
Just nine minutes after Messi's introduction, Barcelona was level as the French resistance wilted under the wizardry of the game's most talented attacking force.
The four-time World Player of the Year has scored 57 times this season, but just his mere presence was enough to unnerve his opponents.
A 1-1 draw was enough to take Barcelona through on away goals after the two teams finished level at 3-3 on aggregate.
Read: What would you ask Albert Ferrer?
But it could have been so different had the French side taken the chances afforded to them during a frantic opening 45 minutes.
Ezequiel Lavezzi wasted the most clear-cut opportunity, racing onto Zlatan Ibrahimovic's through ball only to fire straight at the onrushing Victor Valdes.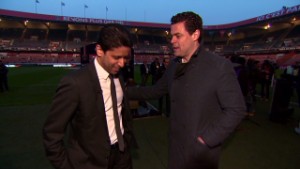 Behind the scenes at Paris St Germain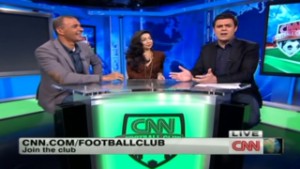 CNN FC: Beckham back on big stage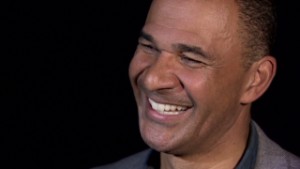 Gullit: Mourinho will return to Chelsea
Lucas Moura forced Valdes into a sharp save when he headed Ibrahimovic's cross towards goal as the visiting side began to turn the screw.
The French league leaders continued to look threatening and it came as no surprise when it finally grabbed the initiative five minutes after the break.
Read: Ibrahimovic rejects 'bad boy' tag
Once again it was enigmatic Ibrahimovic who created the opportunity, threading the ball through to Pastore.
The Argentine playmaker took the ball in his stride before lashing home a left-footed effort which left Valdes with no chance.
But no sooner had the ball hit the net than a certain somebody was already preparing to make a grand entrance.
As Messi began to warm-up on the sideline, the crowd responded. Suddenly, the fear and anxiety which had gripped those adorned in the blue and red of Barcelona began to dissipate.
His entrance onto the pitch with 28 minutes remaining seemed to breathe new life into a Barcelona side which had failed to produce anything of note in front of goal.
But with Messi, albeit not a 100% Messi on the field, the home side began to tick and within nine minutes of his introduction it was level.
Read: Barcelona and PSG's comic hero
Inevitably it was the Argentine who made the difference, jinking his way past two white shirts before rolling the ball in for David Villa, who laid it off for Pedro to rifle home.
That goal sealed Barcelona's place in the semifinals for the sixth consecutive year and defender Gerard Pique believes his side ran out worthy winners.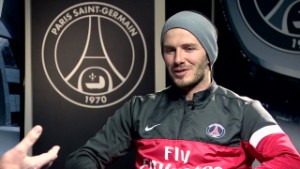 David Beckham's life in Paris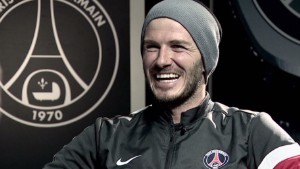 Beckham: Tom Cruise is hotter than I am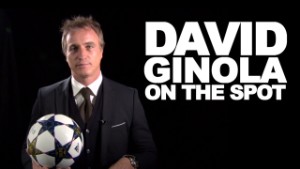 Ginola on why PSG are worth it
"I think Barca has shown a lot of quality in the six years and I think we deserve it again to be in the semifinals," Pique told Sky Sports.
"Paris St-Germain is very strong with good quality but I think we deserved it.
"In the first leg we deserved a little more and tonight we're very happy to have qualified.
"It doesn't matter if he's a little bit injured he can change everything.
"We are very proud and lucky to have him in our side. He's our reference as a striker - he can score, he can pass he can do anything and everything."
PSG coach Carlo Ancelotti added: "I thought we played well. We caused Barca problems, but Messi is a fantastic player and can find a solution for his team even when not fully fit."
Read: Bayern Munich clinch Bundesliga crown
In the night's other game, Bayern Munich produced a hugely impressive performance to book its place in the last four courtesy of a 2-0 win over Juventus.
Leading 2-0 from the first leg, Bayern eased past the Italian side thanks to goals from Mario Mandzukic and Claudio Pizarro.
Bayern, which lost in the final to Chelsea in Munich last year, joins Bundesliga rival Borussia Dortmund in the semifinals.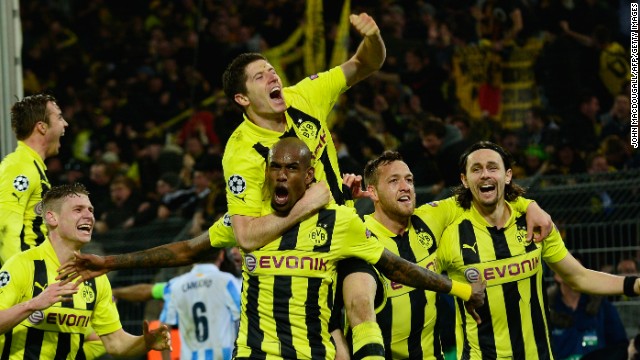 Dortmund's players celebrate their famous 3-2 victory over Malaga and will now look forward to the semifinals where it could be joined by fellow German club Bayern Munich.
After Robert Lewandowski had canceled out Joaquin's opener, Eliseu looked to have booked his side's place in the last four when he tapped home from close-range with just eight minutes remaining.
Malaga had looked home and dry but just two minutes after Marco Reus had leveled, Felipe Santana fired home a dramatic winner to spark scenes of wild celebrations amongst the home fans.
Lukasz Piszczek, Nuri Sahin and Mats Hummels can't help but go crazy with excitement following the final whistle.
Malaga midfielder Jeremy Toulalan was left floored after his side's painful late defeat. The Spanish club, which was making its debut in the competition, was just minutes away from the semifinals.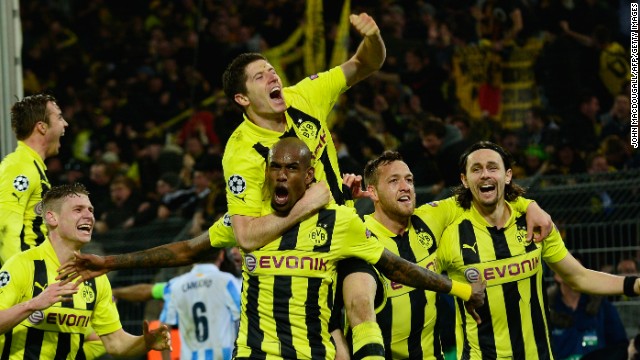 Dramatic night in Dortmund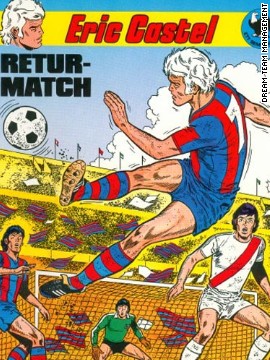 The first edition of Eric Castel was published in 1979 and focused on the Barcelona player meeting a group of young fans known as the "Pablitos". The second edition, entitled "Retur-Match" or "Second-Leg" was released later the same year.
The eighth edition was arguably the series' most controversial when Castel left Barcelona to join French team Paris Saint-Germain in a release entitled "La Grande Decision" ("The Big Decision").
A initial sketch signed by Castel illustrator Raymond Reding appeared on the 10th issue's cover. According to the Lambiek Comiclopedia, Reding joined the editorial team of Tintin in 1950.
Castel was not the first footballing hero that Reding, who had always had a keen interest in sports, created. In 1963 he came up with the idea for Vincent Larcher, a centre forward, who played for AC Milan.
After leaving Tintin in 1979, Reding and Francoise Hugues created Castel.
Reding's 1986 cover "Le Plan de l'Argentin" ("The Argentine's plan"). Frenchman Reding was born in 1920, but grew up in Belgium. He had a number of different jobs -- including one as a jazz pianist -- before he began drawing and writing.
Although this picture is black and white, Barcelona's iconic striped kit is still clearly visible on Castel's shirt.
During his spell at PSG, Castel led the club to European glory, with the French club beating Barca in the CEVA Cup final.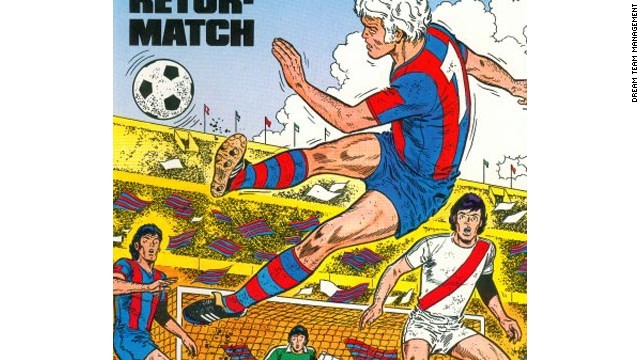 Eric Castel: Barelona and PSG's comic book hero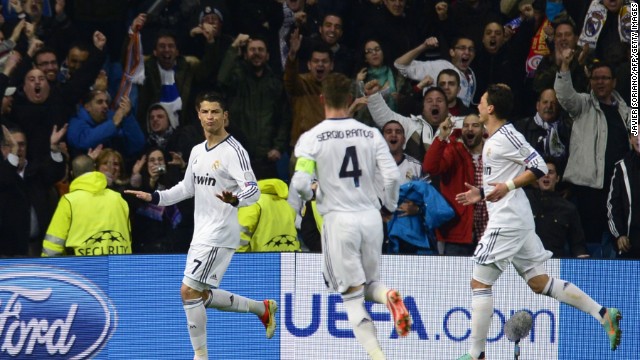 Cristiano Ronaldo gave Real a ninth minute lead against Galatasaray with a delightful finish to take his tally to nine for the competition and 45 for the season.
Didier Drogba, who scored the winning penalty in the final for Chelsea against Bayern Munich last season, caused the Real defense problems in the opening stages.
Karim Benzema doubled Real's lead on 29 minutes after Michael Essien's cross caused confusion in the Turkish defense and left the striker with a simple finish.
Gonzalo Higuain came off the bench to add Real's third and all but secure its place in the last four of the competition.
Malaga fans protest against UEFA president Michel Platini over threats to refuse the club permission to play in European competition next season because of its financial situation.
Dortmund's Lukasz Piszczek had his hands full up against Malaga's talented midfielder Isco in a hard-fought affair in Spain. Malaga, which is playing in the competition for the first time in its history, was given a rough ride by the German side.
Marcel Schmelzer started in defense for Dortmund despite being forced to wear a mask after breaking his nose at the weekend.
Dortmund's Polish striker Robert Lewandowski wasted a glorious opportunity to grab an away goal, while midfielder Mario Gotze also squandered a chance as the game finished goalless.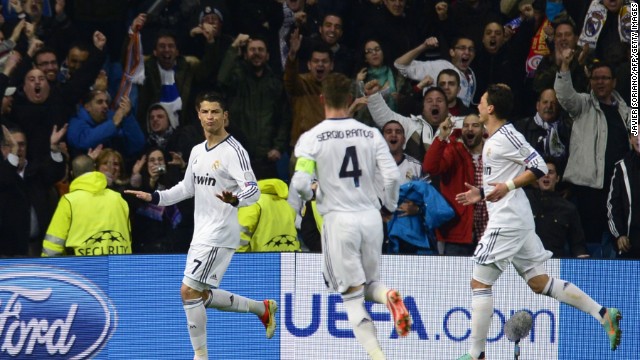 Real deal
It is the first time two German clubs have made the last four of the competition in the same season.
And winger Arjen Robben, who was denied a goal of his own by the woodwork, is keen to avoid Jurgen Klopp's side in the next round.
Read: Dortmund keeps Champions League hope alive
"If you win away 2-0 in Turin here I think that's an amazing result because they are unbeaten for I don't know how many games and they are so strong at the back," Robben told Sky Sports.
"Even more, if you dominate the game in the second half as we did, it is a great performance.
"We would like to be kept apart from Borussia Dortmund in the semifinals but we don't have a choice and it comes out how it comes.
"It going to be a big one and the semifinals have maybe the four best teams at the moment."
Bayern will now compete in their third semifinal in four years, but it must do without Mandzukic in the first leg with the Croatia star set to serve a one-game ban.
Juventus goalkeeper Gianluigi Buffon believes Bayern's extra experience was a key factor in the outcome of the tie.
He told Sky Sports: "The big difference between them and us is experience. I was even more impressed tonight than in Munich.
"In the first leg we did not give our all, but tonight we did and still there was nothing we could do. I think Bayern can win the Champions League."