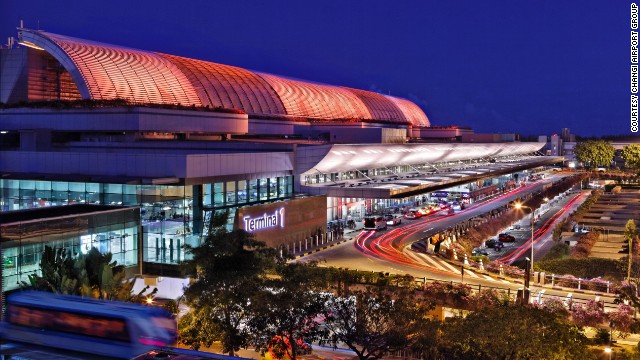 Singapore Changi has been named the world's best airport at the World Airport Awards in Geneva.
The Southeast Asian hub has a longstanding reputation for its passenger service and entertainment facilities, such as this complimentary movie theater that streams films 24 hours a day.
A rooftop swimming pool is another popular feature with travelers, who can also take a dip in the airport Jacuzzi
The vast airport is also home to a number of quirky amenities, including the world's tallest airport slide.
Meanwhile, artist Kurt Wenner's mesmeric optical illusions make the rush between connections a little more colorful.
The airport butterfly garden is a big draw. Travelers are free to wander amid plants and waterfall installations while examining a variety of colorful butterfly species.
Second place in the best airport category was awarded to South Korea's sprawling Incheon International Airport, which offers passengers a variety of enticing distractions such as an ice rink, casino and nearby golf course.
Amsterdam Schiphol is the only European airport to have won the Skytrax best airport award -- all the way back in 1999. The Dutch facility was ranked a respectable third place this year.
Hong Kong International has been honored with the best airport award eight times -- including five years in a row between 2001 and 2005 -- but could only claim fourth place this year.
The futuristic Beijing Capital International Airport was the fourth Asian airport in the top five, capping a dominant year for airports in East Asia.
Munich airport -- which has its own brewery and beer garden -- topped the best dining experience category and came sixth overall in in the best airport award field.
Zurich Airport -- which generates part of its energy requirements through a solar power system -- was deemed to have the best airport staff and best baggage delivery system, propelling the Swiss site to seventh position overall.
The only North American airport to make the top ten, Vancouver International, plays host to all manner of idiosyncratic amenities including a 114-000 liter aquarium and an indoor creek.
Another Asian contender was Tokyo's Haneda International Airport, which topped the polls for airport cleanliness.
Heathrow coped admirably during the 2012 London Olympics -- catering for almost a quarter of a million people. T5 at the London hub was awarded the honor of best individual terminal.
Singapore Changi Airport
Singapore Changi Airport
Singapore Changi Airport
Singapore Changi Airport
Singapore Changi Airport
Singapore Changi Airport
Incheon Airport, South Korea
Amsterdam Schiphol, The Netherlands
Hong Kong International
Beijing Capital International Airport, China
Munich Airport, Germany
Zurich Airport, Switzerland
Vancouver International Airport, Canada
Tokyo International Airport, Japan
London Heathrow, England
STORY HIGHLIGHTS
Singapore Changi Airport has been named world's best airport at World Airport Awards
The Asian hub held off competition from Europe, North America and other Asian cities
Awards have been dominated by airports in the East Asia for over a decade
The Gateway goes behind the scenes of the world's major transport hubs, revealing the logistics that keep goods and people moving. This month, the show is in Singapore.
(CNN) -- Singapore's Changi Airport has been crowned the best in the world for the fourth time in 14 years at the prestigious World Airport Awards in Geneva.
The Southeast Asian hub beat off competition from Incheon Airport in South Korea and Amsterdam Schiphol in the Netherlands, which came in second and third respectively.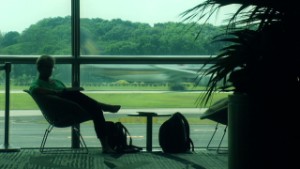 Visiting the world's best airport
3 ways to stay entertained at the world's best airports:

1. Singapore Changi Airport

Swimming pool, butterfly garden, cinema

2. Incheon International Airport

Ice rick, golf course, casino

3. Amsterdam Schiphol Airport

Museum, day spa, shower rooms

4. Hong Kong International Airport

IMAX cinema, golf course, aviation discovery center

5. Beijing Capital International Airport

Indoor gardens, cultural performances, staff art troupe

6. Munich Airport

Beer garden, brewery, minigolf course

7. Zurich Airport

Airport tours, transport museum, city tours

8. Vancouver International Airport

Living walls, aquarium, unique art sculptures

9. Tokyo International Airport (Haneda)

Edo marketplace, sleeping cabins, private day rooms

10. London Heathrow

Airport hotel cabins, art gallery, wellbeing spa
The award was based on surveys conducted by international travel research and consultancy group Skytrax, who polled 12.1 million passengers over a nine-month period.
A total of 39 services and products -- including check-in, arrivals, transfers, shopping, security and immigration -- were examined at 395 airports across the world.
See also: 7 of the world's most entertaining airports
"In winning this prestigious accolade, Singapore Changi Airport cements its place as one of the world's favorite airports," said Edward Plaisted, chairman of Skytrax.
A bustling aviation link between east and west -- catering for more than 52 million passengers and 1.81 million tons of cargo in 2012 -- Changi has gained a reputation for its attentive passenger experience and abundant entertainment services.
The airport offers free city tours to all travelers on a stopover of five hours or more and plays host to facilities such as an on-site swimming pool, butterfly garden, nature trail and cinemas.
Changi was also one of the first airports to introduce free WiFi areas and previously scooped the Skytrax best airport award in 2000 before going on to win again in 2006 and 2010.
In an interview for CNN's monthly feature show The Gateway, Changi's executive vice president for airport management, Tan Lye Teck said: "It's always heart-warming to know there are people who show appreciation for things we do."
"We will continue essentially what we've always been trying to do (which is put the) passenger, the user, the customer ... at the center of everything," he added.
See also: The world's record breaking airports
Other destinations to rank highly in the best airport category this year include Hong Kong International and Beijing Capital International, carrying on a tradition of strong Asian performance at the awards.
All in all, five out of the top ten airports were based in East Asian cities.
Hong Kong has previously claimed the best airport gong eight times, Incheon twice and Singapore Changi four times.
Only one non-Asian airport has ever won the sought-after prize, Amsterdam Schiphol in 1999, the award's inaugural year.
Schipol was named the best European airport for 2013 while the honor for best North American destination went to Vancouver International Airport in Canada.
Cape Town International, Lima Jorge Chavez International, Panama Tocumen and Abu Dhabi International took home the regional prizes for Africa, South America, Central America and the Middle East respectively.
A full list of the winners and prize categories from the World Airport Awards can be found here.