STORY HIGHLIGHTS
Controversy threatens to surround Bahrain Grand Prix for third year running
Bahrain government and human rights organizations dispute recent arrests of up to 70 people
In 2012 the Bahrain GP went ahead, though in 2011 the race was canceled
(CNN) -- The Bahrain Grand Prix is threatening to overshadow the Formula One season for a third year running as the kingdom's government and leading human rights organisations dispute the recent arrests of up to 70 people.
In 2012 days of anti-government protests failed to halt the Bahrain GP which went ahead even as nearby streets were blocked with burning tires and trash.
Protests in Bahrain started in February 2011 spurred by uprisings in Tunisia and Egypt.
But demonstrations in Bahrain failed to gain the traction of other Arab Spring uprisings after a crackdown by authorities in the island state.
The crackdown was backed by troops from nearby Saudi Arabia and the United Arab Emirates under the banner of the Gulf Cooperation Council.
The Bahrain Center for Human Rights told CNN Arabic that 20 people from the Dar Klaib and Shahrakan villages -- both near the Bahrain International Circuit -- had been arrested, with another 50 arrested from the Aldeir and Samaheij villages near to the airport.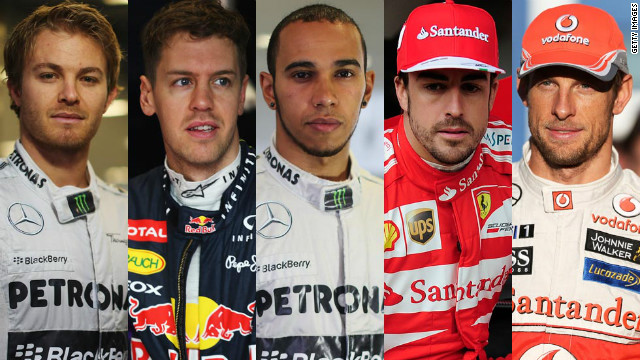 After 15 years with McLaren, Lewis Hamilton has flown the nest and landed in the Mercedes garage. The 2008 world champion is being tipped for success in 2013, with his new teammate Nico Rosberg showing in preseason that the new Mercedes is capable of topping the timesheets.
But if Hamilton is to win a second drivers' championship, he will have to overcome triple world champion Sebastian Vettel. The German has taken the title in each of the last three years, with his Red Bull team also leaving other manufacturers trailing in their wake.
The title race will not be as simple as Vettel vs. Hamilton. A fired-up Fernando Alonso missed out on the 2012 crown by just three points, and the double world champion will be looking to challenge at the front of the grid given the improvements in his Ferrari following last season's design problems.
Five rookies will be on the grid at the Australian Grand Prix, including Valtteri Bottas (pictured) who will be behind the wheel for Williams. Caterham drafted in Giedo van der Garde, while Esteban Gutierrez makes his debut for Sauber and Marussia boast an all-rookie line up of Jules Bianchi and Max Chilton.
Pirelli will serve as the official tire supplier in the final season of its three-year contract. The new tire is made of a softer rubber than its 2012 equivalent, with lap times expected to increase by up to half a second.
There will be 11 teams lining up for the first race in Melbourne following the collapse of Spanish outfit HRT after three seasons without scoring a point.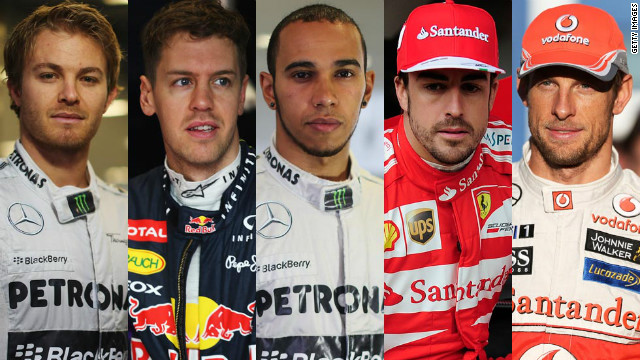 F1: 2013 season preview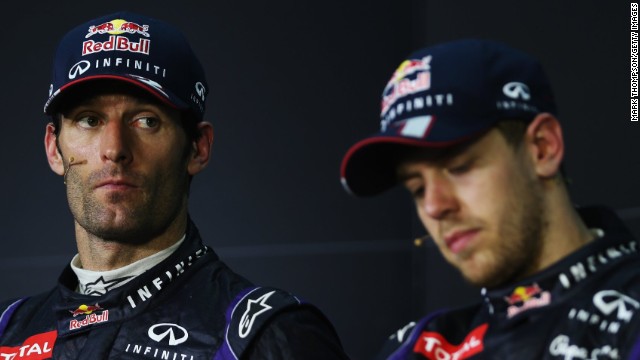 An unhappy Mark Webber, left, with Red Bull teammate Sebastian Vettel at the postrace press conference in Malaysia.
Webber had led after coming out of his final pit stop with 13 laps to go in Sepang, but Vettel claimed victory after defying team orders to overtake while the Australian was following instructions to conserve his car.
They shared the podium with third-placed Lewis Hamilton, whose Mercedes teammate Nico Rosberg obeyed team orders and did not attack the English driver even though he felt he was quicker.
Fernando Alonso won the race last year, but his 200th career grand prix was less successful. The Ferrari driver damaged his front wing early on and then made the mistake of staying out on the track too long and was not able to finish.
Jenson Button's car is pushed back to the pit area after his crew let the McLaren leave with a loose front wheel. It ruined the 2009 world champion's chances of earning points and he retired before the end of the race. However, his new Mexican teammate Sergio Perez finished ninth.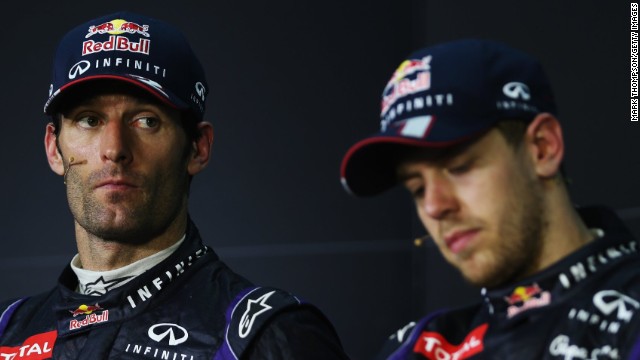 Vettel defies team orders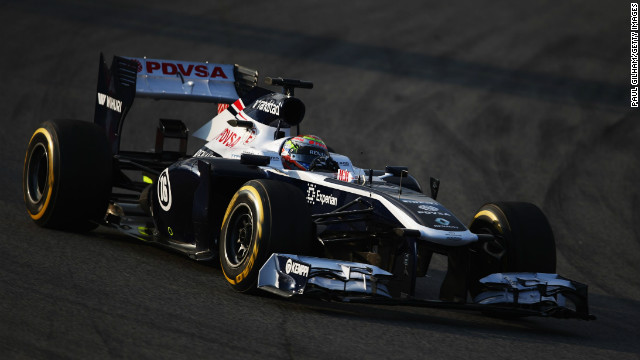 Pastor Maldonado took the new Williams for a spin at Barcelona on February 19 following the launch at Circuit de Catalunya.
The new Infiniti Red Bull Racing RB9 was launched at the Austrian-owned Formula One team's English headquarters in Milton Keynes on February 3.
Mark Webber, left, and triple world champion Sebastian Vettel pose with the Red Bull they will be driving this year.
Title rivals Ferrari launched the new F138 which they hope will power Fernando Alonso to glory in 2013.
British team McLaren unveiled its car on January 31. New driver Sergio Perez (right) poses with 2009 world champion Jenson Button and the new MP4-28.
Former McLaren star Lewis Hamilton, left, and new teammate Nico Rosberg pose with the new Mercedes W04 on February 4.
Sauber's new C32 was launched in Switzerland on February 2. It will be driven by Perez's replacement Esteban Gutierrez and Nico Hulkenberg, who left Force India in 2012.
Force India's Paul Di Resta with the new VJM06 which was launched on February 1 at Silverstone. His new teammate had yet to be named.
Charles Pic and Dutch rookie Giedo van der Garde launched Caterham's new CT03 car on the first day of preseason testing at Circuito de Jerez on February 5.
Romain Grosjean was third-fastest on the opening day in Jerez for Lotus, which was the first team to launch its new car -- the E21 -- on January 28.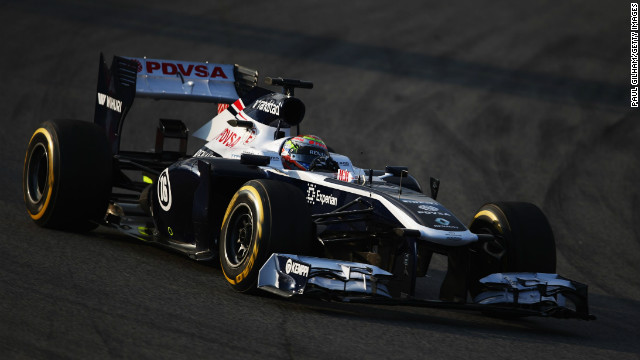 F1 teams unveil 2013 cars
The Bahrain Centre for Human Rights described the government arrests as "attacks carried out by the security authorities", with BRAVO (The Bahrain Rehabilitation and Anti-violence Organization) president Nada Deif specifically linking them to the April 19 GP.
"Most of the detainees are activists in the fields of journalism documenting and photography," said Deif.
"This latest crackdown and the way it's being carried out raises new questions about the Bahraini authorities' commitment to reform," said Sarah Leah Whitson, Middle East director at Human Rights Watch (HRW) on the organisation's website, which reported police have conducted up to 30 raids in on towns close to the F1 circuit and the roads leading to the capital, Manama.
"These raids and detentions suggest that officials are more concerned with getting activists out of circulation for the F1 race than with addressing the legitimate grievances that have led so many Bahrainis to take to the streets."
However, the Bahrain government insisted the arrests were not linked to the GP.
"The recent arrests came after a terrorist assault on the Foreign Ministry building using Molotov bombs," the Bahraini communication minister and government spokeswoman Samirah Rajab told CNN Arabic.
"Their arrest came under the rule of law and they were sent to Public Prosecution office ahead of their trial. It has nothing to do with the F1 race.
"It's the state responsibility to protect its people along with those who are living in the county and impose security. Also the security forces implement law when arresting someone and don't raid houses unless it has an order from the court of public prosecutor.
"The comments written by HRW are at best secondhand observations made without evidence. HRW is not on the ground in Bahrain to make such comments without verifying its source."
Last year opposition calls for large protests had raised fears the Bahrain GP would have to be canceled for a second year in a row and pose a threat to F1 crews, workers, and fans.
Anti-government protesters had called the race a publicity stunt by the country's rulers to make the nation appear more unified.
F1 is the world's most popular motor sport, and races have a TV audience of more than 500 million, though the scenes last year in Bahrain were viewed as a public relations disaster for both the sport and the country's authorities.
In 2011 the Grand Prix was canceled completely after drivers including former F1 star Damon Hill raised concerns following the death of at least 35 demonstrators as the government called in Saudi Arabian-led forces to help stamp out unrest.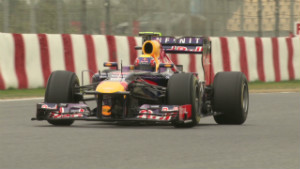 Engines on, Formula 1 returns!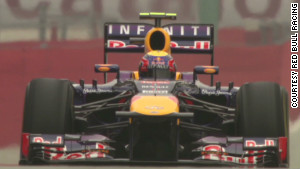 Formula One season off to a racing start
Canceling the race in 2011 cost Bahrain an estimated $480 to $800 million in potential investments.
Bahrain's Sunni-ruled government crushed the Shiite protests, though the opposition has continued to demand political reform in protests and, occasionally, clashes with authorities.
Earlier this week Hill called on the F1's ruling body the FIA and its president Jean Todt to come up with a definitive position on this year's race.
"The vast majority of people in the sport would like to say we don't want to come here to make life worse for people," Hill, who now works as a motorsport television pundit, was quoted as telling a number of British newspapers after a security briefing in Westminster in London.
"We would like you to enjoy F1. It has lots of positive things to offer. But please don't, on our behalf, round people up and brutalize them. I don't see that being political. It's more ethical than political."
Neither the FIA nor Todt were immediately available for comment.
"The messages I'm getting from various people in the opposition -- and there have been pretty regular street protest over the past three weeks -- is that the F1 race will be more of a focus than it was last year," British MP Richard Burden, who chairs parliamentary groups on motorsport and who was outspoken against last year's race taking place, was quoted as telling the Guardian newspaper:
"That's what they anticipate happening. If anything happens it will be a tragedy for all concerned.
"I hope in the next few days that people will understand that words do have an impact."
Bahrain plays a key strategic role in the Middle East and is home to the U.S. Navy's Fifth Fleet headquarters.
Additional reporting by Caroline Faraj and Schams Elwazer.