Vettel sluggish in Shanghai as Massa sets the pace
April 12, 2013 -- Updated 1441 GMT (2241 HKT)
STORY HIGHLIGHTS
Sebastian Vettel 10th fastest in practice ahead of Sunday's Chinese Grand Prix
The Red Bull driver ignored team orders to overtake Mark Webber in Malaysia
Ferrari Felipe Massa sets the fastest time at the Shanghai International Circuit
Lotus' Kimi Raikkonen second fastest
(CNN) -- All eyes were on triple world champion Sebastian Vettel during practice ahead of the Chinese Grand Prix, with the German back behind the wheel for the first time since ignoring team orders to clinch victory in Malaysia.
The Red Bull driver was left frustrated at the Shanghai International Circuit, struggling for pace as he registered the 10th quickest lap time.
World championship leader Vettel was one and a half seconds off the leading time set by Ferrari's Felipe Massa and insisted improvements were needed ahead of qualifying on Saturday.
Read: Fast track to driver road rage?
"Today was a tricky day for us," the 25-year-old told the sport's official website. "I struggled a bit this afternoon and the gap to the guys at the top is a little bit bigger than I'd like.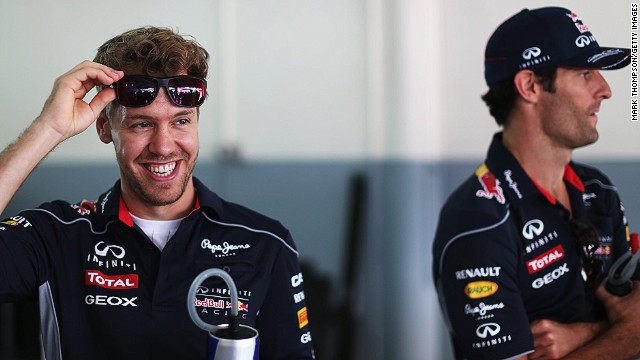 "Get him (Webber) out of the way, he is too slow," Sebastian Vettel disdainfully remarked over team radio at last month's Malaysia Grand Prix. The German was instructed not to challenge Webber, who was leading the race, but ignored orders and overtook the Australian with ten laps remaining. Vettel's tactics caused much consternation on social media and reopened the debate about the practicality of team orders in Formula 1.
Vettel leads Webber during the Malaysia Grand Prix in Sepang in March. It's not the first time team orders have caused rifts between drivers.
Awkward scenes on the podium at the 2010 German Grand Prix after Felipe Massa (left) surrendered the lead to his Ferrari teammate Fernando Alonso when the team told him that the Spaniard had the faster car.
Rubens Barrichello (right) looks far from content as teammate Michael Schumacher has a quiet word on the podium following the 2002 Austrian Grand Prix, which the German controversially won. The Brazilian, who spent six years as Schumacher's deputy at Ferrari, says he empathizes with Webber's position at Red Bull.
Barrichello led the 2002 Austrian Grand Prix before ceding position to his Ferrari teammate Michael Schumacher. Team orders were banned the following season.
"El Maestro" Juan Manuel Fangio (left) and Stirling Moss engaged in discussion following the 1957 Italian grand Prix at Monza, which the Englishman won. The pair were teammates at Mercedes in 1955. "The team has always been the most important thing," says Moss. "Once you're with a company you really have to do what they tell you to. It's a professional business with very big money, which it wasn't (when I drove). Drivers are being paid like film stars now."
Moss (left) trails behind Fangio at the Italian Grand Prix in 1956. "I'm glad I raced when I did and not now because the pleasure was so much more then and the racing certainly was purer," Moss says.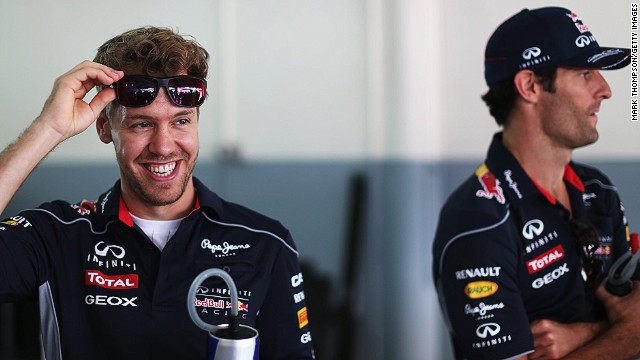 Team orders: needless or necessary?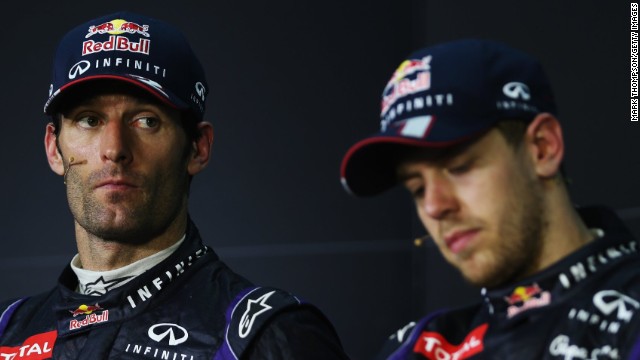 An unhappy Mark Webber, left, with Red Bull teammate Sebastian Vettel at the postrace press conference in Malaysia.
Webber had led after coming out of his final pit stop with 13 laps to go in Sepang, but Vettel claimed victory after defying team orders to overtake while the Australian was following instructions to conserve his car.
They shared the podium with third-placed Lewis Hamilton, whose Mercedes teammate Nico Rosberg obeyed team orders and did not attack the English driver even though he felt he was quicker.
Fernando Alonso won the race last year, but his 200th career grand prix was less successful. The Ferrari driver damaged his front wing early on and then made the mistake of staying out on the track too long and was not able to finish.
Jenson Button's car is pushed back to the pit area after his crew let the McLaren leave with a loose front wheel. It ruined the 2009 world champion's chances of earning points and he retired before the end of the race. However, his new Mexican teammate Sergio Perez finished ninth.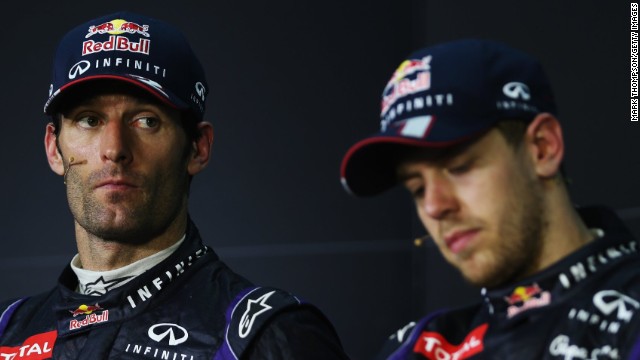 Vettel defies team orders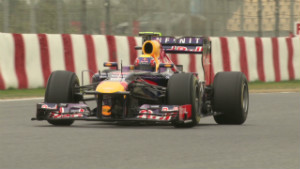 Engines on, Formula 1 returns!
"There are two or three things that we need to work on and then we should be in a better shape for tomorrow.
"I think we know what we need to do. It looks like the soft tyre is the one for qualifying, but it seems that we won't see that many stints on the soft tyre during the race."
Webber, who was upset by Vettel's decision to overtake him last month despite being instructed by Red Bull to hold position, performed better than his colleague, clocking the fifth fastest time of the day.
Read: Protests threaten to overshadow Bahrain GP
For Massa it continues a bright start to 2013 which has seen him outperform his double world champion teammate Fernando Alonso.
"Today, I immediately had a good feeling in the car," explained Brazil's Massa, who is four points ahead of Alonso in fifth position in the drivers' standings.
"I feel confident and hope that the whole weekend can keep moving in this direction."
Lotus' Kimi Raikkonen, winner of the season-opening Australian Grand Prix set the second fastest time.
The 2007 world champion was satisfied with the performance of his Renault car and is optimistic ahead of the weekend.
"If you look at the lap time it looks to have been a pretty okay day," said the Finn. "For sure, there are things we have to improve and you never know what will happen tomorrow, but it's a reasonable start to the weekend.
"We can definitely improve. We have some pace to come from the car in the usual areas with setup.
"My quick lap today could have been better, so there's some more pace to come even if we don't improve the car, but hopefully we do."

Part of complete coverage on
February 24, 2014 -- Updated 2255 GMT (0655 HKT)

Despite being a sport well into its seventh decade, only two women have ever driven in Formula 1 but Susie Wolff hopes to become the third.
February 24, 2014 -- Updated 1736 GMT (0136 HKT)

Jann Mardenborough on the similarities and differences between driving a race on a video game and driving a real F1 car.
February 22, 2014 -- Updated 1226 GMT (2026 HKT)

How Russian president Vladimir Putin helped turn a muddy hole in the ground into a $400 million futuristic grand prix track in Sochi.
January 22, 2014 -- Updated 1217 GMT (2017 HKT)

CNN's Rosie Tomkins speaks to Caterham F1 owner Tony Fernandes on the team's driver line-up for 2014.
January 22, 2014 -- Updated 1352 GMT (2152 HKT)

Popular Japanese racer Kamui Kobayashi is back in Formula One with Caterham -- and fan power has helped him return to the grid.
January 17, 2014 -- Updated 2228 GMT (0628 HKT)

NASCAR team co-owner Gene Haas applies to enter a new team in the Formula One world championships.
January 15, 2014 -- Updated 2128 GMT (0528 HKT)

He is Formula One's undisputed No. 1, and next season Sebastian Vettel will have proof of that fact emblazoned on his Red Bull.
December 6, 2013 -- Updated 1417 GMT (2217 HKT)

Germany has only produced two Formula One champions -- and they can thank one man for spotting their nascent talent.

CNN's Amanda Davies travels to a small German town to discover the real Sebastian Vettel, F1's all-conquering champion.
December 4, 2013 -- Updated 1633 GMT (0033 HKT)

A new era of F1 looms large on the horizon in 2014, but what do the new rules mean for how we watch the sport? Get up to speed here.
November 17, 2013 -- Updated 2015 GMT (0415 HKT)

It is 5 a.m. on Sunday morning in Austin, Texas and the grid girls are already up and getting ready for the race.
October 17, 2013 -- Updated 1056 GMT (1856 HKT)

Explore our interactive of one of F1's most important and complicated pieces of kit.

Today's five most popular stories