Black Caviar scores her quarter century
April 13, 2013 -- Updated 0929 GMT (1729 HKT)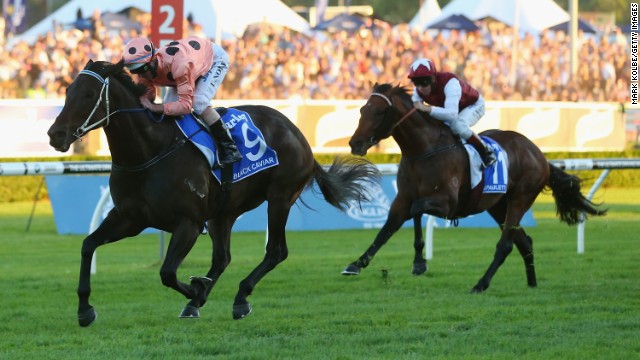 Luke Nolan rides Black Caviar to her 25th consecutive win at Royal Randwick Racecourse on April 13 in Sydney, Australia.
Saturday's race in Sydney was only the fourth on a clockwise track for the Melbourne mare, better used to racing in an anti-clockwise direction in her native Victoria.
Black Caviar has only raced on a clockwise track three times -- at the 2011 TJ Smith Stakes, Queensland's BTC Cup, and Britain's Royal Ascot (pictured). She may return to Ascot this year, said co-owner Colin Madden.
The world champion sprinter, worth $7.5 million in prize money, has become a celebrity in her native Australia, earning the title of 2012 Sportswoman of the Year.
Such is Black Caviar's cult status, she has appeared on the cover of Vogue, released a best-selling biography, and attracted more than 32,000 twitter followers.
"Her future has nothing to do with winning or losing on Saturday -- it's about how well she runs. It's about her personal performance. We want to give her the love and respect she deserves, which means retiring her at an appropriate time," said co-owner Colin Madden.
Beyond the track, Black Caviar may also have a profitable career as a breeding mare, with Madden hinting champion British thoroughbred, Frankel (pictured), could be a good match.
Black Caviar races against the clock
Against the clock
Ascot avenger?
Aussie pride
Stunning celebrity
Fan base
Future Frankel?
STORY HIGHLIGHTS
Black Caviar wins 25th straight race on Saturday in Sydney -- 15th straight at highest level
Jockey on Black Caviar: "You can see what she means to racing. To be part of that -- words escape me."
Black Caviar's connections hint that a return to Royal Ascot may be on the cards this summer
Editor's note: Winning Post is CNN's monthly horse racing show. Click here for program times and latest features.
(CNN) -- Australian wonder mare Black Caviar extended her unbeaten streak to 25 races in some style on Saturday, blowing away her rivals in the TJ Smith Stakes at Sydney's Randwick Racecourse.
Her 25th victory was also her 15th at the sports highest level, overtaking the mark of 14 Group 1 wins set by the legendary Kingston Town in the late 1970s and early 1980s.
It was in 2011 that Black Caviar posted what many consider her greatest-ever performance in this very race, beating Hay List by three lengths after trailing him by the same distance coming into the home straight. On this occasion no such heroics were required.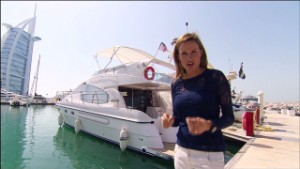 The richest day of horse racing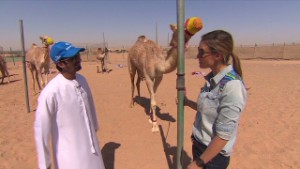 From camel racing to prized jockey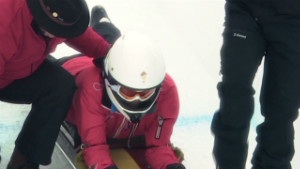 Swiss town with need for speed
Facing one of her toughest-ever fields, including her old foe Hay List, admittedly not the force he once was, and the in-form Bel Sprinter, Black Caviar's regular rider Luke Nolen had to jockey for position in the early stages as he sought to overcome an unfavorable inside draw.
The decisive move came around 300 meters out, when Nolen guided her away from the softer ground by the rail and settled her behind the leaders towards the middle of the track. From there, all Nolen had to do was pull the pin and the six-year-old instantly responded, lengthening away from the rest of the field with her to claim her eight consecutive Group 1 win.
All day Sydneysiders had celebrated the presence of one of Australia's most popular sporting heroes. Flags in her trademark salmon and black colors fluttered over Sydney's iconic harbor, while the capacity crowd ensured Randwick Racecourse was filled the rafters.
Speaking after the race, Black Caviar's trainer Peter Moody praised the crowd, adding that he was "extremely proud" of his mare for breaking Kingston Town's record. As Black Caviar was cheered on her way back to the winners' enclosure her jockey noted, "You can see what she means to racing. To be part of that -- words escape me."
With Black Caviar's form seemingly better than ever despite her age, her connections have hinted that a return to Royal Ascot, scene of her narrowest-ever victory, may be on the cards later this summer before a rendezvous with Frankel in the breeding shed in what would surely be considered the racing world's own royal wedding.