STORY HIGHLIGHTS
Fernando Alonso won the Chinese Grand Prix Sunday
Lotus' Kimi Raikkonen finished second with Mercedes' Lewis Hamilton in third
World champions Sebastian Vettel came home fourth
Red Bull's Mark Webber handed three-place penalty for Bahrain Grand Prix
(CNN) -- Fernando Alonso hailed a "perfect Sunday" following his victory at the Chinese Grand Prix.
The Ferrari driver, who clinched his first win of the season after seeing off Lotus' Kimi Raikkonen and Mercedes' Lewis Hamilton, moved up to third in the drivers' standings following his success.
Alonso had not won in China since 2005, but the double world champion believes this latest triumph could be the sign of things to come for Ferrari ahead of next weekend's race in Bahrain.
Read: Hamilton on pole in Shanghai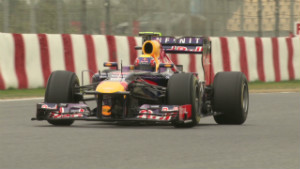 Engines on, Formula 1 returns!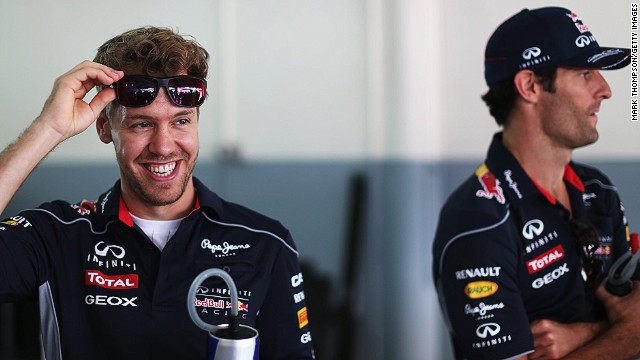 "Get him (Webber) out of the way, he is too slow," Sebastian Vettel disdainfully remarked over team radio at last month's Malaysia Grand Prix. The German was instructed not to challenge Webber, who was leading the race, but ignored orders and overtook the Australian with ten laps remaining. Vettel's tactics caused much consternation on social media and reopened the debate about the practicality of team orders in Formula 1.
Vettel leads Webber during the Malaysia Grand Prix in Sepang in March. It's not the first time team orders have caused rifts between drivers.
Awkward scenes on the podium at the 2010 German Grand Prix after Felipe Massa (left) surrendered the lead to his Ferrari teammate Fernando Alonso when the team told him that the Spaniard had the faster car.
Rubens Barrichello (right) looks far from content as teammate Michael Schumacher has a quiet word on the podium following the 2002 Austrian Grand Prix, which the German controversially won. The Brazilian, who spent six years as Schumacher's deputy at Ferrari, says he empathizes with Webber's position at Red Bull.
Barrichello led the 2002 Austrian Grand Prix before ceding position to his Ferrari teammate Michael Schumacher. Team orders were banned the following season.
"El Maestro" Juan Manuel Fangio (left) and Stirling Moss engaged in discussion following the 1957 Italian grand Prix at Monza, which the Englishman won. The pair were teammates at Mercedes in 1955. "The team has always been the most important thing," says Moss. "Once you're with a company you really have to do what they tell you to. It's a professional business with very big money, which it wasn't (when I drove). Drivers are being paid like film stars now."
Moss (left) trails behind Fangio at the Italian Grand Prix in 1956. "I'm glad I raced when I did and not now because the pleasure was so much more then and the racing certainly was purer," Moss says.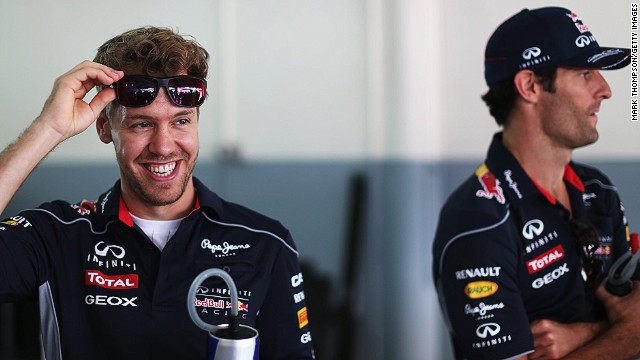 Team orders: needless or necessary?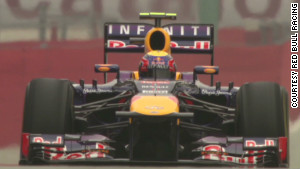 Formula One season off to a racing start
"It was definitely a fantastic race for us from start to end, without big problems with the car - a perfect Sunday," Alonso told reporters.
"The team did a perfect job with the set-up of the car for qualifying and the race, with perfect pit-stop times and the way they were executed.
"The victory is a good reward for the team, and well deserved after the disappointment in Malaysia. It feels great.
"With the two races we have finished this year, with a second place (in Australia) and the victory today, the start of this campaign is looking good.
"We are very optimistic, but we need to keep going like this in this direction, with good weekends, without any extra risk, and hopefully in Bahrain (next Sunday) we can again score some good points."
Alonso was desperate to bounce back after crashing out after just two laps of the Malaysian Grand Prix last time out.
A second place in the opening race of the season in Australia and another assured performance in Shanghai has given those backing the Spaniard for the title cause for confidence.
"Every year, especially in Ferrari, especially every campaign you start people expect only wins from you, the World Championship," Alonso added.
"Every race is more or less the same. Every season I've started in Formula One, this is the 13th, there is a battle with teammates, always discussions.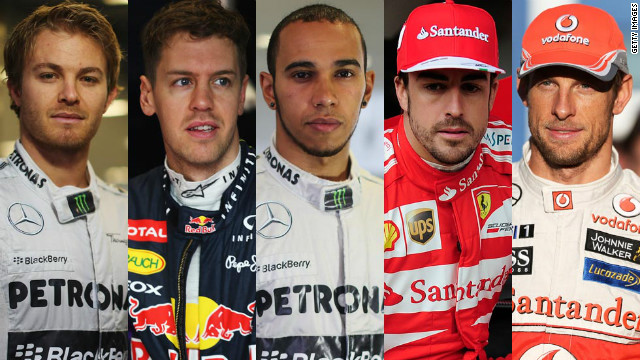 After 15 years with McLaren, Lewis Hamilton has flown the nest and landed in the Mercedes garage. The 2008 world champion is being tipped for success in 2013, with his new teammate Nico Rosberg showing in preseason that the new Mercedes is capable of topping the timesheets.
But if Hamilton is to win a second drivers' championship, he will have to overcome triple world champion Sebastian Vettel. The German has taken the title in each of the last three years, with his Red Bull team also leaving other manufacturers trailing in their wake.
The title race will not be as simple as Vettel vs. Hamilton. A fired-up Fernando Alonso missed out on the 2012 crown by just three points, and the double world champion will be looking to challenge at the front of the grid given the improvements in his Ferrari following last season's design problems.
Five rookies will be on the grid at the Australian Grand Prix, including Valtteri Bottas (pictured) who will be behind the wheel for Williams. Caterham drafted in Giedo van der Garde, while Esteban Gutierrez makes his debut for Sauber and Marussia boast an all-rookie line up of Jules Bianchi and Max Chilton.
Pirelli will serve as the official tire supplier in the final season of its three-year contract. The new tire is made of a softer rubber than its 2012 equivalent, with lap times expected to increase by up to half a second.
There will be 11 teams lining up for the first race in Melbourne following the collapse of Spanish outfit HRT after three seasons without scoring a point.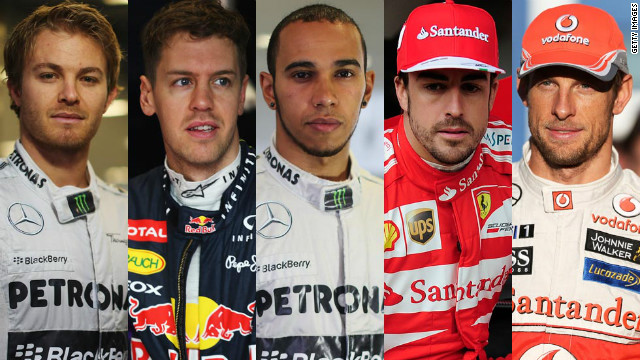 F1: 2013 season preview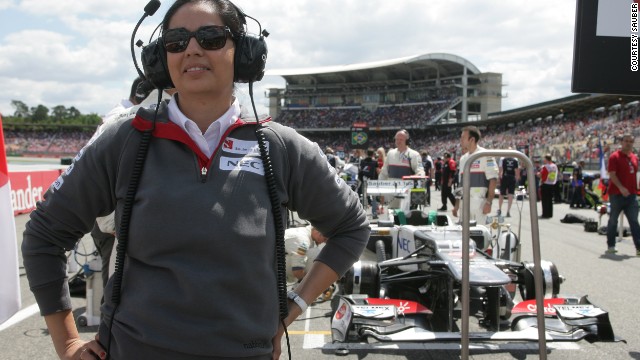 Monisha Kaltenborn, seen here at the German Grand Prix at Hockenheim in July 2011, is the first woman to become CEO and team principal of a Formula 1 team.
Kaltenborn said she grew up watching Grand Prix as a child but never imagined it would become her career.
"The first time I came to the factory and saw what it takes to make a Formula 1 car, it became a passion," said Kaltenborn.
Even before taking over as team principal, Kaltenborn played a key trackside role in Grand Prix races.
Kaltenborn said she is not disturbed by the use of "grid girls", seen here at the 2011 Korean Grand Prix, in Formula 1. "I think girls are prettier to look at than if you had men in those roles," she said.
Kaltenborn, seen here at a school in Delhi, India, is involved in the FIA's F1 In Schools project, which teaches students about all roles in motorsport from engineering to marketing to finance.
Kaltenborn with Japanese driver Kamui Kobayashi at the 2011 Brazilian Grand Prix. Kobayashi competed for Sauber from 2010 to 2012, but has now been replaced by Esteban Gutierrez and Nico Hulkenberg.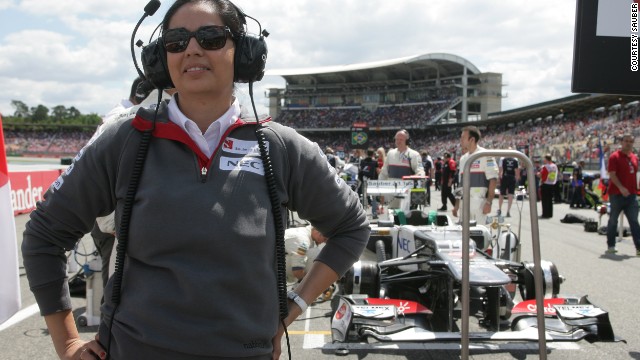 Monisha Kaltenborn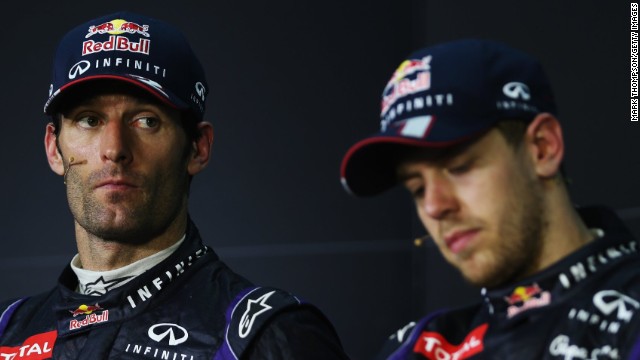 An unhappy Mark Webber, left, with Red Bull teammate Sebastian Vettel at the postrace press conference in Malaysia.
Webber had led after coming out of his final pit stop with 13 laps to go in Sepang, but Vettel claimed victory after defying team orders to overtake while the Australian was following instructions to conserve his car.
They shared the podium with third-placed Lewis Hamilton, whose Mercedes teammate Nico Rosberg obeyed team orders and did not attack the English driver even though he felt he was quicker.
Fernando Alonso won the race last year, but his 200th career grand prix was less successful. The Ferrari driver damaged his front wing early on and then made the mistake of staying out on the track too long and was not able to finish.
Jenson Button's car is pushed back to the pit area after his crew let the McLaren leave with a loose front wheel. It ruined the 2009 world champion's chances of earning points and he retired before the end of the race. However, his new Mexican teammate Sergio Perez finished ninth.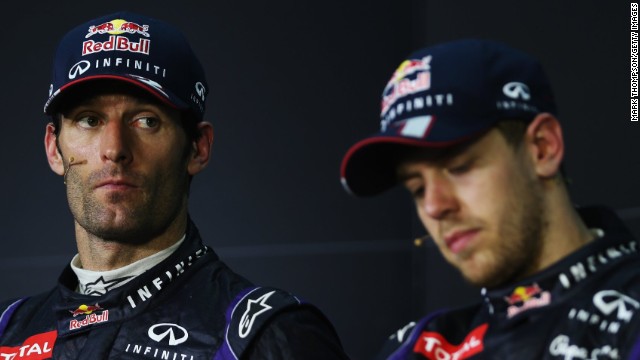 Vettel defies team orders
"So this year is no different. I think pressure is always there sometimes. As I said, you can deliver a good result, everyone is happy.
"Sometimes you cannot do it and you need to improve. I think we've been working very hard this winter with the team and after the first two races as well.
"These three weeks were very useful for us in Maranello, working out a little bit which way we can perform a little bit better, especially in qualifying which is one of our problems.
"I'm very happy with the job done and I'm in the best team, so I should be confident that everything will go in the right direction."
Read: Fast track to driver road rage?
While Alonso's performance grabbed the attention, it was another bad day for Red Bull, which was fined $6,500 after the Australian's right-rear wheel came off during the race.
Webber, who was involved in a row with teammate Vettel after the German ignored team orders at the Malaysian Grand Prix, was forced out of the race after just 16 laps following a collision with Toro Rosso's Jean-Eric Vergne.
Webber had been ordered into the pits following the incident and the loss of his tyre on the track caused several cars to swerve in a bid to avoid a crash.
The Red Bull driver was then hit with a three place penalty for the Bahrian Grand Prix following the crash with Vergne -- an incident which he maintains wasn't his fault.
"I was coming from a reasonable distance behind, Jean-Eric was really wide, but when we came close to the apex he wanted to hit it, which he is entitled to do, but by then I was committed to the inside and the incident happened," he told reporters.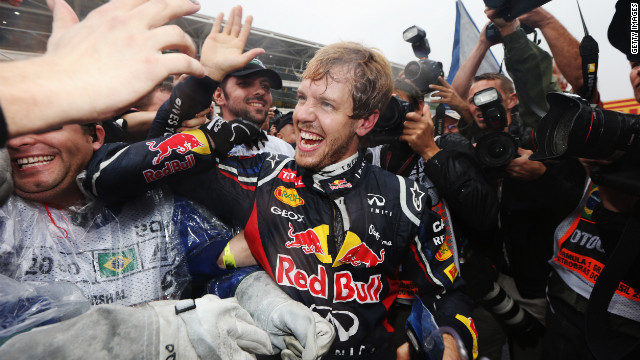 Sebastian Vettel celebrates with his team and admirers after a pulsating race at Interlagos in Brazil. But where does the Red Bull driver rank in the pantheon of F1's virtuosos?
On Sunday, Vettel fought off feisty toreador Fernando Alonso to capture the drivers' title in a dizzying denouement and join an elite band of Formula One world champions.
It is mark of Vettel's greatness that he had come to from behind at Interlagos after a nightmare start on the opening lap when he was hit on the fourth turn and suffered damage to his car. It left Vettel at the back of the grid but by the 24th lap the Red Bull racer had clawed his way back to fifth place.
"Even if he appears to have a car that makes it possible for him, nevertheless he has to do it," said seven-time world champon Michael Schumahcer of Vettel's achievements.
"He's going for it 200% and it's a very tough job," added Schumacher of Vettel's talent. "He managed to pull it out and that is the extra effort that comes from him and to do this so consistently is very special."
The 2012 season demonstrated that if you want to get ahead in F1 make sure you have a good engineer in your team. Arguably there is no better engineer in the sport than Adiran Newey.
"Schumacher had five consecutive titles but that was in a period when Ferrari had influence on tyre development," said former McLaren GP winner John Watson.
"The interesting part is that this championship has been so hard-fought and it didn't really come together until the last races,"said 1978 champion Mario Andretti. "This season has been one of the best in memory. Vettel is one of the rare talents that don't come along very often."
"Vettel is making the most of the best design in F1," added Andretti.who is one of only two American drivers to have won the Formula One title. Here Andretti (R) is seen talking to Stirling Moss, during the championship winning season in 1978.
When Schumacher won his first world title with Benetton in 1994 it was also one of F1's darkest periods. The German won the San Marino Grand Prix in 1994 where both Simtek racer Roland Ratzenberger and three-time world champion Ayrton Senna lost their lives.
Vettel celebrates with Formule One supremo Bernie Ecclestone following his title win in Brazil.
Vettel is now chasing after Frenchman Alain Prost , who won four drivers' titles.
"Fangio is my hero," said former McLaren GP winner Watson. "Why I respect him is that he won five world championships in an era when motor racing was fundamentally a slaughter."
Vettel aims to join Prost next year -- then five-time winner Fangio and Schumacher's magnificent seven are all that are ahead of him in his quest for total greatness.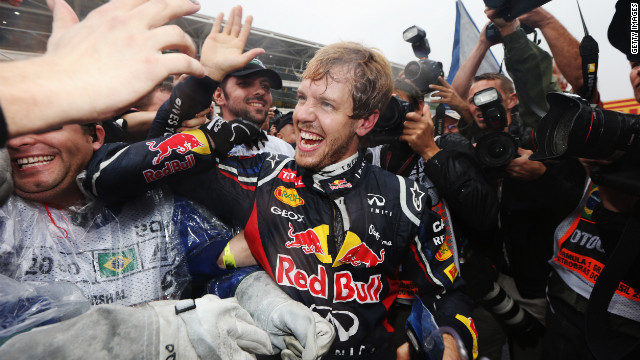 How good is Sebastian Vettel?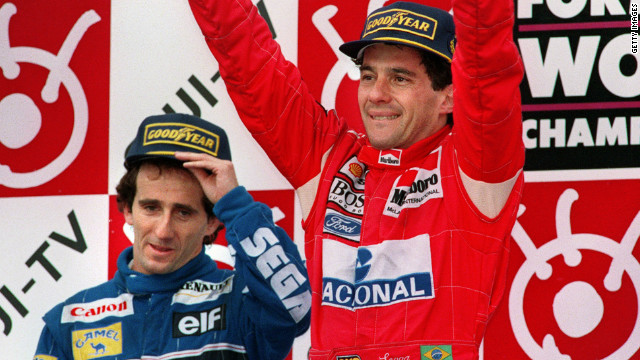 Ayrton Senna and Alain Prost were long-time rivals before they became teammates at McLaren.
Prost and Senna (No.1) clash at the Japanese Grand Prix at Suzuka in 1989. Prost clinched the title after the Brazilian was controversially disqualified after winning the race.
As they both battled for world titles at McLaren, Prost and Senna's relationship came under great strain.
Stand off: Senna and Prost walk away after the early crash at Suzuka in the final race of the 1990 season which left the Brazilian as world champion.
Prost's time with McLaren proved the most fruitful of his career as he captured three world titles.
Prost earned the nickname 'The Professor' for his thoughtful and studied approach to Formula One racing.
Prost competing in wet conditions at the Monaco Grand Prix which he won four times during his glittering career.
Prost and Senna formed a united team in 1988 as the latter won the championship for McLaren.
The medical team at Imola tend to the stricken Senna after his fateful crash in the San Marino Grand Prix in 1994.
Prost joined a pantheon of Formula One greats at Senna's funeral in Sao Paulo in 1994.
In the latter part of career Prost had to battle with the youthful exuberance of future seven-time champion Michael Schumacher.
Prost is a keen cyclist and is pictured here at the end of the 2009 L'Etape du Tour. The race enables 8,500 amateur cyclists to attempt a mountain stage of the Tour de France each year. The 2009 event was staged between Montelimar and Mout Ventoux, with Prost finishing 258th.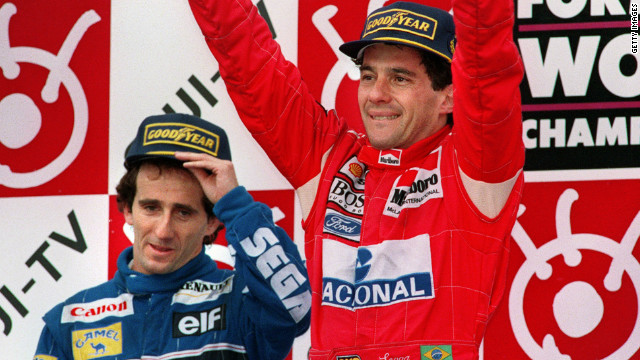 United in rivalry: Prost and Senna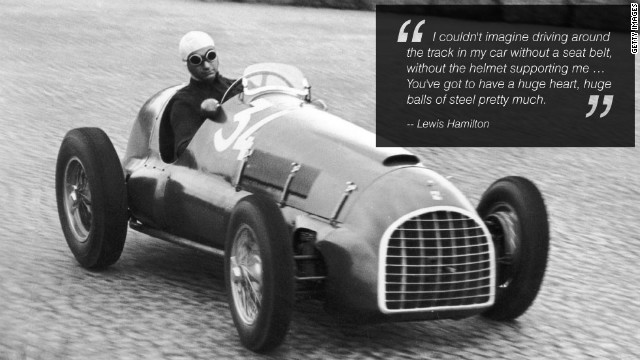 Click here to return to the story.
Click here to return to the story.
Click here to return to the story.
Click here to return to the story.
Click here to return to the story.
Click here to return to the story.
Click here to return to the story.
Click here to return to the story.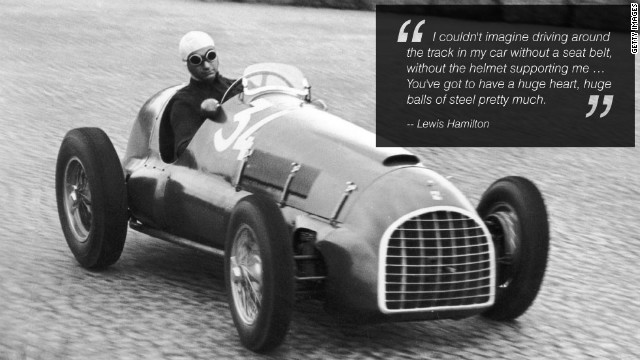 Senna vs. Fangio: Who is the greatest?
"It was a couple of laps before our pit-stop window, so I had to come in early.
"The guys thought the tire was fixed when we left the stop, but it came off on the out lap. We have had a few problems this weekend; I think we could have done something from our start position today, but it wasn't meant to be."
Read: Raikkonen claims 'easy' victory
Raikkonen's second place sealed his 20th consecutive finish in Formula One -- although that statistic had looked in danger following a coming together with McLaren's Sergio Perez.
"I think in the end it was a pretty okay result," he told reporters.
"Obviously we want to win, but after a bad start the car was handling well.
"Overtaking Perez, I was next to him and he just pushed me on the kerb, but I tried to avoid him but I went on the grass and hit him on the rear I think and damaged the front.
"That didn't help but luckily it didn't affect so much the handling, it was just a bit too much under steer but we could still fight for second place.
"For sure without the damage we could have been quite a bit faster. Anyhow, good points and we try to do better next time."
One of the success stories of the day was that of Torro Rosso's Daniel Ricciardo, who claimed a seventh place finish and his first points of the year.
"I am really pleased to score my first points of the season and to confirm the qualifying performance," he told reporters.
"After yesterday afternoon I kept calm, knowing the real work would begin today. The last time I qualified this well was sixth in Bahrain last year and then I failed to score.
"So today, I really wanted to show people what I could do, so it's great for me to have had a great race but it's especially good for the team, who have worked so hard for this."