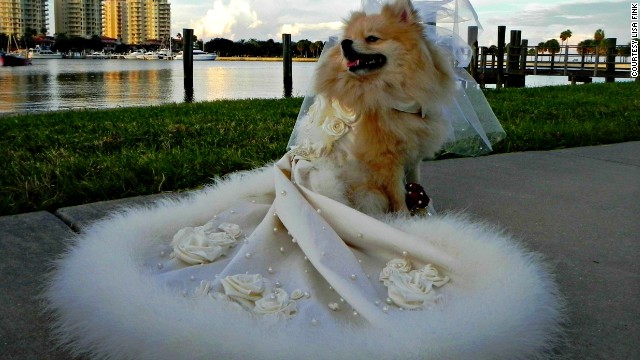 Tazi Tiara of Tampa, Florida, makes her mom, Lisa Fink, very proud. She's getting married this summer in this $1,000 stunner by Severine Vicknair of Pink Punk Puppy Designs.
Lucas of Newark, New Jersey, shows off one of his winter coats. Lucas nearly died as a puppy, but student Michelle Soares paid the $3,000 vet bill on a credit card, then worked to pay it off while going to school part-time.
Debbie Bornstein from Florida bought a car seat for her Cavalier King Charles spaniel, Samson, who wanted to sit on her lap while she was driving. Now he has his own cushy seat, high enough to give him an excellent view.
Virginia Beach, Virginia, resident Kate Lewis takes her rescue dog, Lola, on "excursions," such as sheep herding. Here, Lola is bobbing for hot dogs
A pet psychic hired by Salt Lake City resident Hikmet Loe for her Rhodesian ridgeback Terra (bottom) said that the dog was disappointed about not going to the beach, as promised.
Dog bakeries such as Three Dog Bakery in Southlake, Texas, are popping up all over the United States.
Brittany Anderson of Minnesota grew up sharing her breakfast with hamsters. Now she spoils her three guinea pigs, including Honey Boo Boo, pictured here wearing one of her many dresses.
Caroline Rongey from Collinsville, Illinois, lets her cat Steve eat his dinner at the table and dresses him up on holidays.
Phoebe sleeps with her owners, Emily and Devin Hurley, of Sacramento, California, and sometimes gives them a friendly kick in the head at 5 a.m.
Layla Torkzadeh's 4-pound Yorkie-Shih Tzu mix, Paisley, goes everywhere with Layla and gets her nails painted during "pawdicures."
Paisley has her own closet, filled with clothes.
Susan Roberts of Levelland, Texas, has three "fur babies" -- West Highland terriers Bogart, Spencer and Holly. They have their own "Christmas Westie" tree and costumes for every holiday.
When Keely, a border collie mix, celebrated her first birthday on February 26, her owner, Amy Mourhess, threw a party. She served doughnuts with a picture of Keely wearing a party hat on them.
Guess which meal is for the dog? If you chose the one on the left, you're correct. Monique Staffile cooks her Shih Tzu, Scrappy, fresh meals every night, while Staffile often eats leftovers.
Meet Nickie, also known as King Neptune. Diane Deeward of Michigan went all out for the Mardi Paws parade in Mandeville, Louisiana, in March for her dogs, Nickie and Melody. The parade's theme was "Doggone Wet."
San Diego resident Shila Hooshmand celebrated Ruffle's first birthday in a big way. "It's the closest thing I have to a child thus far," Hooshmand said.
With three dogs and three cats, pampering keeps Jes Hand and Donna Troka of Atlanta busy. Here one of their cats, Horace, is looking dapper.
Here, Hand and Troka's dogs, Oscar and Sula, feast on birthday treats.
Colorado resident Neva Edmunds heaps affection on her cat Lucy, who was a great comfort to her during a third bout with cancer. Lucy walks on a leash and is the center of attention at Neva's social events.
The art of pampering your pet
The art of pampering your pet
The art of pampering your pet
The art of pampering your pet
The art of pampering your pet
The art of pampering your pet
The art of pampering your pet
The art of pampering your pet
The art of pampering your pet
The art of pampering your pet
The art of pampering your pet
The art of pampering your pet
The art of pampering your pet
The art of pampering your pet
The art of pampering your pet
The art of pampering your pet
The art of pampering your pet
The art of pampering your pet
The art of pampering your pet
STORY HIGHLIGHTS
Pets pampering is growing, with new bakeries, spas and day-cares popping up to help
Nat Geo Wild series, "Spoiled Rotten Pets," showcases extreme animal lovers
The American Pet Products Association says $55 billion will be spent on pets this year
Guinea pig pamperer: "If I'm going to have a pet, I want to treat them the best I can"
(CNN) -- Tazi, a beautiful blonde, is getting married this summer in Tampa, Florida.
When she walks down the aisle, she'll be wearing a $1,000 dress with feather and bead details. The groom, Shilo, will be wearing a custom-made suit. There will be bridesmaids and guests to witness the ceremony. When it's over, Tazi will go home and maybe see her new husband on weekends.
Tazi is a Pomeranian pooch.
For her, this will be just another day in a pampered life that includes frequent modeling shoots, runway walks, calendar spreads and hitting the streets of Tampa in new outfits.
Her owner, Lisa Fink, hadn't planned this. Three years ago, she was experiencing empty nest syndrome after her daughter left for college. "I need to get a Pomeranian," she told her husband, and her search led her to the dog she named Tazi Tiara.
"She just loves people. She doesn't have a mean bone in her body," Fink said.
After Fink bought one dress for Tazi, she entered a dog shop's photo contest. Since then, Tazi's luxurious life spiraled into a modeling career, baseball game appearances and trips to the New York Pet Fashion Show.
And while Tazi's life may seem over-the-top to some, Nat Geo Wild's new series "Spoiled Rotten Pets," premiering Saturday, shows serious pet pamperers of all kinds: a couple who took their pet pigs to a spa; a woman who threw birthday parties for her rats; a couple who spent thousands on a dog bar mitzvah; a woman whose dogs have their own full-size rooms, complete with televisions.
Those animal lovers aren't alone in their doting ways.
The American Pet Products Association estimates U.S. pet owners will spend more than $55 billion on their furry companions this year. Medical expenses account for much of that, but fancy dresses, birthday parties and weekly grooming put a dent in many animal owners' wallets, too.
That's because people are pampering their pets as never before.
Psychics, car seats and guinea pig gowns
The pet industry is certainly helping people spoil their pets. There are hundreds of dog bakeries around the country selling cakes, cookies and other specialty goods for man's best friend. Day care centers for pooches are on the rise, some with pools. People can even buy luxury dog houses, complete with heating and air conditioning.
It seems nothing is too good for four-legged friends, many of whom are treated like their owners' children.
Take Hikmet Loe, an art history professor at Westminster College in Salt Lake City. When two of her older dogs died, that left just a Rhodesian ridgeback named Terra. To find out how Terra would feel about another dog, Loe consulted a pet psychic.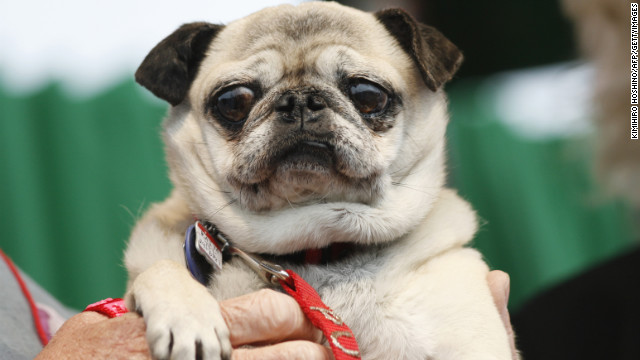 zOMG TINY ANIMALLLLZZZ! OK, just had to get that out of our systems. Now here's some science. There are three kinds of dwarfism in dogs: Ateliotic dwarfism results in a miniature version of a larger dog; micromelic achondroplasia results in a dog with a normal-sized body and short legs; and brachycephalic achondroplasia results in a dog with shortened bones in either the snout and upper jaw or the lower jaw. Asian dog breeds like the pug, the Shih Tzu and the Pekingese display all three kinds of dwarfism, so they are miniature and have short legs and squished-looking faces -- making them completely irresistible to their owners. Click through the gallery to see other dwarf pets whose owners wouldn't have them any other way.
Dachshunds are mainly micromelic dwarf dogs, which means their longest bones -- legs -- are affected by the condition. Dachshunds can also have ateliotic pituitary dwarfism, meaning they can be short-legged and "miniature," like Yorkies and Italian greyhounds. Don't let their gregarious and excitable nature fool you: Dachshunds are fearless, natural-born hunters. Their ancestral prey is the ferocious badger.
Pembroke Welsh corgis and their cousins, Cardigan corgis, are dwarf dogs thanks to genetic breeding. They have the same kind of genetic mutation -- achondroplasia -- that humans can experience. It gives corgis a terrific advantage that has helped this dog survive since the 10th century. Corgis were bred to herd cattle in Wales. Because they're small, they can easily dodge a feisty bovine kick. Their muscular bodies make them fast runners and their thick coats let them work a long day in the cold, damp countryside. They are jovial and intelligent companions, but don't be surprised if you start playing fetch with a corgi and end up neatly corralled, instead.
The Munchkin cat is also genetically bred to have a normal-sized body and short legs. Like corgis and dachshunds, these cats are speedy and agile. They're also extremely playful and social cats. They're known to sit on their hind legs like rabbits when their curiosity is piqued. Dwarf cats have been identified in all parts of the world since 1944. In 1983, a Louisiana music teacher rescued a short-legged, pregnant cat that became the foundation for the breed now called the Munchkin, according to The International Cat Association. She named the litter for their resemblance to the "Wizard of Oz" characters.
Pigs are highly intelligent creatures, but livestock hogs are impractical as pets because of their size. Miniature pot-bellied pigs, however, are bred for dwarfism and grow to weigh between 120 and 150 pounds. They are docile animals that can be house-trained. They can also develop a repertoire of delightful tricks, which makes them a suitable alternative to dogs for many pet lovers.
Which tiny rodent pet is even cuter than a hamster? The African pygmy mouse, of course! This mouse lives in the wild in sub-Saharan Africa but it's also bred as a pet all over the world. African pygmy mice are one of the smallest rodents -- they can range from 1 to 3 inches long -- and can easily sit on a penny. They are very social animals, so it's good to have more than one, but this is not a pet for snuggling: They're so small that they can be injured by handling.
Miniature donkeys hail from Sicily and Sardinia, where they have been used as beasts of burden since the 18th century. They were introduced abroad in the 1920s, where they became beloved pets, especially in the United States and United Kingdom. They are naturally small because of isolation and food sources, an example of what scientists call "island dwarfism." Owners cite their tender, loving disposition and intelligence as reasons these spunky animals won their hearts.
The African pygmy goat (pictured here), the Nigerian dwarf goat and the Australian miniature goat are all descendants of naturally small African goats. As adoring as any dog or cat, goats make great pets and therapy animals because they do not bite. They are often dehorned so they can live in homes.
Shetland ponies, one of several breeds of miniature horses native to the United Kingdom, were first bred as mining ponies. Nowadays, miniature horses are bred either as companion pets or to competitively show and jump. They're also often used as therapy animals. With a life expectancy that can reach 40 years, they're as intelligent as dogs -- some owners might argue, even smarter.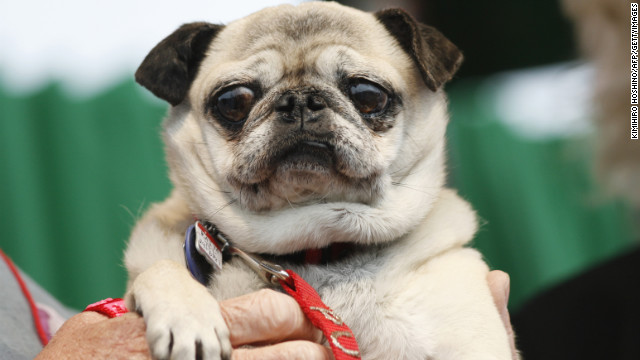 Short on legs, long on cute
"The woman comes over and engages with Terra in a way I've never seen before," Loe said. "And she said, 'When you tell her you're going to take her to the beach and then you don't, that's very disappointing to her.' "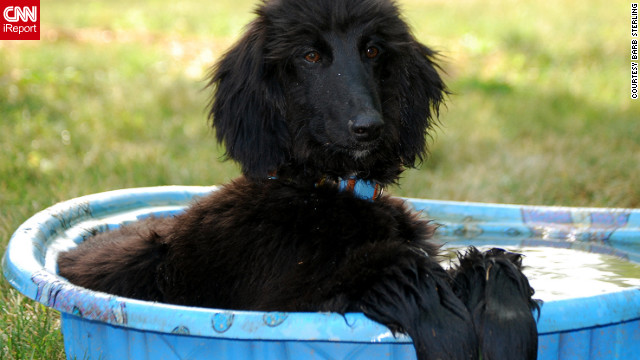 It's 100 degrees outside (or worse). How's a fur-covered pup to cope? CNN iReporters from around the United States have been sharing photos of their best friends cooling off, and let's face it: They're too cute not to post.
Here, Prim the Afghan hound manages to look elegant while relaxing in a baby pool in Gahanna, Ohio.
Beautiful standard poodle Gracie has water up to her shoulders in her family's above-ground backyard pool in Barberton, Ohio.
Dexter, a Cavalier King Charles spaniel, decides it's too hot even to swim in Constant Lake in Ontario, Canada.
Four-month-old German shepherd Zhik naps on a float in his family's pool in Tulsa, Oklahoma.
Sierra's family says they can't keep her out of their Loxahatchee, Florida, pool. Here, the sopping wet yellow lab takes a rest on a float.
Flossy, a 5-year-old Maltese, captains a boat raft off the shores of Destin, Florida.
Year-old black lab Jackson enjoys his baby pool in Fort Wayne, Indiana.


Is it unbearably hot where you are? Show us how you -- and your pets -- are staying cool.
It's not just American dogs that need to cool off. Sandro Capannolo spotted this pup taking a dip in a fountain in Rome. And Istvan Szemes of Hungary shared a video of his German shepherd gleefully splashing around in a baby pool.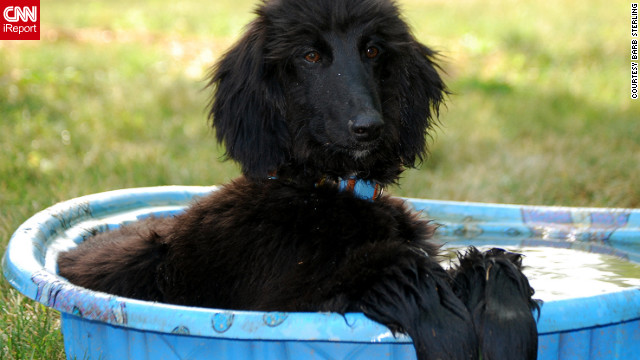 Dog days of summer
The psychic also told her that Terra loves to be the center of attention and to be one of the girls. She would like her toenails painted different colors -- blue and green, specifically. Oh, and she didn't want another dog in the house. She was content with being No. 1.
Loe got another dog anyway and spoils them both, along with her two cats.
"We all know that animals play a huge role in people's lives, (in) their happiness and psychological well-being. I will always have animals around me," she said.
Then there's Debbie Bornstein of Maitland, Florida, whose Cavalier King Charles spaniel, Samson, goes everywhere with her. But she ran into a problem in the car: Samson is a lapdog, and that didn't work out so well while driving. So Debbie bought a dog car seat.
"He loves it. It has an elevated seat with a drawer in it. ... He's high so he can look out the window. Now I say, 'Get into your seat,' and he gets right in," Bornstein said. "My children tease me that he's my only child now and that all my attention is on him."
Emily and Devin Hurley live in Sacramento, California, with three cats, two hens and two rabbits. The cats feast on chicken and fish, and the hens eat eggs (yes, really) and yogurt.
The rabbits, Phoebe and Duke, are cage-free and sleep in the Hurleys' bed -- even if that sometimes means a swift kick in the face at 5 a.m.
"Rabbits run the length of five football fields a day, so being cooped up in a cage simply isn't an option. They sleep in my bed ever since I adopted them," Emily Hurley said.
What's the harm?
So is all this doting a problem? Is there any harm in treating our pets like children?
Andrew Zbeeb, who owns the pet-training and sitting company Frogs to Dogs in Atlanta, said pet pampering is usually harmless. But it can turn potty training and overfeeding into big problems, Zbeeb said.
"I'll put my training hat on and tell you there could be negative effects if you're treating animals like a human being. It's OK to love your pet and pamper your pet and put dresses on your pet, but it's still a domesticated animal. It's not a human being," Zbeeb said. "It can lead to disappointment for human beings, and the (animals) may have false perceptions of the world."
At the same time, while "people may get carried away with (doting on their pets), it's sweet," he said. "And (those connections) extend a human's life."
Consider Brittany Anderson of Minnesota, who grew up sharing her cereal with hamsters. Now a recent college graduate, she has three guinea pigs she spoils. They eat fruits and vegetables, get plenty of exercise outside their cages and orange slices in their water. On holidays, they get presents. They're playful, social animals, Anderson said, and she can tell when they're upset.
"If I'm going to have a pet, I want to treat them the best I can," she said.
That includes dressing them in clothes, some of which she designed.
"When any kind of animal wears clothes, it's hilarious and cute," Anderson said. "It's less common to find guinea pig clothes. Right now I'm (making them) for fun, as a hobby, but it's a dream of mine to design (and sell) animal clothes."
Harold A. Herzog Jr., a professor of psychology at Western Carolina University, has made the relationship between animals and humans a primary focus of his research and career. He isn't terribly concerned about animal doting.
"I don't think there's any harm in excessive pet pampering unless they're sacrificing clothing for their children, or vet bills are $20,000. Things can go south ... but it's a harmless pleasure if people want to dress their guinea pig up for the most part," he said.
From rescue to regal
Herzog does see a trend among pet owners: Rescuing animals has become fashionable. Owners might treat animals especially well as a way to make up for their pets' earlier difficult lives, he said.
"One of the things we've seen is a dramatic decrease in purebreds," Herzog said. "I talk to a lot of people about their animals and the first thing out of their mouths is, 'They are a rescue animal.' It's a fad, a good moral fad. There is a certain borderline fanaticism to it."
Just a few years ago, a sick puppy named Lucas came into Michelle Soares' life. She was an unemployed student, and the treatment for parvo, a potentially deadly virus, would cost $3,000 -- with no guarantee of recovery. It was a risk, but she took out a credit card loan and paid for it.
"He was just a puppy," Soares said. "So I started looking for a job because I had to pay that huge bill. When I first brought him back home, I had been at my current job for a week and I just went to school part-time."
Today, Lucas has no worries. He's healthy, and Soares now works as an office manager for a wine distributor in Newark, New Jersey. Lucas eats organic dog food and Michelle's home-cooked dog meals -- boiled eggs, chicken, peas and carrots. For snacks, he eats homemade frozen treats.
His biggest concern is playing ball. At 8 p.m. on the dot, he gets to play indoor ball. If there's any delay, he whines -- loudly.
"He's crazy. He's like our kid," Soares said. "That's how we treat him."
Kate Lewis from Virginia Beach, Virginia, found Lola, a collie-shepherd mix who suffers from seizures, at a shelter and wanted to give her the best life possible.
Lola has gone sheep-herding, which she loved; dock jumping, which she didn't; and bobbing for hot dogs at a fair for the American Society for the Prevention of Cruelty to Animals. She's been on beach trips and joined Lewis during "Take Your Dog to Work Day."
"She really is a family member. That's how we look at it, especially because she is a rescue," Lewis said. "We took responsibility for a life. You do everything you can to make that a happy experience."
Then there's Neva Edmunds of Lakewood, Colorado, whose doting is filled with gratitude. Edmunds survived three bouts of cancer, and during the most recent, her rescue cat, Lucy, was "better comfort than any pain medication."
Now lucky Lucy goes on walks with a leash, something she took to immediately -- no training required. Edmunds keeps treats in the kitchen, the bathroom, her office and even her bedroom.
"I live alone and work alone. Lucy is a great companion. If work is hard, I can always look over and see her calm breathing as she sleeps and all is well," Edmunds said. "Compared to what she does for me, I could hardly repay that debt with any amount of pampering."