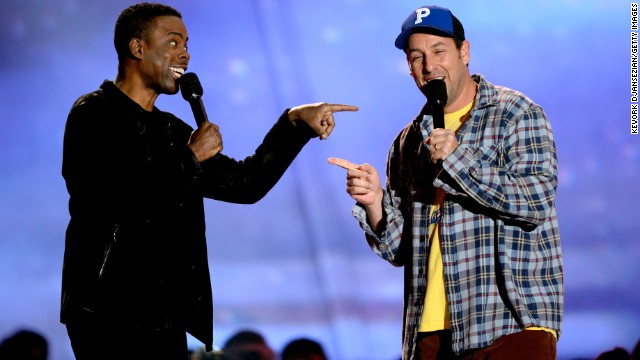 The 2013 MTV Movie Awards came early this year, but Sunday night's show wasn't short on memorable moments. First up on the list?
Chris Rock and Adam Sandler present the "Best WTF Moment" award
. Half of the segment was bleeped, with Rock keeping censors on their toes by appearing to say something off the cuff at the end.
With a new "Star Trek" movie on the way in May -- "Star Trek Into Darkness" -- cast members Zachary Quinto, right, Zoe Saldana and Chris Pine show up at the MTV Movie Awards in full promotion mode.
Peter Dinklage presents Will Ferrell with the Comedic Genius Award, paying his respects when the actor took the stage in a three-piece suit with a money motif.
head-scratching moment of the night
when she hops up on the stage and tries to take Will Ferrell's Golden Popcorn statue.
Aubrey Plaza provides the
"Family man" Will Ferrell brings his "amazing family" onstage as he accepts the Comedic Genius Award.
She brings out a stuffed koala
and uses its "excellent X-ray vision" to play pranks on celebrities Quvenzhané Wallis and Chris Evans.
Host Rebel Wilson, who hails from Australia, injects some Down Under flavor into Sunday's proceedings.
Brad Pitt presents the movie of the year award to "The Avengers."
Taylor Lautner cheekily accepts his award for Best Shirtless Performance for "The Twilight Saga: Breaking Dawn -- Part 2." He joked that he's grown a bit of a beer belly since the franchise has wrapped.
Rebel Wilson reunites with the cast of her 2012 movie "Pitch Perfect" for her opening number. She went on to wear a number of looks throughout the show.
"The Avengers" crew -- including Chris Evans, Samuel L. Jackson, Tom Hiddleston and Joss Whedon -- accept movie of the year honors, prompting director Whedon to show off his wit: "What's the opposite of humbled?" he asked. "We're Biebered."
Snoop Lion and Ke$ha -- puff, puff -- pass something around before introducing Macklemore & Ryan Lewis.
With that introduction, Macklemore & Ryan Lewis can't help but give an uplifting performance.
Selena Gomez invites the audience to "Come and Get It" as she performs her new single.
Seth Rogen, left, and Danny McBride, right, present the award for Best Shirtless Performance, making Zac Efron supremely uncomfortable in the process.
MTV Movie Awards: Memorable moments
MTV Movie Awards: Memorable moments
MTV Movie Awards: Memorable moments
MTV Movie Awards: Memorable moments
MTV Movie Awards: Memorable moments
MTV Movie Awards: Memorable moments
MTV Movie Awards: Memorable moments
MTV Movie Awards: Memorable moments
MTV Movie Awards: Memorable moments
MTV Movie Awards: Memorable moments
MTV Movie Awards: Memorable moments
MTV Movie Awards: Memorable moments
MTV Movie Awards: Memorable moments
MTV Movie Awards: Memorable moments