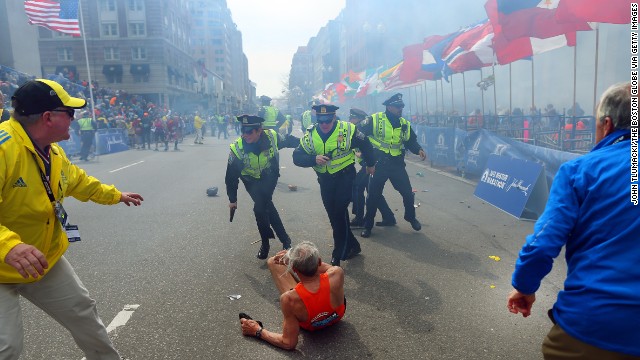 On April 15, 2013, two bombs exploded in the crowded street near the finish line of the Boston Marathon, killing three people and injuring more than 140 others. It was the latest in a series of terrorist attacks on sporting events going back to the 1970s.
See all photography related to the Boston bombings.
The 1972 Munich Olympics is remembered for tragedy, rather than sporting excellence, after 11 Israeli athletes were killed by the Palestinian terrorist group known as Black September.
The Olympics were targeted again in 1996 when a bomb at Centennial Park killed one and injured hundreds of others during a free concert in the U.S. city of Atlanta.
Between May and July 2006, Iraqi sportspeople were the target of a number of attacks. The 15 members of the Taekwondo team were kidnapped and never seen again, while a national tennis coach and two players were killed following an attack on a sports conference in Baghdad.
In April 2008, a suspected Tamil Tiger suicide bomber detonated a device at the start of a marathon celebrating Sri Lanka's New Year. Highways minister Jeyaraj Fernandopulle, former Olympic marathon runner KA Karunaratne and the national athletics coach, Lakshman de Alwis, were among the dozen people killed.
New Zealand cricket captain Stephen Fleming was forced to hold back the tears in May 2002, after his team ended its tour of Pakistan when a suicide bomber attacked outside the team's hotel in Karachi. Fourteen people were killed, including 11 French Navy experts, two Pakistanis and the Pakistan team's physiotherapist.
Sri Lanka's national cricket team was evacuated by helicopter during its tour to Pakistan in 2009 after seven people were killed when the team bus was attacked in Lahore.
Three people were killed and nine were injured when the Togo football team bus was ambushed in Angola before the 2010 Africa Cup of Nations. Rebels used machine guns on the vehicle as it traveled from the Democratic Republic of Congo into Angola's oil-rich region of Cabinda.
Sport events and terror attacks worldwide
Sport events and terror attacks worldwide
Sport events and terror attacks worldwide
Sport events and terror attacks worldwide
Sport events and terror attacks worldwide
Sport events and terror attacks worldwide
Sport events and terror attacks worldwide
Sport events and terror attacks worldwide
STORY HIGHLIGHTS
Two deadly bombs struck the Boston Marathon Monday
Sporting events have often been the target of attacks
Countries previously affected include Germany, Pakistan and the U.S.
(CNN) -- The fatal bombing of the Boston Marathon is not the first time a sporting event has been targeted. Gunmen, suicide bombers and kidnappers have attacked athletes and venues across the world - from Munich, to Angola, Pakistan and the United States. They have been separatists, militants and activists.
Here are some of the attacks:
September 1972: Palestinians going by the name of "Black September" kill two Israeli athletes and take nine hostage at the 1972 Munich Olympics, demanding that Israel release 200 political prisoners. All the Israeli hostages are later killed. A German police officer and five of the kidnappers also die.
Read more: The Munich massacre a survivor's story
July 1996: An 18kg (40 pound) pipe bomb explodes during a nighttime music concert at the Centennial Olympic Park, killing one person and injuring more than 100 others. In 2005, Eric Robert Rudolph admits responsibility for the attack. He says he wanted to shame the U.S. for its legalization of abortion but had planned to knock out Atlanta's power grid not to harm innocent civilians.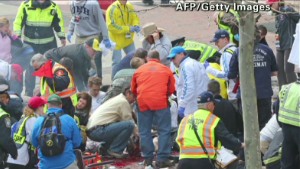 Investigators Look for Bomb "Signature"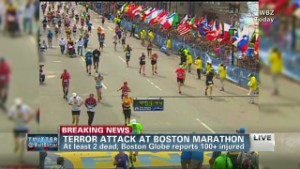 Witness describes Boston Marathon bombings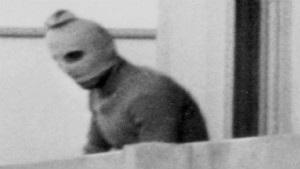 Munich Games massacre remembered
Read more: Despite fear and anger Olympic spirit prevails
May 2002: Seventeen people are injured when a car bomb is detonated near the Bernabeu Stadium in Madrid hours before a Champions League semifinal between Real Madrid and Barcelona FC. UEFA makes security checks before deciding to go ahead with the match. The Basque newspaper Gara says the Basque separatist group ETA gave advance warning of the attack.
Read more: Bombs explode near Madrid stadium
2006: Fifteen members of Iraq's Olympic taekwondo team are kidnapped for ransom while driving to Jordan in May. A year later, 13 of their bodies are found.
The same month the Iraqi tennis coach and two of his players are shot dead. The BBC reports that the men were shot by militants who objected to the players wearing shorts.
In July, gunmen snatched more than 20 Iraqi sports officials -- including the head of Iraq's Olympic Committee from an Iraq National Olympic Committee meeting in Baghdad. It remains unclear what happened to the officials. Read more: Rogge asks for release of hostages
In December four football players were wounded in a mortar attack while training in Baghdad.
Read more: Iraqi players hurt in mortar blast
April 2008: A senior Sri Lankan Cabinet minister and at least 13 other people -- including police and government officials -- are killed in a suicide bombing at the start of a marathon just outside the capital city Colombo. The minister had been waving the starting flag for the race when he was killed. Tamil Tigers -- then fighting for an independent Tamil state -- are suspected of being behind the blast.
Read more: Suicide blast kills Sri Lankan minister
March 2009: The Sri Lankan cricket team is attacked as it travels by bus to a match in Lahore, Pakistan. Seven players and an assistant coach are killed, as are at least six Pakistani police providing security for the team. Local police say they believe the gunmen wanted to kidnap the cricketers to exchange them for jailed militants.
Read more: Suspect held over Sri Lanka cricket attack
Read more: Analysis -- attack puts sport in terror gunsights
January 2010: Gunmen open fire on the Togo national soccer team, in Angola killing the team's assistant coach, its communication officer and the bus driver dead. The attack is claimed by separatist group Forces for Liberation of the State of Cabinda. Cabinda is a disputed oil-rich enclave in the Democratic Republic of the Congo, where the soccer team was heading to play in the African Cup of Nations tournament.
Read more: Arrests over Togo football team shooting
April 2013: At least three people are killed when two bombs explode at the Boston Marathon on the east coast of the United States.
Read more: Terror at Boston Marathon