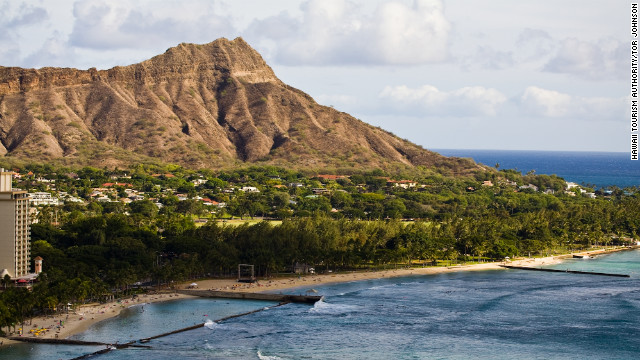 Diamond Head State Monument looms over Waikiki's coastline on the Hawaiian island of Oahu. While getting to the islands is bound to be expensive, it only costs $1 to visit Diamond Head on foot.
Grand Canyon National Park in Arizona measures up to 18 miles wide and a mile deep and displays geologic history dating back 2 billion years. Enough said.
Muir Woods National Monument in Mill Valley, California, boasts hiking among its magnificent redwoods within miles of San Francisco's Golden Gate Bridge.
Old Faithful Geyser, pictured, and Upper Geyser Basin at Yellowstone National Park in Wyoming give visitors an impressive natural show. Old Faithful spews a jet of boiling water into the air approximately every 90 minutes.
Iceland's Gullfoss, or "Golden Falls," get their name from the brownish glacial water that drops down a huge natural staircase in the River Hvita.
While only eight of these limestone stacks survive, Australia's Twelve Apostles still make for an arresting sight along the Great Ocean Road in Victoria.
Nearly three times wider than Niagara Falls, the immense Iguacu Falls on the Argentina-Brazil border resemble a long horseshoe.
Badlands National Park in South Dakota encompasses one of the world's richest fossil beds. Millions of years of sediment has eroded sharply in the past half million years, creating the starkly beautiful terrain.
Arthur's Seat in Edinburgh, Scotland, is an urban volcano where admission is free. Just lace up your hiking shoes.
The highest point in Africa at 19,340 feet, Tanzania's Mount Kilimanjaro is made up of three main extinct volcanoes.
World wonders: 10 traveler favorites
World wonders: 10 traveler favorites
World wonders: 10 traveler favorites
World wonders: 10 traveler favorites
World wonders: 10 traveler favorites
World wonders: 10 traveler favorites
World wonders: 10 traveler favorites
World wonders: 10 traveler favorites
World wonders: 10 traveler favorites
World wonders: 10 traveler favorites