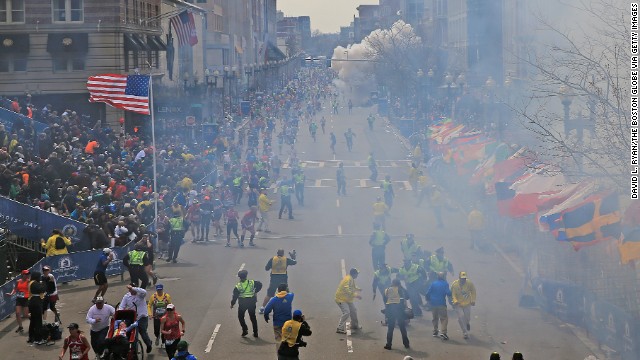 The bombings in Boston
on Monday, April 15, 2013, serve as a cruel reminder that the U.S. has seen other terror attacks on home soil.
See all photography related to the Boston bombings.
A suspect known as "The Unabomber" kept authorities at bay for years during his long, random terror spree. Here, FBI agents guard the entrance to the property of Ted Kaczynski on April 5, 1996, in Lincoln, Montana.
Justice finally catches up with Ted Kaczynski, who is escorted by U.S. marshals outside Sacramento County Federal Court in California in May 1998 after receiving life sentences for his crimes.
Firefighters and rescue crews work outside the World Trade Center after an attack on February 26, 1993. This bombing shocked the nation, which had no way to realize that much worse was to come at this location in less than decade.
A police photographer helps document the bombing of the underground parking garage at the World Trade Center, which killed six people in 1993.
The north side of the Alfred P. Murrah Federal Building in Oklahoma City shows the devastation caused by a fuel-and fertilizer truck bomb detonated on April 19, 1995. At the time, it was the worst terror attack on U.S. soil, killing 168 people.
Employees of the Bureau of Arms, Tobacco and Firearms hug in front of the wreckage of the Murrah Building. Americans soon learned one of their own -- not foreigners bent on U.S. destruction -- was responsible for the carnage.
Atlanta was the excited and elated host of the 1996 Summer Olympics when a bomb went off at Centennial Olympic Park on July 27. Two people were killed and 111 were injured by the blast. It would not be the last time that a U.S. sports venue would find itself the target of terrorism.
Rising from the ashes of ruin: Rescue workers continue their search for victims as smoke still pours from the rubble of the World Trade Center on September 13, 2001. The death toll at ground zero: 2,753.
Soldiers comfort each other at the Fallen Soldier Memorial at Fort Hood, Texas, on November 10, 2009, during a ceremony honoring the 13 soldiers and civilians killed in a shooting rampage five days earlier.
In the darkness of terror attacks, Americans find the light. Here, officers hold candles during a vigil for those killed at Fort Hood.
Terror attacks on home soil
Terror attacks on home soil
Terror attacks on home soil
Terror attacks on home soil
Terror attacks on home soil
Terror attacks on home soil
Terror attacks on home soil
Terror attacks on home soil
Terror attacks on home soil
Terror attacks on home soil
Terror attacks on home soil
Terror attacks on home soil