STORY HIGHLIGHTS
Heikki Kovalainen to return to Caterham after losing seat with the team in 2013
Finnish racer will drive for Caterham in first practice in Bahrain and Barcelona
Caterham want his help in understanding 2013 car and tire behavior
U.S. racer Alexander Rossi takes over Caterham GP2 drive from China's Ma Qing Hua
(CNN) -- Heikki Kovalainen is returning to Formula One to help the team that fired him.
The experienced Finnish driver is taking on a new technical development role at Caterham to help them understand why they have fallen behind their back-of-the-grid rivals Marussia.
Kovalainen will return to the cockpit in first practice for the next two grands prix in Bahrain and Spain.
Read: Team orders -- Fast track or road rage?
"It's great news that I'll be on track," the 31-year-old said. "I'm really looking forward to getting back to work and helping the team as much as I can.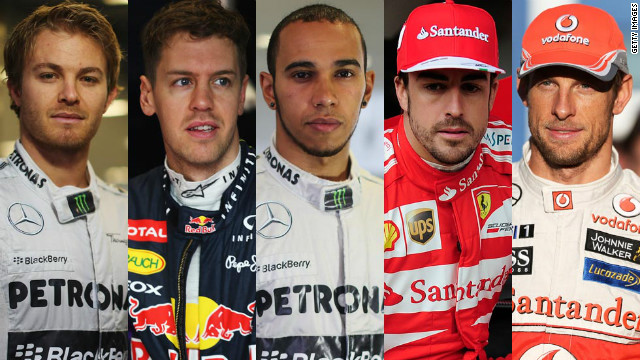 After 15 years with McLaren, Lewis Hamilton has flown the nest and landed in the Mercedes garage. The 2008 world champion is being tipped for success in 2013, with his new teammate Nico Rosberg showing in preseason that the new Mercedes is capable of topping the timesheets.
But if Hamilton is to win a second drivers' championship, he will have to overcome triple world champion Sebastian Vettel. The German has taken the title in each of the last three years, with his Red Bull team also leaving other manufacturers trailing in their wake.
The title race will not be as simple as Vettel vs. Hamilton. A fired-up Fernando Alonso missed out on the 2012 crown by just three points, and the double world champion will be looking to challenge at the front of the grid given the improvements in his Ferrari following last season's design problems.
Five rookies will be on the grid at the Australian Grand Prix, including Valtteri Bottas (pictured) who will be behind the wheel for Williams. Caterham drafted in Giedo van der Garde, while Esteban Gutierrez makes his debut for Sauber and Marussia boast an all-rookie line up of Jules Bianchi and Max Chilton.
Pirelli will serve as the official tire supplier in the final season of its three-year contract. The new tire is made of a softer rubber than its 2012 equivalent, with lap times expected to increase by up to half a second.
There will be 11 teams lining up for the first race in Melbourne following the collapse of Spanish outfit HRT after three seasons without scoring a point.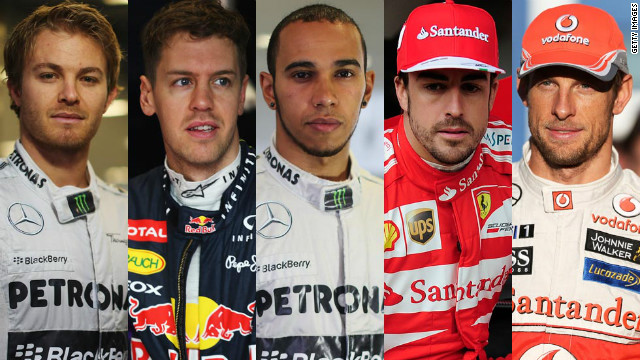 F1: 2013 season preview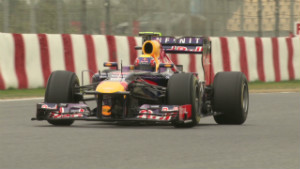 Engines on, Formula 1 returns!
"I'll be taking part in the two sessions to give the team my input on the new parts we're bringing to those races, and I'll be working closely with the race drivers and the engineers on track to help everyone get the most out of the new package.
"I'm physically ready to get back into the car and I know my experience can help give the team new ideas and options for directions to take on setup and strategy."
Read: Alonso's 'perfect Sunday'
Kovalainen made his F1 debut in 2007 and went on to win his first race in Hungary as a McLaren driver the following year before moving to Caterham -- then called Lotus -- when they joined the grid in 2010.
But the Kovalainen lost his seat at CNN-sponsored Caterham in 2013 because he was not a "pay driver" -- which meant he did not bring any money to the team.
Caterham hired Frenchman Charles Pic from Russian rivals Marussia and Dutch rookie Giedo van der Garde for this season, but have fallen to 11th out of 11 teams in the constructors' championship, behind Marussia, after the first three races.
The Circuit: CNN's F1 interactive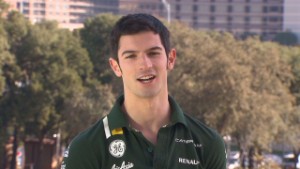 U.S. Grand Prix preview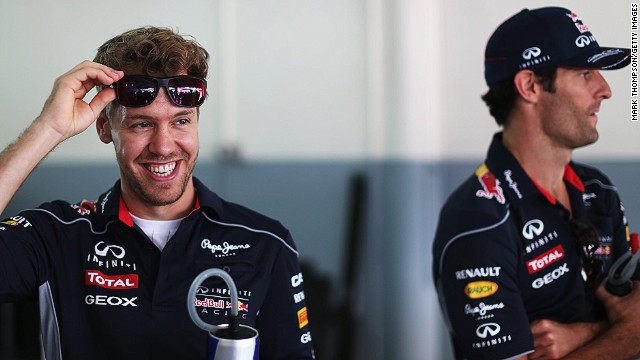 "Get him (Webber) out of the way, he is too slow," Sebastian Vettel disdainfully remarked over team radio at last month's Malaysia Grand Prix. The German was instructed not to challenge Webber, who was leading the race, but ignored orders and overtook the Australian with ten laps remaining. Vettel's tactics caused much consternation on social media and reopened the debate about the practicality of team orders in Formula 1.
Vettel leads Webber during the Malaysia Grand Prix in Sepang in March. It's not the first time team orders have caused rifts between drivers.
Awkward scenes on the podium at the 2010 German Grand Prix after Felipe Massa (left) surrendered the lead to his Ferrari teammate Fernando Alonso when the team told him that the Spaniard had the faster car.
Rubens Barrichello (right) looks far from content as teammate Michael Schumacher has a quiet word on the podium following the 2002 Austrian Grand Prix, which the German controversially won. The Brazilian, who spent six years as Schumacher's deputy at Ferrari, says he empathizes with Webber's position at Red Bull.
Barrichello led the 2002 Austrian Grand Prix before ceding position to his Ferrari teammate Michael Schumacher. Team orders were banned the following season.
"El Maestro" Juan Manuel Fangio (left) and Stirling Moss engaged in discussion following the 1957 Italian grand Prix at Monza, which the Englishman won. The pair were teammates at Mercedes in 1955. "The team has always been the most important thing," says Moss. "Once you're with a company you really have to do what they tell you to. It's a professional business with very big money, which it wasn't (when I drove). Drivers are being paid like film stars now."
Moss (left) trails behind Fangio at the Italian Grand Prix in 1956. "I'm glad I raced when I did and not now because the pleasure was so much more then and the racing certainly was purer," Moss says.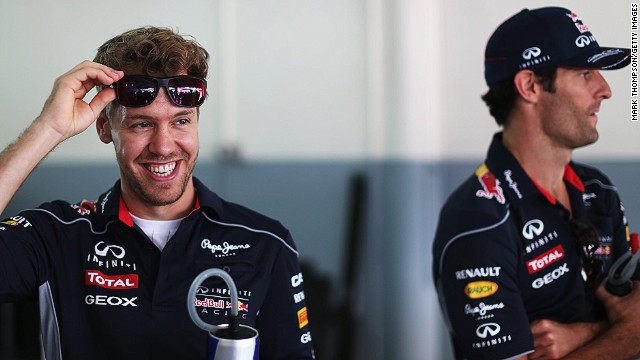 Team orders: needless or necessary?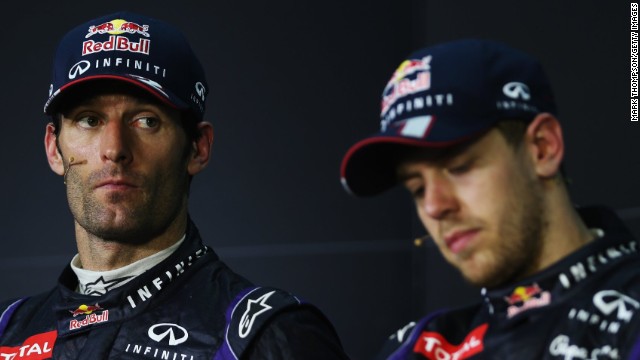 An unhappy Mark Webber, left, with Red Bull teammate Sebastian Vettel at the postrace press conference in Malaysia.
Webber had led after coming out of his final pit stop with 13 laps to go in Sepang, but Vettel claimed victory after defying team orders to overtake while the Australian was following instructions to conserve his car.
They shared the podium with third-placed Lewis Hamilton, whose Mercedes teammate Nico Rosberg obeyed team orders and did not attack the English driver even though he felt he was quicker.
Fernando Alonso won the race last year, but his 200th career grand prix was less successful. The Ferrari driver damaged his front wing early on and then made the mistake of staying out on the track too long and was not able to finish.
Jenson Button's car is pushed back to the pit area after his crew let the McLaren leave with a loose front wheel. It ruined the 2009 world champion's chances of earning points and he retired before the end of the race. However, his new Mexican teammate Sergio Perez finished ninth.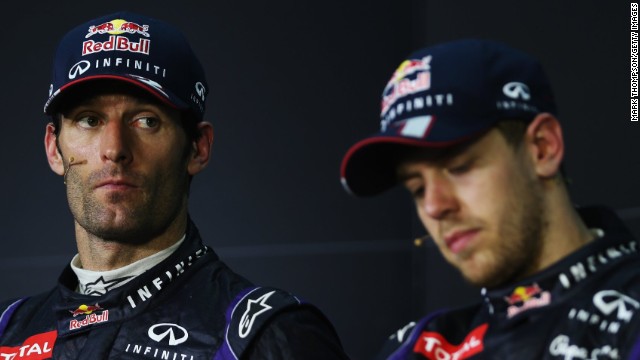 Vettel defies team orders
It is important to finish inside the top 10 because that entitles teams to a greater share of the sport's revenue and prize money.
Caterham bosses hope new developments on their 2013 car will help them catch up on the Marussia and close the gap on the midfield runners.
But team principal Cyril Abiteboul says that task relies on using the experience of Kovalainen, who had been with the team since they first turned a wheel.
"Heikki has six years of F1 experience behind him so he is perfectly placed to provide us objective feedback on the various types of configurations we will run and to give us an objective view of the 2013 tires against his experience with the 2012 compounds," Abiteboul explained.
"Having invested in Heikki for our first three years of competition it would be a waste not to leverage the valuable expertise he brings.
"As F1 is a team sport, he will also provide support to Charles and Giedo, who are both doing a good job in their first months with the team."
The restructuring of Caterham's line-up means Ma Qing Huang -- who made history when he became the first Chinese racer to drive in front of his home crowd during practice at the last race in Shanghai -- loses his role as the team's reserve as well as his place in Caterham's GP2 team.
The 25-year-old will stay on Catherham's driver roster, but his role has yet to be announced.
U.S. driver Alexander Rossi will remain the second team reserve, but will take over Ma's seat in the GP2 championship -- which is the official feeder F1 series for the next generation of drivers.
Kovalainen's return to F1 coincides with discussions between tire supplier Pirelli and the sport's chief Bernie Ecclestone about the possibility of running young drivers on a new tire compound in first practice to give them vital experience in F1.
There are five drivers -- Max Chilton and Jules Bianchi of Marussia, Sauber's Esteban Gutierrez, Valtteri Bottas of Williams and Van der Garde of Caterham -- who joined F1 in 2013 with limited experience of driving an F1 car.