Luxor balloon flights set to resume
April 17, 2013 -- Updated 1407 GMT (2207 HKT)
STORY HIGHLIGHTS
Flights set to resume Wednesday, according to statement
Balloon flights grounded since tragic February accident
Luxor is among Egypt's top tourist draws
(CNN) -- Hot air balloon rides at Egypt's popular tourist destination of Luxor are set to resume Wednesday, according to a statement on the Egyptian Civil Aviation Regulatory Commission's (CARC) website (Arabic).
President of the CARC, Mohamed Ibrahim Sherif, confirmed balloon flights would restart, the Egypt Independent reported.
Hot air balloon rides were banned in Luxor after a February 26 accident that killed 19 tourists.
Preliminary investigations suggested that gas canisters aboard the balloon exploded, causing it to plummet about 1,000 feet (300 meters) to the ground.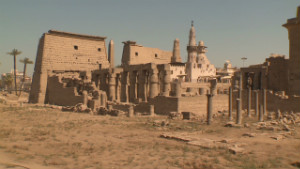 Tourism takes a hit in Egypt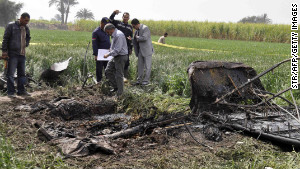 Tourists killed in balloon blast
It was the world's deadliest hot air balloon accident in at least 20 years.
Read more: Balloon crash kills 19
Sky Cruise, the company involved, remains banned from operation pending further investigation. All Ultramagic N-425 balloons, the model of balloon in the accident, are also still grounded, according to a translation of the statement.
In addition, hot air balloons in operation will be subject to inspection and companies will have to follow new mandatory regulations.
Read more: How safe is hot air ballooning?
According to the statement, all pilots, engineers and ground crew will need to undertake hazardous situation and extra safety training.
Passengers will also be required to sign liability documents stating they understand they are flying at their own risk.
Read more: Balloon disaster 'blow' for tourism
Luxor is among Egypt's top tourist draws. Visitors go to see ancient temples and tombs, and travel sites often recommend hot air balloon trips.
Balloon rides offering panoramic aerial views of the Nile River and the ancient temples of Karnak and Hatshepsut are a popular tourist attraction in Luxor, about a nine-hour drive southeast of Cairo.
Read more: Vacationers recall glorious balloon rides
Qin Xie contributed to this report.

Today's five most popular stories
Part of complete coverage on
November 24, 2014 -- Updated 0118 GMT (0918 HKT)

These quirky and beautiful subway stops make standing cheek-to-cheek with 45 strangers almost seem fun.
November 21, 2014 -- Updated 1314 GMT (2114 HKT)

Luxury vintage Land Rover tours explore Bedouin backwaters without bashing up precious dunes.
November 20, 2014 -- Updated 0250 GMT (1050 HKT)

Cities around the world have closed the brew gap, but the Oregon city's innovative scene continues to lead the beer parade.
November 19, 2014 -- Updated 2249 GMT (0649 HKT)

From gourmet hotdogs to Sevillian tapas, the food served in these London restaurants is worth lining up for.
November 20, 2014 -- Updated 1545 GMT (2345 HKT)

Plans are underway to build the world's tallest -- and quite possibly most terrifying -- roller coaster at an Orlando, Florida, theme park due to open in 2017.
November 18, 2014 -- Updated 1932 GMT (0332 HKT)

The 7th Annual Cruise Critic Editors' Picks Awards highlight the top cruise lines for North American travelers in 18 categories.
November 19, 2014 -- Updated 0206 GMT (1006 HKT)

Joining the ranks of pilgrims tackling Adam's Peak rewards with a spiritual awakening, or at least a stunning sunrise.
November 18, 2014 -- Updated 1313 GMT (2113 HKT)

Beautifully designed travel document reveals image of Northern Lights when placed under UV light.
November 18, 2014 -- Updated 0525 GMT (1325 HKT)

New concept offering luxury rooms in ancient dwellings helps spare beautiful villages from falling into ruin.
November 21, 2014 -- Updated 2247 GMT (0647 HKT)

Are you the butcher or the cattle? Tainted meat-obsessed fans are following the tracks of their favorite "Walking Dead" survivors.
November 17, 2014 -- Updated 0521 GMT (1321 HKT)

People never cease to find amazing ways to make water more incredible than it already is. Here are some powerful examples