Mubarak retrial scheduled for May 11
April 17, 2013 -- Updated 1608 GMT (0008 HKT)
(CNN) -- The retrial of former Egyptian President Hosni Mubarak, his sons, his interior minister and six of his security aides will start on May 11, a Cairo appeals court decided Wednesday, according to a state-run news agency.
Mubarak and his former interior minister, Habib al-Adly, were found guilty and sentenced to life in prison last year on charges that they were complicit in the killing of protesters during the 2011 Egyptian revolution.
They were granted a retrial after filing an appeal.
The six security aides last year were acquitted of the same charges, and Mubarak's two sons -- Gamal and Alaa -- were acquitted of corruption charges. But they, too, were ordered to be retried after President Mohamed Morsy ordered a new investigation last year.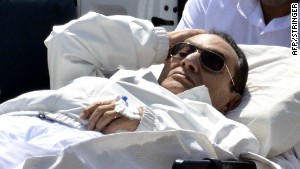 Egyptian: Mubarak retrial 'anti-climatic'
The retrial was to begin last weekend, but a judge recused himself from the case, prompting a delay.
Also Wednesday, a public prosecutor decided to send Hosni Mubarak -- who has spent the last few months detained in a military hospital -- back to prison, prosecutor spokesman Mahmoud Hefnawi told the state-run al-Ahram newspaper.
Hefnawi said the prosecutor reviewed a report of Mubarak's health and determined that he is fit to return to prison, the newspaper reported.
Mubarak has been held since his guilty verdict last year.
Mubarak also is charged with seizing public funds and misusing political influence. He also faces a corruption charge that was not part of the original trial. Mubarak is accused of selling natural gas to neighboring Israel for prices below fair market value.
READ MORE: Egypt's Mubarak wins petition but will stay detained
READ MORE: Judge walks out on retrial of deposed Egyptian president Hosni Mubarak
CNN's Amir Ahmed and Reza Sayah contributed to this report.

Part of complete coverage on
December 13, 2013 -- Updated 1644 GMT (0044 HKT)

Put aside out-of-date views of Africa and see it the way Africans seem to: With a high level of optimism, a CNN survey shows.
December 13, 2013 -- Updated 0937 GMT (1737 HKT)

The all too real political theater playing out in Pyongyang may offer another tantalizing glimpse behind the opaque curtain of the North Korea.

Read the journal of Mira Sorvino, a human rights activist and Oscar winning actress, who went to Cambodia with the CNN Freedom Project.
December 13, 2013 -- Updated 0757 GMT (1557 HKT)

Kenya could reinvent itself as a center for innovation. But it needs to build new research universities and expand its education, one expert argues.
December 12, 2013 -- Updated 1819 GMT (0219 HKT)

The sign language interpreter widely ridiculed for his performance at the Nelson Mandela memorial stands by his work.
December 12, 2013 -- Updated 1456 GMT (2256 HKT)

Behind the scenes in Cambodian karaoke bars -- a common front for child prostitution.
December 12, 2013 -- Updated 0446 GMT (1246 HKT)

A global risk firm surveys the most politically explosive countries.
December 12, 2013 -- Updated 1509 GMT (2309 HKT)

On Tuesday, I was free. On Wednesday, I became a criminal. India's high court just made being gay illegal, writes Tushar Malik.
December 12, 2013 -- Updated 1046 GMT (1846 HKT)

A Japanese actor says playing villians in Chinese films has helped the China-Japan divide. CNN's Ivan Watson reports.
December 11, 2013 -- Updated 1524 GMT (2324 HKT)

Pope Francis is Time's person of the year. His papacy has drawn adulation from people around the world for his man-of-the-people ways.

He was imprisoned for life but that did not quiet him. Nelson Mandela became South Africa's first black president, and an icon and inspiration.
December 13, 2013 -- Updated 1333 GMT (2133 HKT)

Browse through images you don't always see in news reports, taken by CNN teams all around the world.

Today's five most popular stories