STORY HIGHLIGHTS
NEW: Tamerlan Tsarnaev's YouTube page featured video of Gadzhimurad Dolgatov
NEW: Russian security services killed Dolgatov in December
No evidence of Tsarnaev's active association with jihadist groups has emerged so far
became more religious, according to social media analysis, relatives
(CNN) -- Boston bombing suspect Tamerlan Tsarnaev appears to have posted and then removed a video of a jihadist leader who was later killed by Russian troops.
A CNN analysis of Tsarnaev's YouTube channel has established that one deleted video under a sub-heading "Terrorists" featured a militant named Abu Dujana, whose real name was Gadzhimurad Dolgatov. CNN has located a video clip of the footage in question.
Russian security services killed Dolgatov in December during an assault on an apartment in Makhachkala, the capital of the Russian Caucasus republic of Dagestan. Dolgatov led a small militant group in Dagestan that had links to the main Islamist militant group in the region, Imarat Kavkaz.
Tsarnaev created a YouTube channel in August 2012, shortly after returning from a visit to Russia. Two videos posted under a category labeled "Terrorists" were deleted, but it wasn't clear when or by whom.
Timeline: A look at Tamerlan's past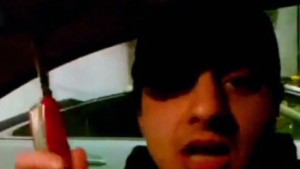 Social media offers clues about brothers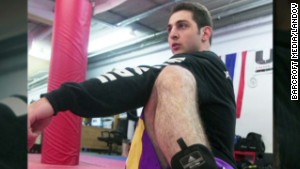 Bombing suspect dreamed of being a boxer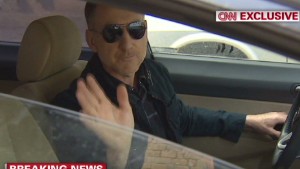 Suspects' father plans to come to U.S.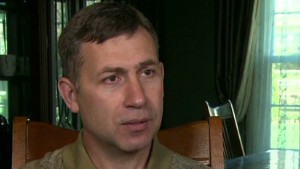 Bombing suspects' uncle speaks
Tsarnaev was in Russia in 2012 and spent some of his time in Makhachkala, where his father lives today. U.S. officials told CNN analyst Tom Fuentes on Sunday they have found no further connection between Tsarnaev and Abu Dujana, but the investigation into his activities overseas continues.
The 26-year-old Tsarnaev died early Friday in a gun battle with police. He and his 19-year-old brother Dzhokhar have been named the suspects in last week's double bombing at the Boston Marathon, which killed three people and wounded more than 170.
An analysis of Tamerlan Tsarnaev's social media accounts and the accounts of family members suggests he became increasingly radical in the last three or four years.
Imarat Kavkaz -- the "Caucasus Emirate," in English -- has its roots in the 1990s Chechen insurgency against Russia. It was founded in 2007 to bring together various jihadist groups fighting to create an Islamic state in the region.
Its overall leader is Doku Umarov, a veteran Chechen guerrilla who claimed responsibility for the the 2011 bombing of Moscow's international airport. According to a 2011 report by the Center for Strategic and International Studies, the Caucasus Emirate has significant ties to al Qaeda.
"The evidence of the Caucasus Emirate's integration into global Jihad is overwhelming. Umarov has repeatedly associated the Caucasus Emirate with the global Jihad," the study concluded.
Suspects: Immigrant dream to American nightmare
Separately, a U.S. intelligence source told CNN that investigators are looking into whether Tsarnaev had any connections with the group. The source said Tsarnaev had several computer links to the group in his social media activities and investigators are looking into the possibility he may have received "operational plans" from this group.
FBI agents interviewed Tamerlan in 2011
In a statement in June 2010, the U.S. State Department's coordinator for counterterrorism, Daniel Benjamin, said Umarov posed threats to the United States and Russia and that his attacks "illustrate the global nature of the terrorist problem we face today."
Tsarnaev's YouTube channel had the address "muazseyfullah," which happen to be the names of two prominent militant leaders among Islamist groups in Russia's North Caucasus, an area that includes Chechnya and Dagestan. Seyfullah also translates as "sword of Allah."
It is possible that the account he created has at some point been interfered with, but there is no obvious sign of that.
One video talks about his beliefs, prayers and ablutions as a good Muslim. He speaks about leading a meaningful life; almost the very last word is "peace." Another video is in praise of Muslim women who pray and dress conservatively.
Part of it was narrated by Khalid Yasin, an African-American Islamist preacher based in Manchester in the UK. The video praises women for wearing the full Islamic veil.
Yasin's critics have accused him of calling for the death penalty for homosexuality, claiming the HIV virus was engineered by Western governments, denying al Qaeda's involvement in 9/11, and stating that it is impossible for a Muslim to have a non-Muslim friend. In one video viewed by CNN, Yasin called the Taliban "our brothers."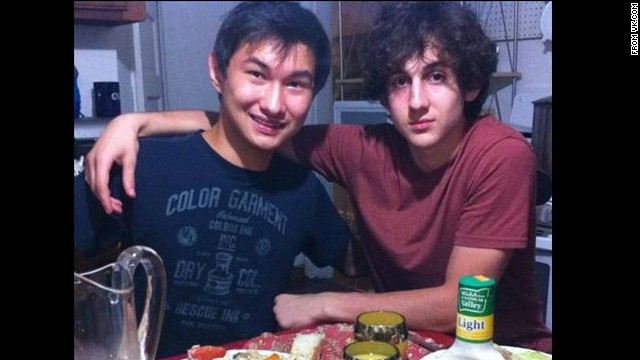 Dias Kadyrbayev, left, with Boston Marathon bombing suspect Dzhokhar Tsamaev in a picture taken from the social media site VK.com. Kadyrbayev is expected to plead guilty August 21 to charges in connection with removing a backpack and computer from Tsamaev's dorm room after the April 2013 bombing, according to a defense lawyer.
Bombing suspect Tamerlan Tsarnaev was killed during the shootout with police in Watertown, Massachusetts, on April 19, 2013. He is pictured here at the 2010 New England Golden Gloves.
Dzhokhar Tsarnaev was captured in a Boston suburb on April 19, 2013, after a manhunt that shut down the city. In July, he pleaded not guilty to killing four people and wounding more than 200.
From left, Azamat Tazhayakov and Dias Kadyrbayev went with Boston bombing suspect Dzhokhar Tsarnaev to Times Square in this photo taken from the social media site VK.com. A federal grand jury charged Tazhayakov and Kadyrbayev with obstructing justice and conspiracy to obstruct justice relating to the removal of a backpack from Tsarnaev's dorm room after the bombings. Tazhayakov was convicted of conspiracy and obstruction charges in July 2014. He faces up to 25 years in prison at his sentencing in October. He has filed an appeal.
Robel Phillipos, a U.S. citizen, was also arrested on May 1, 2013. He was charged with lying to federal agents about the bombing, according to court papers.
Phillipos, Tazhayakov and Kadyrbayev are accused of removing items from Tsarnaev's dorm room after the bombings on April 15, 2013. The items they took included a backpack containing fireworks that had been "opened and emptied of powder," according to the affidavit.
The FBI released photos and video on April 18, 2013, of two men identified as Suspect 1 and Suspect 2 in the deadly bombings at the Boston Marathon. They were later identified as Dzhokhar Tsarnaev, 19, and his brother Tamerlan Tsarnaev, 26.
Boston Police released surveillance images of Dzhokhar Tsarnaev at a convenience store on April 19, 2013.
The FBI tweeted this photo on April 19, 2013, and urged Watertown residents to stay indoors as they searched for the second suspect.
The FBI released photos and video on April 18, 2013, of two men it called suspects in the deadly bombings and pleaded for public help in identifying them. The men were photographed walking together near the finish line.
A man identified as Suspect 2 appeared in this photograph by bystander David Green, who took the photo after completing the Boston Marathon. Green submitted the photo to the FBI, he told Piers Morgan in an interview.
The man identified as Suspect 2 appears in a tighter crop of David Green's photo.
Authorities later identified Suspect 1 as Tamerlan Tsarnaev.
Suspect 2 was identified as Dzhokhar Tsarnaev.
Suspect 1 walks through the crowd.
Suspect 1 walks through the crowd.
Suspect 1 walks through the crowd.
Both suspects are seen walking through the crowd.
Suspect 2 walks through the crowd.
Suspect 2 walks through the crowd.
A photo released by the FBI highlights Suspect 2.
A photo released by the FBI highlights Suspect 2.
Suspect 2 walks through the crowd. See all photography related to the Boston bombings.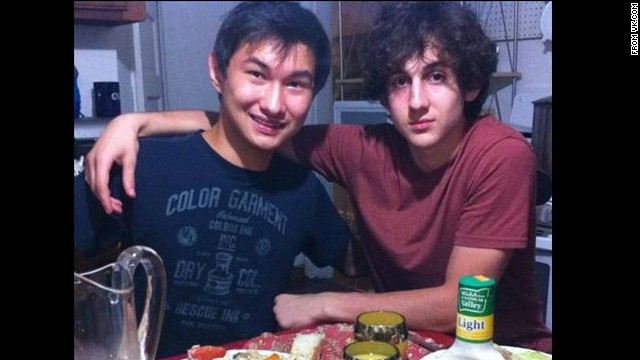 Photos: Suspects tied to Boston bombings
Another video posted suggests a growing Salafist viewpoint, one common to militant Sunnis such as the Taliban in Afghanistan. It includes remarks by a Salafist sheikh, Abdul Hamid al Juhani, and references to the Salafist "brothers" from Chechnya as well as the violence in Syria. It also includes inflammatory remarks against Sufi Muslims -- a frequent target of militant Sunnis.
Another video on Tsarnaev's YouTube channel features a militant preacher, Feiz Muhammad, with a considerable online following. The video does not include overt jihadist sentiments, but the sermons of Muhammad -- a firebrand Lebanese-Australian preacher -- openly sympathize with al Qaeda's worldview.
"The war on terrorism is nothing but a war on Islam and on Muslims," he said in one widely available video, calling Americans "pigs" and "evil." In another tape, he urged young Muslims to become martyrs. His videotapes can be found on the websites of several U.S.-based groups, including the Islamic Thinkers Society and Revolution Muslim, both out of New York.
According to one former Islamist radical who spoke to CNN, Feiz Muhammad has been careful to keep his sermons within legal "red lines" and preaches openly in Australia.
The only video Tsarnaev posted with a strongly jihadist theme appears to have been reposted on his YouTube page four months ago, about the "emergence of the black flags from the promised land of Khorasan," a reference by jihadists to parts of Afghanistan.
The fact that Tsarnaev posted any Islamist-related material on his YouTube site has intrigued terrorism analysts. Al Qaeda and other terrorist groups have instructed recruits to fly below the radar screen and not to do anything to attract attention from authorities.
There are other aspects of Tsarnaev's life that suggest growing religiosity. His father, speaking from the Russian republic of Dagestan on Friday, said Tamerlan was religious but in a peaceful way. And one of his aunts, Maret Tsarnaev, who lives in Canada, said she believed he had become more religious in the past two years.
"Just recently, maybe two years ago, he started praying five times a day, which is, I don't see anything bad in it," she said.
It also appears that Tsarnaev's wife, Katherine Russell, began to dress in a conservative Muslim fashion, according to people in her family's neighborhood in Rhode Island.
But the picture of Tsarnaev's evolving views is far from complete. People who knew him have described him as an outsider, someone who never really felt at home in the United States. At one point, he said he had no American friends; he couldn't understand them.
The details that have been reported so far on the explosive devices used provide no firm indication of training.
According to investigators, the devices were rudimentary: low-grade explosives made more powerful by being inside pressure cookers, with nails attached to maximize their lethality. The other explosive devices allegedly in their possession -- pipe bombs and makeshift grenades -- also appear to have been basic in design.
According to explosive experts, such devices could be built by downloading instructions off the Internet and would not require training.
However, bomb-making manuals produced by al Qaeda and its sympathizers tend to contain many errors, according to Sidney Alford, a British explosives expert who has reviewed many such manuals.
Alford told CNN in 2011 that while the overall quality of the documents was low "some of the content is certainly technically viable and they do contain among some pages of rubbish quite practical means of causing havoc."
He said that a bomb-making novice with little chemistry background could be fortunate enough to select a recipe that works and succeed in making a viable device. "Once you've got the substances, you need only the most rudimentary equipment and no special facilities, no special place to do it," Alford said.
Al Qaeda in the Arabian Peninsula's English online magazine Inspire has included step-by-step bomb-making recipes. According to authorities, one such formula, "How to Make a Bomb in Your Mom's Kitchen," published in the summer 2010 edition of Inspire has been downloaded by Islamist militants plotting terrorist attacks in multiple plots on both sides of the Atlantic.
It is not yet clear whether the devices were detonated by timer or remote control. Instructions for how to build both are widely available on the Internet, though analysts say building a remote detonation device is significantly more challenging and may point to some overseas training.
An issue of Inspire magazine released in May 2012 provided a step-by-step guide on how to build remote control detonators to circumvent the need for formal training. The so-called Toronto 18, arrested in June 2006 on charges of plotting to blow up targets in Canada, successfully built a remote control mechanism to detonate their bombs without receiving training overseas.
For counterterrorism agencies, self-radicalization is difficult to trace because it may not involve obvious contacts with others.
Christopher Swift, professor of national security studies at Georgetown University, said that "if we are looking at a situation where there was a foreign mentor, or where one or more of the perpetrators may have gone to Russia to get some kind of training or indoctrination, then we're looking at something that has a much more international nexus than the sort of self-radicalization that we see within the United States within immigrant communities."
Swift added: "That's where global and local would come together. But we don't have enough information yet on that."
Whether Tsarnaev's return to Russia in the first half of 2012 changed his outlook is likely to be one of many avenues of inquiry. Before he left, the FBI had already -- at the request of an unnamed foreign government -- investigated possible links with militant groups but discovered nothing suspicious.
In a statement issued late Friday, the FBI said that "in early 2011, a foreign government asked the FBI for information about Tamerlan Tsarnaev ... based on information that he was a follower of radical Islam and a strong believer, and that he had changed drastically since 2010 as he prepared to leave the United States for travel to the country's region to join unspecified underground groups."
The FBI said it looked for such things as derogatory telephone communications, possible use of online sites associated with the promotion of radical activity, associations with other persons of interest, travel history and plans, and education history but "did not find any terrorism activity, domestic or foreign."
In the view of Swift, who studies Islamic radicalization, "This is two young men trying to find an identity. These are not people who fought in the war in Chechnya, they're not people who had any close, proximate relationship to that conflict."
Swift said, "There is no evidence that these young men were seeking to make a point about Chechnya per se."
He said he believes it is more likely that they were trying to make a point about themselves, as if to say: 'We are warriors. we have been wronged, people do not understand us and we must be heard.' "
CNN's Nick Paton Walsh, Jill Dougherty and Deborah Feyerick contributed to this report.