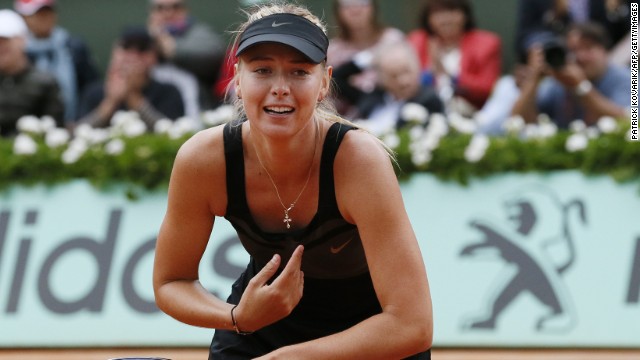 Maria Sharapova won the French Open last year to become the 10th woman to claim all four grand slams. But she plans on playing for several years before pursuing her business interests.
At Roland Garros, Sharapova won her first major after undergoing shoulder surgery in 2008. Some thought she would never triumph at a grand slam following the injury.
After a win in Montreal in July 2008, an MRI revealed that Sharapova had two tears in the tendon of her serving shoulder.
Sharapova attempted a comeback in 2009 when she played doubles in Indian Wells. But she still wasn't ready to return.
Once self described as a "cow on ice" on clay, Sharapova began her clay-court campaign last year by beating Victoria Azarenka in the Stuttgart final.
Sharapova defeated Li Na in last year's final of the Italian Open, the perfect buildup to the French Open. Sharapova and Li are the two highest-paid female athletes in the world and share the same agent.
Sharapova launched her own premium candy line, Sugarpova, with individual bags selling for $5.99. She has plans to expand to more markets, including Asia.
Max Eisenbud, Sharapova's agent, first met the player when she was 12 at the renowned IMG Academy in Bradenton, Florida. Sharapova still lives nearby.
Still motivated
Comeback complete
Shoulder woes
Not quite ready
German success
Another title
Sweet success
Helping hand
STORY HIGHLIGHTS
Having overcome a shoulder injury, Maria Sharapova plans on playing for 4-5 more years
She won her first major post-surgery at last year's French Open to complete her collection
Russian says she enjoyed proving her doubters wrong by returning from injury
She competes on tour while balancing business interests, including candy line
Open Court is CNN's monthly tennis show. Click here for screening times and follow on Twitter @cnnopencourt
(CNN) -- When Maria Sharapova underwent shoulder surgery five years ago, many thought her tennis career wouldn't last. But there is now a good chance the four-time grand slam winner will play into her 30s before fully turning her attention to her numerous business interests.
"I think she's going to play another four to five years and through the Rio Olympics (in 2016) if she stays healthy and hungry," her long-time agent and close friend Max Eisenbud told CNN's Open Court.
Sharapova's motivation has never been an issue in the past, and the Russian -- who turned 26 last week -- is now fully fit.
That, however, wasn't the case in 2008, when the shoulder injury ruled her out for nine months and cast doubt on Sharapova's professional career, which began on the day she turned 14.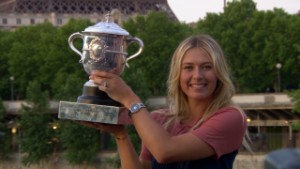 The story behind Sharapova's success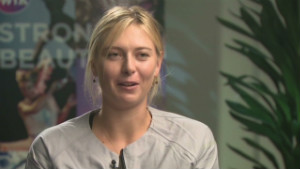 Maria Sharapova's greatest hits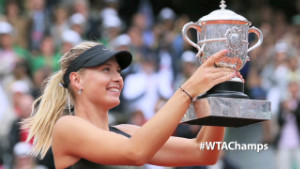 Sharapova's road to Istanbul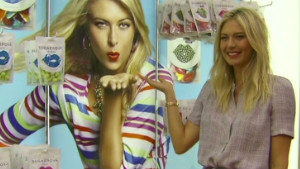 Tennis star launches candy line
She had been experiencing discomfort in her right -- and serving -- shoulder, with initial tests leading doctors to believe inflammation was the cause. When the pain intensified after a win at a tournament in Montreal in July 2008, she underwent an MRI that revealed two small tears in the tendon of her shoulder.
So began the long process of rehabilitation, surgery, another stint of rehab and dealing with another injury, a bone bruise. It was a difficult time for Sharapova.
"The shoulder, it's a huge part of the tennis game," she told Open Court. "The serve is huge and my game is all about being aggressive and powerful strokes, so when you're out of the game nine months, when you don't have too many examples of athletes coming back after such an injury, of course you have doubters."
Sharapova never lost faith that she would recover, but she would have to wait another three years before reaching another grand slam final, losing at Wimbledon in 2011. Thankfully for Sharapova, no such serious injuries have reoccurred, although she was troubled by an ankle problem later that year.
"I had to work through a lot of things, and more mentally as well because I always thought that during those months that I was away, everyone was working and everyone was training and everyone was playing so it kind of felt like I was left behind a little bit," she said.
Eisenbud's pronouncement about Sharapova's future comes as a boost to the women's tennis tour due to Sharapova's enormous star power and fan base, which increased when she won the French Open last June to cap her comeback and become just the 10th woman to capture all four majors.
Forbes lists
Sharapova was last year named by Forbes as the world's 71st most powerful celebrity. She was the highest-ranked female athlete on the list, ahead of Serena Williams, despite the American now owning 11 more grand slam titles.
Sharapova is, according to Forbes, the world's highest-paid female athlete, pulling in almost $28 million -- more than her career prize money -- over a 12-month period that ended last July.
Read: Sharapova's sweet plan for success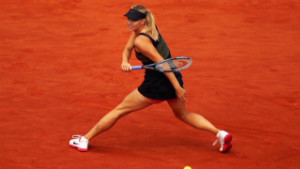 Maria Sharapova wins 2012 French Open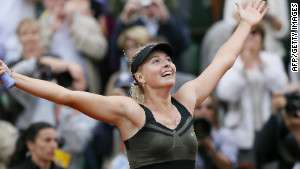 Sharapova wins French Open, career slam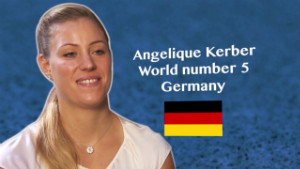 Women's tennis top stars talk personal
Sponsors including Samsung, Evian, Nike, Tiffany & Co., Head, Cole Haan and, most recently, Porsche help pad Sharapova's wallet. The Florida-based Russian has also launched Sugarpova, her own premium candy line, in the U.S. and plans on expanding to China, Japan, India and England.
But Sharapova remains adamant that success on the court is her first priority. The rest will follow.
"Do I want my candy to sell? Do I want my partnership to continue for many years? Of course I do," Sharapova said. "That's a no-brainer. But at the end of the day all the things that have come to me, that I've been able to be a part of, is because I'm a tennis player, not because I'm a model or because of acting. The core of what I have is my tennis."
Her results in 2013 confirm Sharapova's drive. Known as one of tennis' toughest competitors and hardest workers, she has showed no signs of slowing down.
The power baseliner has reached at least the semifinals in all four of her tournaments and almost completed a rare double at the BNP Paribas Open in Indian Wells and Miami's Sony Open. She won the title in California in March but was defeated by Williams in the finale in Florida two weeks later.
Her poor record against Williams might add to her hunger. Williams beat Sharapova for the 11th straight time, although Sharapova won a set off the world No. 1 for the first time in five years.
Missing gold
Sharapova lacks an Olympic gold medal, too, having been crushed by Williams in the gold medal match at London 2012 and missing 2008 in Beijing with the shoulder injury.
"I always feel like I can be better and when I do step on the court, I feel a certain power with what I'm doing," Sharapova said. "I feel strong and I feel like I'm good at what I do.
"I want to keep working, and I want to keep getting better because you can't stand still. Everyone's working. I'm sure everyone's getting stronger and getting faster and hitting the ball harder. You have to do it as well."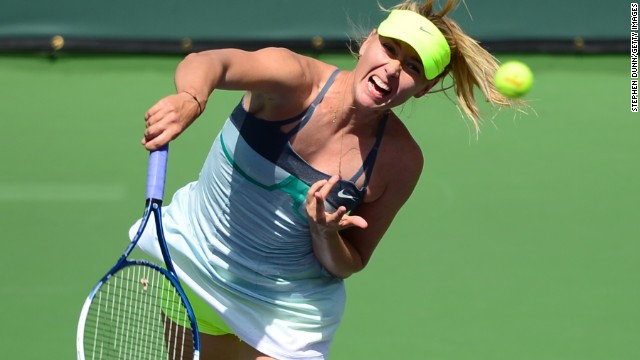 Maria Sharapova, who won the Indian Wells title in 2006, took the first set 6-2 as she took control of the final in some style.
Caroline Wozniacki, currently ranked No.10 in the world, failed to cope with the pace and power of her opponent in the opening stages.
The Dane made a poor start to the second set, losing her opening service game with a double fault but she continues to fight and sees off two more break points in the fifth game to trail 2-3.
The World No.3 held a 4-2 record against Wozniacki and never looked like losing as she reeled off three straight games to take the second set 6-2.
Sharapova celebrates after winning the title in just 81 minutes -- it was her first triumph since the 2012 French Open.
Sharapova has now won at least one title in each of the past 11 years. "This is what I do all the work for is these moments," she told reporters. "You feel like everything has paid off."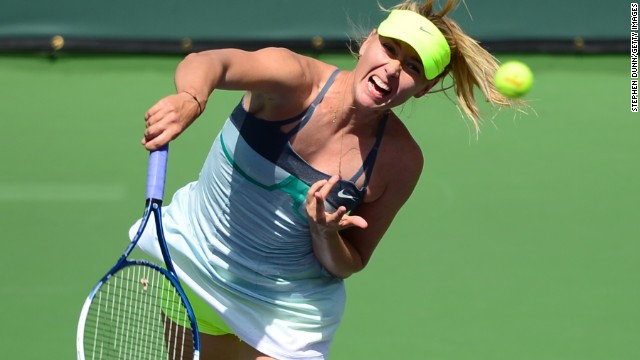 How do you solve a problem like Maria?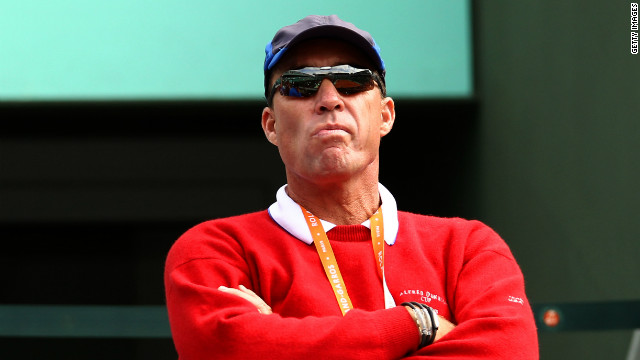 Ivan Lendl, twice Wimbledon runner-up and now Andy Murray's coach, believes serve and volley is a dying art in tennis.
Boris Becker, Wimbledon's youngest men's champion at the age of 17 in 1985, was renowned for his trademark diving volleys. The German was powerful in the serve and wonderfully athletic at the net.
Feisty New Yorker John McEnroe was not blessed with great serving power but his speed, aggression and razor-sharp reflexes enabled him to finish off many a rally with a perfectly executed volley.
Australian Ken Rosewall adopted serve and volley during his career as a way of shortening rallies and therefore boosting his longevity. It was no coincidence that he played in his last Wimbledon final at the age of 39.
Sweden's Stefan Edberg could not match the serve of his rival Becker, but his sublime volleying ability helped him to several notable wins over the German. He sometimes employed slower serves to afford himself more time to get to the net.
One of the most naturally gifted serve and volley players, Pat Rafter combined pinpoint placement with silky work at the net. The Australian twice fell short in the Wimbledon final but won two U.S. Opens in the late 1990s.
Australian legend Rod Laver, four times a Wimbledon champion during the 1960s, played serve and volley better than anyone in an era where the technique was more common.
Martina Navratilova was one of the few serve-volleyers in the women's game, and the style helped the Czech-American star win a record nine Wimbledon titles.
Big-serving Richard Krajicek's 1996 success is testament to Wimbledon's benefits for serve and volley players. The Dutchman's triumph at the All England Club was his solitary grand slam title.
Wimbledon's most successful male player, Pete Sampras, had a phenomenal all-round game, and the American's serve and volley expertise was one of his most potent weapons as he won seven titles and 14 grand slams overall.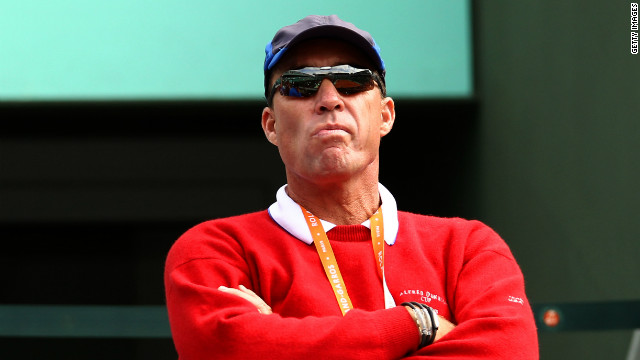 Wimbledon's great serve and volley players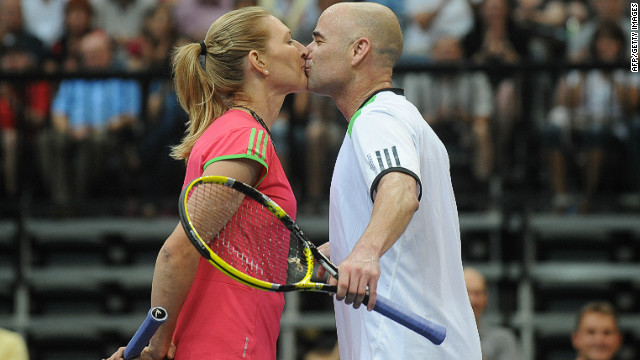 Tennis' ultimate poster couple are still going strong after 10 years of marriage since reportedly getting together at the champions' ball after both won the French Open in 1999. They have two children and still play the odd charity match, but rarely battle each other. As their website reveals: "Andre says his problem playing Steffi is not watching the ball."
Roger Federer met Mirka Vavrinec at the Sydney Olympics in 2000 when they both represented Switzerland. Mirka says her husband's glittering career has eased her pain after injury forced her retirement in 2002. Of his wife, Roger told the Telegraph newspaper: "I developed faster, grew faster with her. I owe her a lot."
She is the former world No. 1 waiting to land her first major title -- he's the baby-faced golfer whose capitulation at the 2011 Masters, and subsequent victory at the U.S. Open, entranced the sport. Together since September last year, Denmark's Wozniacki and McIlroy, from Northern Ireland, go by the moniker of "Wozilroy" and say they lean on each other's experiences to help their sporting performance.
World No. 8 Adam Scott's appearance at last month's Australian Open confirmed that another powerful golf and tennis combo are back on the scene. They split in 2010, but 2008 French Open champion Ivanovic told Australian newspaper the Herald Sun: "Sometimes you need time apart to figure things out."
Hewitt and Clijsters, both former world No. 1s, met at the Australian Open in 2000, reportedly after Kim's sister Elkie asked her to get Lleyton's autograph. They announced their engagement in 2003 but split in October 2004. Both decried the "malicious gossip" that followed their separation.
Chris Evert's romance with Jimmy Connors was one that captivated the sporting world after they both won Wimbledon singles titles in 1974, but a planned wedding in November that year was called off. Tennis writer Peter Bodo famously said of the couple: "It was a match made in heaven, not on Earth, which is probably why it didn't last."
The courtship of former world No. 8 Kournikova and pop star Iglesias was the very definition of a high-profile romance when they started dating in 2001. The Russian appeared in the video for Iglesias' song "Escape," causing a media frenzy. They are still together, 10 years on.
British pop star Cliff Richard revealed in his 2008 autobiography "My Life, My Way" that he nearly asked 1976 French Open winner Sue Barker -- now a TV presenter -- to marry him in 1982. The couple's relationship attracted much press attention. "I seriously contemplated asking Sue to marry me," he wrote. "But in the end I realized that I didn't love her quite enough to commit the rest of my life to her."
They grew up in the same town and were instantly dubbed the "Czech mates" when they started dating in 2003. But they split in 2011, with Czech model Ester Satorova seen watching world No. 7 Berdych at November's season-ending ATP World Tour Finals in London.
After her split with Connors in 1974, 18-time grand slam winner Evert married British tennis pro John Lloyd in 1979, the same year he reached the Australian Open final. Evert's alleged affair with late British pop star Adam Faith threatened to derail their marriage. They reconciled, but then divorced in 1987.
Former women's No. 1 Hingis became engaged to Stepanek in 2006 but a year later the couple announced through the ATP Tour they had split. Hingis, who won five grand slam titles, retired in 2007 after testing positive for cocaine during Wimbledon. Stepanek married fellow Czech Nicole Vaidisova in July 2010.
A third entry to the list for Evert, whose romance and susbsequent marriage to Australian golfer Greg Norman -- known as the "The Great White Shark" -- captured headlines in 1998. Evert even caddied for the two-time British Open winner at the Masters during a par-three tournament. The couple split 15 months after their wedding.
Former world No. 1 Andy Roddick famously began dating Brooklyn Decker in 2007 after asking his agent to track down a phone number for the Sports Illustrated model. They were married in 2009 at a ceremony that included Agassi and Graf as guests.
The romance between Russian tennis ace Sharapova and Slovenian basketballer Vujacic blossomed in 2009 before their engagement was announced in October the following year. The former L.A. Lakers star can often be seen courtside, cheering the three-time grand slam winner on at major tournaments. He now plys his trade in Turkey.
Before Agassi teamed up with Graf, he married actress Brooke Shields in 1997 after a four-year courtship. Agassi, winner of three grand slam titles by then, and Shields, star of TV sitcom "Suddenly Susan," were a box office hit but split after less than two years of marriage in 1999.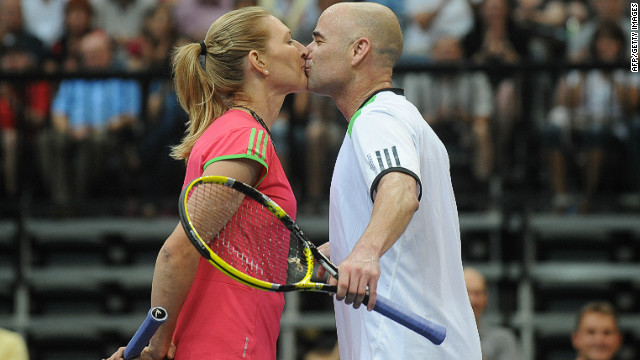 15-love: Top tennis romances
Sharapova begins her clay-court swing as defending champion in Stuttgart this week before competing at the Madrid Open and Italian Open in Rome ahead of her title defense at Roland Garros, which starts May 26.
Her titles in Stuttgart and Rome in 2012 served as the springboard to her success in Paris, where Sharapova downed Italian Sara Errani in the final.
Having come back from the abyss that her career-threatening injury presented, Sharapova savored the success -- especially after being written off by many critics while she was rebuilding her career, suffering some morale-sapping defeats.
"Losing is never easy, especially when you've achieved so much great success and having lifted beautiful trophies," she said.
"And especially when you hear it from people that, you know, they sit there and comment on what you're doing and they don't comment on the work that you put in before something like that, before getting to the stage of a match in front of thousands of people.
"But it makes you so much stronger, and I've looked back and, you know, the people I felt had that connection with me, I've certainly spoken with them about it and especially had a few words with them after the French Open.
"But it's sport. It's normal. I think the world revolves around comments and opinions, and I have absolutely nothing against it."