Indian police arrest second suspect in rape of 5-year-old
April 23, 2013 -- Updated 1047 GMT (1847 HKT)
STORY HIGHLIGHTS
Allegations police tried to bribe the girl's family to keep quiet are being investigated
The second suspect is alleged to be an accomplice in the attack, police said
The attack has prompted protests in the streets of New Delhi
More than 7,000 child rape cases were reported in India in 2011
(CNN) -- Indian police have arrested a second man in connection with the rape of a 5-year-old girl in New Delhi, a police spokesman said Monday.
The second suspect is accused of being an accomplice in the case, which has prompted protests in the streets of New Delhi.
He is being transferred to New Delhi from Bihar state in eastern India for questioning and DNA tests, said Delhi police spokesman Rajan Bhagat.
Police say the first suspect arrested in the case, Manoj Kumar, told them about the alleged accomplice during questioning.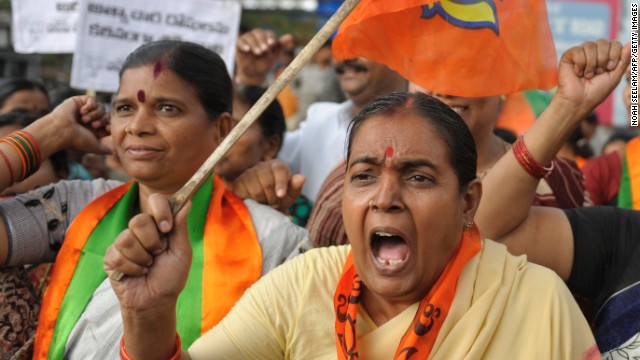 Activists and supporters of the Bharatiya Janata Party protest against the rape of a 5-year-old girl in Hyderabad on Tuesday, April 23. Demonstrations have taken place across the state since a man was arrested in the rape of the girl in New Delhi. There have been high-profile assaults in India since December, when a woman was gang raped on a bus. See photos of outrage over the sexual assault in December.
Indian youths stand in front of a banner with the colors of their national flag in a silent demonstration in Hyderabad on April 23.
Activists burn an effigy of Delhi Chief Minister Sheila Dikshit during a protest in front the landmark of Red Fort in New Delhi on April 23.
Activists protest in New Delhi on Monday, April 22.
A woman covers her mouth with a black cloth during Tuesday's protest in New Delhi.
Activists shout slogans after being detained following a protest in New Delhi on April 22.
argue with Indian police outside the residence of Sonia Gandhi, chairwoman of the United Progressive Alliance, in New Delhi on Sunday, April 21, at a demonstration against the alleged rape of a 5-year-old girl.
An Indian protester waves Indian currency toward police at a demonstration on April 21. Protests have swept through New Delhi since Friday. Many demonstrators are members of a political party of Arvind Kejriwal, a leading anti-corruption activist.
Security officials watch an activist shout slogans outside Gandhi's residence on April 21.
Indian protesters shout slogans near the India Gate monument in New Delhi on April 21.
Indian protesters stop traffic in front of police headquarters in New Delhi on Saturday, April 20.
Protesters scuffle with officers near police headquarters on April 20.
A man threatens officers in front of police headquarters on April 20.
Indian protesters shout slogans against the government and New Delhi police outside a hospital in the city on Friday, April 19.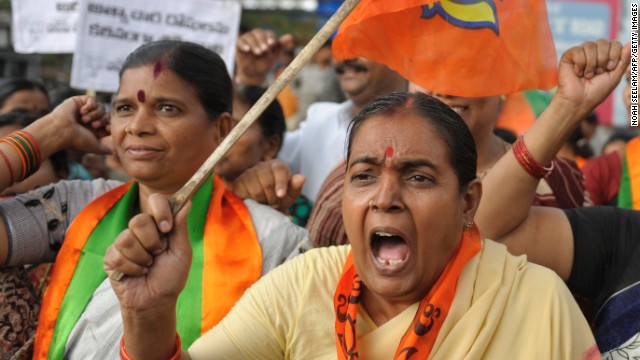 Photos: Protest for 5-year-old victim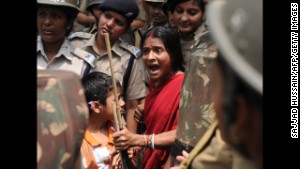 Rape of child sparks India protests
Kumar, the girl's neighbor, is accused of abducting her on April 14, locking her in his home and raping her repeatedly. She was found semiconscious three days later.
Doctors said they had to remove objects, including candle pieces and a small bottle, from the girl's genitals. Her condition has since stabilized.
Alleged rape of 5-year-old spurs protests
The situation has taken on another sordid aspect after the girl's family said that police officers had tried to bribe them to keep quiet about the case.
Senior police officials have ordered a separate investigation into those allegations.
The assault on the 5-year-old came just four months after a 23-year-old physiotherapy student was gang-raped in a bus in New Delhi, setting off furious protests in India. She later died at a Singapore hospital.
That attack raised a lot of questions about the treatment of women in India, with the country's news media suddenly turning their attention to some of the thousands of rape cases reported in the nation each year.
The case of the 5-year-old has now drawn attention to violent crimes against children, particularly girls.
In a recent report, the Asian Center For Human Rights cited statistics it said showed 48,338 child rape cases were reported in India between 2001 and 2011. The report said the number of cases had risen from 2,113 cases in 2001 to 7,112 in 2011.
The 5-year-old girl's case sparked protests in New Delhi last week. Many demonstrators are members of a political party of the leading anti-corruption activist, Arvind Kejriwal.
Criticized for what was seen as his late response to the December gang-rape, Indian Prime Minister Manmohan Singh promptly issue a statement this time, calling the act "shameful."

Today's five most popular stories
Part of complete coverage on

Explore CNN's interactive that explains ISIS' roots, what it controls, and where its support comes from.
September 25, 2014 -- Updated 2010 GMT (0410 HKT)

In his first-ever interview as the Emir of Qatar, Sheikh Tamim bin Hamad Al-Thani defended his country against allegations of funding terrorism.
September 24, 2014 -- Updated 0920 GMT (1720 HKT)

The U.S. and several Arab nations carried out airstrikes against ISIS in Syria, intensifying the campaign against the militant group.
September 27, 2014 -- Updated 1645 GMT (0045 HKT)

A mysterious Chicago fire and possible suicide attempt causes massive disruption in the U.S.
September 27, 2014 -- Updated 1503 GMT (2303 HKT)

The North Korean leader hasn't been seen for weeks, leading to speculation that he is in poor health.
September 24, 2014 -- Updated 0154 GMT (0954 HKT)

Haider al-Abadi hopes airstrikes don't lead to "of another terrorist element" instead of ISIS.
September 25, 2014 -- Updated 1319 GMT (2119 HKT)

The United States couldn't do it on its first try. Neither could the Soviets.
September 24, 2014 -- Updated 0910 GMT (1710 HKT)

Emma Watson lent her name and her glittery profile to the cause of feminism at the United Nations.
September 24, 2014 -- Updated 1529 GMT (2329 HKT)

CNN's Nima Elbagir reflects on a harrowing trip to Liberia where she covered the deadliest Ebola outbreak in history.
September 26, 2014 -- Updated 1423 GMT (2223 HKT)

Contrary to public opinion, rats can actually save lives -- Apopo's rats have actually saved thousands.
September 29, 2014 -- Updated 1127 GMT (1927 HKT)

Each day, CNN brings you an image capturing a moment to remember, defining the present in our changing world.

Browse through images from CNN teams around the world that you don't always see on news reports.