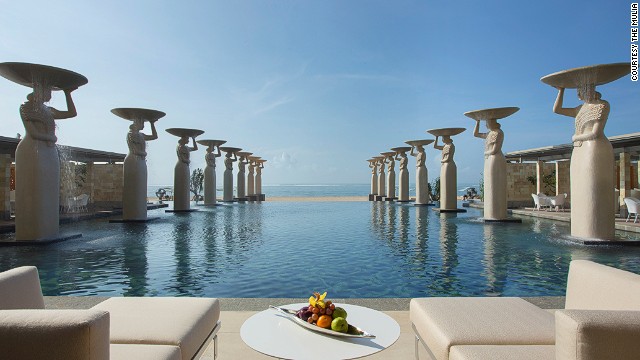 Conde Nast Traveler's annual Hot List rounding up the best new hotels of 2013 hit newsstands on Tuesday. With 745 rooms, Bali's new Mulia Resort is one of the largest properties on the list.
This stunning clifftop hotel on Italy's Amalfi coast was originally a 17th-century monastery.
The 189-room Hyatt property occupies floors 18 through 33 of the Capital Gate skyscraper in Abu Dhabi. The building leans at an angle of 18 degrees.
The 2013 take on a hotel pool, this Moorish-inspired Makarrech hotel has 41 villas and suites.
Located half a mile from the Vienna State Opera, the Ritz-Carlton, Vienna occupies four converted 19th-century palaces that have been connected.
The 11 rooms in the Uma Punakha hotel are just off a central courtyard with views over rice fields toward the Himalayas.
A hundred new rooms and 14 suites have been added to financier Laurance Rockefeller's Dorado Beach Hotel.
The decor in London's newest fashion-branded hotel is inspired by Bulgari's silversmith roots.
Located in a game reserve, the Madikwe Safari Lodge offers stunning views of passing wildlife amid rustic luxury.
South Korea's newest luxury hotel has 434 rooms featuring Apple-based in-room technology and killer views from a tower high above Seoul.
The decor in this new Miami hotel is a throwback to the 1960s.
Nothing says Brooklyn like a converted factory with a rooftop bar looking over the Williamsburg waterfront.
Mulia Resort, Bali
Monastero Santa Rosa Hotel & Spa, Italy
Hyatt Capital Gate, Abu Dhabi, UAE
Palais Namaskar, Morocco
Ritz-Carlton, Vienna
Uma Punakha, Bhutan
Dorado Beach, Puerto Rico
Bulgari Hotel, London
Madikwe Safari Lodge, South Africa
Conrad, Seoul
James Royal Palm, Miami
Wythe Hotel, Brooklyn, New York