CNN's Leading Women wins social media award
April 24, 2013 -- Updated 1007 GMT (1807 HKT)
STORY HIGHLIGHTS
CNN's Leading Women wins social media category at European Digital Media Awards 2013
Judges praise the "comprehensive use of social media" over the last year
CNN have hosted Twitter chats, sought reaction and asked for your submissions
Leading Women connects you to extraordinary women of our time -- remarkable professionals who have made it to the top in all areas of business, the arts, sport, culture, science and more.
(CNN) -- Leading Women has won the silver award in the Social Media category at the inaugural WAN-IFRA European Digital Media Awards last Monday night.
The awards, which honors "outstanding work in online media, cross-media, online video, infographics, mobile, tablets and social media," were presented to nearly 20 companies and publications.
Read more: Storify -- How women are changing the workplace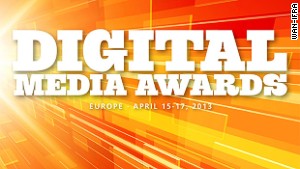 The judges commended the "impressive initiative that only a global news organization like CNN could do" and praised the "comprehensive use of social media," saying it was "very ambitious and very well done."
It was also described as a great cross-media initiative -- that breathes engagement and interactivity.
Leading Women's digital coverage has strongly pursued social media stories over the last year.
In September, CNN co-hosted a live twitter chat alongside women's business groups Young Female Entrepreneurs and Women Grow Business with special guest Hanna Rosin, author of "The End of Men And The Rise of Women". With women in business flocking to Twitter to get real-time advice and counsel, the chat focused on how women are changing the world of work.
Social media interactive: The wisdom of women
The show has experimented with social storytelling through Storify by asking for your reaction to topics such as office etiquette.
Leading Women continues to engage with CNN's digital community and women's business groups by incorporating social media into our stories. Our International Women's Day coverage where we crowdsourced your favorite inspirational quotes from famous females, is just one example of working with our digital audience.

Today's five most popular stories
December 17, 2014 -- Updated 1419 GMT (2219 HKT)

Jane Fraser is often cited as one of the most powerful women in banking. She tells CNN's Poppy Harlow how women lead differently.
December 3, 2014 -- Updated 1743 GMT (0143 HKT)

Women's-only private members clubs are becoming more popular, offering spaces to work, socialize and relax, albeit with hefty membership fees.
November 28, 2014 -- Updated 1515 GMT (2315 HKT)

A new social network for women claims to be 'troll-proof' and was created by Karen Cahn, former Google, YouTube, Aol executive.
November 27, 2014 -- Updated 1418 GMT (2218 HKT)

She's the daughter of a Beatle and counts Kate Moss among her friends, but she had to create her own mark in the fashion world.
November 18, 2014 -- Updated 1743 GMT (0143 HKT)

Alli Webb always loved having her hair done, so she decided to bring that happy feeling to millions of women worldwide with her business, Drybar.
November 17, 2014 -- Updated 1324 GMT (2124 HKT)

NASA's chief scientist Dr Ellen Stofan wants to land humans on Mars by 2035, but there are some serious challenges to overcome before then.
November 4, 2014 -- Updated 1041 GMT (1841 HKT)

The Design Museum hosts a power dressing exhibition, from Joan of Arc's short tunics, to Joan Collins' eye-gouging shoulder pads.
October 30, 2014 -- Updated 1520 GMT (2320 HKT)

Opinion piece from architect Zaha Hadid on growing up in a very different Iraq, to close Leading Women's month of STEM coverage.
October 30, 2014 -- Updated 1227 GMT (2027 HKT)

Leading Women ran an iReport assignment which resulted in some amazing images of girls in STEM from our readers.
October 29, 2014 -- Updated 1108 GMT (1908 HKT)

Robots can be many things -- knowledgeable, dexterous, strong. But can they ever be genuinely laugh-out-loud hilarious?
October 27, 2014 -- Updated 1830 GMT (0230 HKT)

Victoria Beckham has come a long way from Posh Spice. She has now been named Britain's top entrepreneur, by magazine Management Today.
October 27, 2014 -- Updated 1447 GMT (2247 HKT)

Just one in seven engineers are female. STEM experts share their ideas on how to get more girls into the industry.