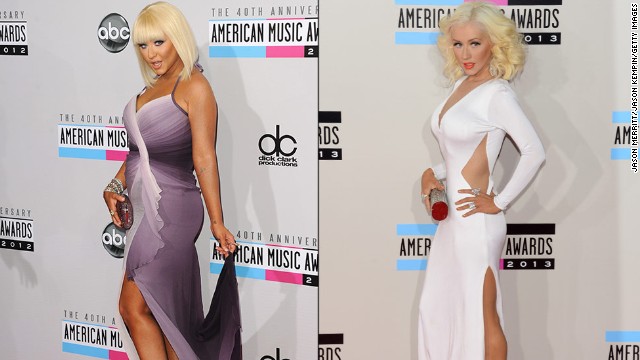 Christina Aguilera turned heads on the American Music Awards' red carpet for two years in a row. At the awards ceremony in 2013, Aguilera surprised onlookers by arriving in a skin-tight white gown with revealing cutouts, displaying a much different look than her voluptuous appearance (right) at the 2012 event.
Lambert tweeted November 7
. "I got some compliments last night thanks to you!"
At the 2013 CMA Awards, singer Miranda Lambert revealed a slimmer physique. Apparently, her fit frame is courtesy of personal trainer Bill Crutchfield: "Hey @CrutchCamp,"
Chaz Bono told People in April that he had lost 60 pounds since appearing on season 13 of "Dancing With the Stars." "Diets don't work," he told the magazine. "You just have to change what you eat, and I have." Bono is pictured arriving at the GLAAD Media Awards in April 2010, left, and April 2013.
There's no way Marissa Jaret Winokur could play "Hairspray's" zaftig Tracy Turnblad these days. The Tony-award winning actress dropped 60 pounds in 2012.
Jennie Garth slimmed down after splitting with husband Peter Facinelli in 2012.
underwent surgery
to help her shed 80 pounds and give her a new look.
Lisa Lampanelli said she
performs with strippers
. What would Hannah Montana say?
Oh, wily Miley. We have watched Miley Cyrus go from a former Disney star to a harder-edged rocker type who
From thong to thin: Matthew McConaughey reportedly dropped 40 pounds for a role in "The Dallas Buyers Club," and the transformation was startling on the "Magic Mike" star.
Paula Deen announced in June 2012 that she lost 30 pounds over a six-month period after she was diagnosed with Type 2 diabetes. These days, she is looking slimmer than ever.
Celebrity transformations
Celebrity transformations
Celebrity transformations
Celebrity transformations
Celebrity transformations
Celebrity transformations
Celebrity transformations
Celebrity transformations
Celebrity transformations
Celebrity transformations