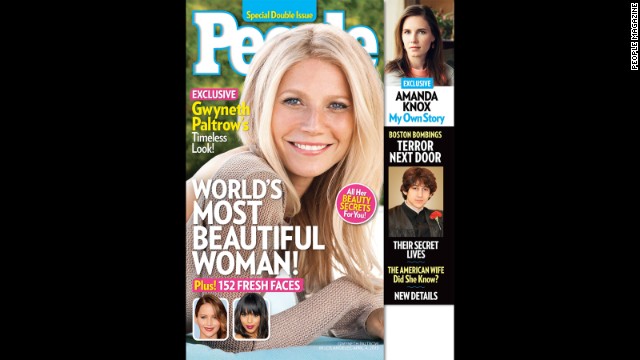 Gwyneth Paltrow lands on the cover of People magazine, earning the title of World's Most Beautiful Woman. The actress tells the magazine that at first she thought someone was playing a joke on her.
Sean Lowe is the hot topic on Life & Style this week (someone had to give the Kardashians a break), as his relationship with his "Dancing with the Stars" partner, Peta Murgatroyd, is called into question.
like some other stars in the issue
, she does speak frankly about her body. "I saw a picture a couple of days ago from when I was 19, and my boobs were way bigger," she said. "There was something so beautiful about the size of them. When I look back, I'm like, 'Why did I always give myself such a hard time?' Nobody gave me s*** about it except me."
Amanda Seyfried doesn't hold back in the May issue of Allure magazine. Although she doesn't go nude,
evealing that she's far more confident about her body now
than she was when she was working at her pre-fame job at Hooters.
Naya Rivera bares all in the May issue of Allure, r
"Cougar Town" star Christa Miller looks so comfortable here, you might not have guess it was her first fully nude shoot.
Fans of "House" and "Once Upon A Time" are used to seeing actress Jennifer Morrison fully clothed, but she says she wasn't avoiding nude scenes for any particular reason. "[T]hey don't really come my way," she said. "Maybe this shoot will change that. I've always been an active person, and working out is part of my life."
she told Allure
. "I think it's lovely to have that preservation."
"Nashville" actress Clare Bowen had a now-or-never approach to the nude photo shoot. "My body isn't going to look like this forever,"
May issue of GQ magazine
, the "Iron Man 3" star said he's "probably one of the best. ...But it's not that big a deal. It's not like this is the greatest swath or generation of actors that has ever come down the pike."
Robert Downey Jr. is a master of the humble-brag. In the
May issue of Vogue
offers a glamorous 1920s take on the actress.
Thanks to Carey Mulligan's role as Daisy Buchanan in Baz Luhrmann's adaptation of "The Great Gatsby," the
Working on "Gatsby," which also stars Leonardo DiCaprio as the man himself, was "crazy and exhausting and quite overwhelming, the biggest, craziest production I've ever been involved in," Mulligan said.
"The Hangover Part III" star explains in the issue that after his father's death two years ago, he and his mom -- a.k.a. his roommate -- "need each other." But don't misunderstand, he told Details: "It's not without complications. It's not like I live in a compound and she's in the guesthouse. No. She's in the next room. But here's the thing: She's a cool chick. We can hang, and she can roll with the punches."
He wants to be a dad himself one day, he added. "I really hope I have that experience in my life. I saw how much joy fatherhood gave my own dad. So I hope it's part of my journey. You go through stages in your life, and fatherhood seems like a natural stage."
And as for missing out on an Oscar at this year's ceremony, Cooper said he wasn't surprised. "I knew I wasn't going to win," he bluntly told the magazine.
Glamour magazine
reveals the star's tattoo, which is actually misspelled. It's Italian, "Vivere senza rimpianti," which means "live without regrets." Except it's supposed to be "rimipianti," Panettiere told Glamour, "so I literally have to live by that advice!"
Hayden Panettiere's photo on the May issue of
Glamour
, showing off just how much her baby bump has grown.
Jenna Dewan-Tatum is also in the May issue of
The actress is expecting her first child with her husband, actor Channing Tatum, this year. "Most actors and actresses are consumed by careers and getting ahead. Channing and I are ambitious, but our relationship comes first," she told Glamour. "We take everything day by day, saying, 'OK, how can we make this work together?' "
Her changing shape has been "really gradual," she added. "There's a reason women are pregnant for nine months; by the end, you're ready to have this baby," she said. "Channing has been great. He takes the route of no confrontation, just support, saying things like, 'Do whatever you want! What do you want to eat? I'm going to leave it up to you.' "
Speed-read: The latest celeb mags at a glance
Speed-read: The latest celeb mags at a glance
Speed-read: The latest celeb mags at a glance
Speed-read: The latest celeb mags at a glance
Speed-read: The latest celeb mags at a glance
Speed-read: The latest celeb mags at a glance
Speed-read: The latest celeb mags at a glance
Speed-read: The latest celeb mags at a glance
Speed-read: The latest celeb mags at a glance
Speed-read: The latest celeb mags at a glance
Speed-read: The latest celeb mags at a glance
Speed-read: The latest celeb mags at a glance
Speed-read: The latest celeb mags at a glance
Speed-read: The latest celeb mags at a glance
Speed-read: The latest celeb mags at a glance
Speed-read: The latest celeb mags at a glance
Speed-read: The latest celeb mags at a glance
Speed-read: The latest celeb mags at a glance
Speed-read: The latest celeb mags at a glance