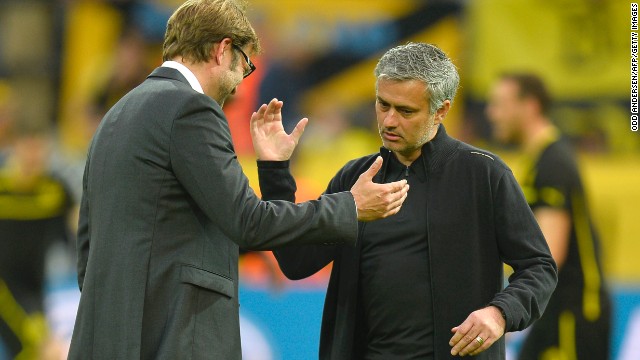 Dortmund coach Jurgen Klopp and Real boss Jose Mourinho had a pre-match chat on the field while their teams went through the warm-up ahead of the tie.
Borussia Dortmund fans are famed across the globe for their flags, banners and chants. Their team, which last won the competition in 1997, defeated Malaga in dramatic fashion in the quarterfinals to make it through to the last four.
Dortmund fans showed their support for Mario Goetze just over 24 hours since it was confirmed he will leave the club at the end of the season for great rival Bayern Munich. The 20-year-old has agreed a $48 million deal with the new German champions.
Dortmund made the perfect start when Robert Lewandowski fired home an eighth-minute opener from close range.
Cristiano Ronaldo celebrates scoring an equalizer seconds after Dortmund felt it should have had a penalty when Marco Reus went down inside the Real penalty area.
Dortmund regrouped at half-time and Lewandowski turned home his second of the night five minutes into the second half after escaping the Real offside trip.
Just five minutes later Lewandowski made it 3-1 when he showed remarkable skill to turn inside the penalty area and lash the ball home past the helpless Diego Lopez. The Poland international is the first man to score a hat-trick against Real in the Champions League.
Just 12 minutes later Dortmund was given a penalty after Marco Reus was fouled by Xabi Alonso and Lewandowski stood up to fire home from 12-yards.
Dortmund's players celebrate with Lewandowski after he becomes the first player to score four times in a semifinal of the competition since Ferenc Puskas in 1960.
High five
Ready for action
Super Mario
Fast start
Ronaldo roars
Double trouble
Hat-trick hero
Spot on
Party time
STORY HIGHLIGHTS
Borussia Dortmund crush Real Madrid 4-1 in first leg of Champions League semifinal
Robert Lewandowski scored all four goals for German side
Cristiano Ronaldo had made it 1-1 three minutes before halftime
Real host second leg at the Bernabeu next Tuesday
(CNN) -- It was Muhammad Ali who warned his opponents he would "float like a butterfly and sting like a bee".
Now, perhaps Borussia Dortmund can claim similar after crushing Real Madrid 4-1 in the first leg of its Champions League semifinal Wednesday.
Decked out in black and yellow, it swarmed around Real from the start with a buzz and infectious enthusiasm to be marveled at -- but it was left to one man to administer the fatal sting.
Robert Lewandowski, the Poland striker, was already one of the most feared forwards in European football before his took the field.
Read: Goetze set to join Bayern Munich
He left with his reputation enhanced four-fold, his asking price at an all-time high and his team within touching distance of next month's Champions League final.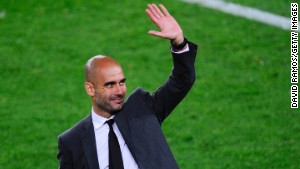 Do Bayern Munich need Pep Guardiola?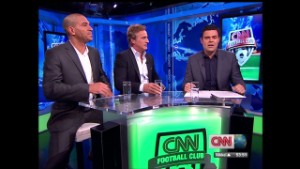 CNN FC: Do Bayern Munich need Guardiola?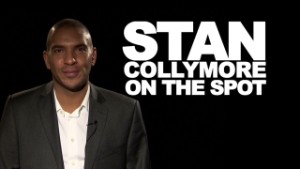 Aston Villa or Sharon Stone?
His four goals lit up an extraordinary encounter in which Dortmund went from young pretenders to serious contenders.
Barring the prospect of miracles at Camp Nou and the Bernabeu next week, Dortmund will contest the first ever all-German Champions League final against Bayern Munich at Wembley on May 25.
"It was an unbelievable," Dortmund boss Jurgen Klopp told Sky Sports.
"It was a great game by my team. It was so difficult today because they are so strong and fast and they are so brilliant on the counterattack.
"The first 25 minutes were great and then we lost a bit of our game. Not so much but enough to let them come up.
"They got (level) and at the break we told the players: 'Maybe you think there was a wrong decision by the referee but in the last game we had a wrong decision from the referee and we had the winner. Go back to the strong first 25 minutes'."
CNN Football Club: What would you ask Brad Friedel?
Forget that Real, the nine-time winners and richest club in the world, was expected to qualify for the final.
Forget that Real, boasting the mercurial talent of Cristiano Ronaldo, failed to produce their normal level of performance.
Instead, focus on one of the most exciting and vibrant sides to have emerged in European competition for many a year.
The fresh faced innocence, the youthful zest, the unbounded energy, all these traits have helped shape a Dortmund side, which is quickly winning the hearts of football fans across the globe.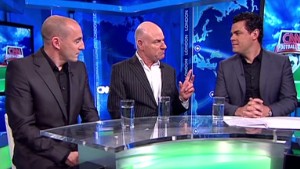 CNN Football Club: Who will be champions?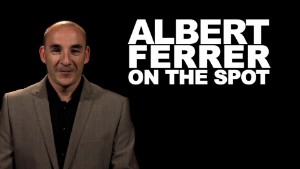 Ferrer: Spain can win 2014 World Cup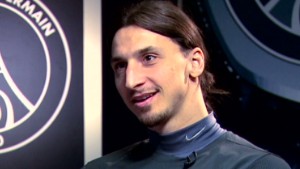 Exclusive: What makes Ibrahimovic tick?
German football is enjoying a stellar spell in the spotlight with fan ownership, cheap tickets, high attendances and huge television audiences making the Bundesliga one of the most popular leagues in the world.
If Bayern's 4-0 win over Barcelona on Tuesday night was supposedly the beginning of a power shift from Spain to Germany, then Dortmund's dominance confirmed it.
Everywhere you looked on the field, Dortmund was in control. Lewandowski led the line, a lone warrior refusing to be tamed by a Real defense appearing more and more desperate as the night progressed.
The prodigiously talented Ilkay Gundogan, who shielded his defense with an authority and maturity way beyond his 22 years, ran the midfield.
Mario Goetze, playing just over 24 hours since his $48 million move to Bayern had been confirmed, showed just why incoming manager Pep Guardiola was so keen to lure the gifted playmaker to the Allianz Arena.
Alongside the fleet footed Marco Reus, the pair tore into a Real side which looked anemic inside the red hot atmosphere of the Westfalenstadion.
Read: Brilliant Bayern batters Barcelona
Real would have expected Dortmund to start at breakneck speed, but even it was taken aback by the pace, power and ferocity of the German side.
Just seven minutes had elapsed when the wonderfully talented Reus danced his way through the Real defense, before unleashing a rasping effort which was parried away by Diego Lopez.
That was a warning of what was to follow and less than 60 seconds later the home side forged ahead when Goetze produced a sublime cross from the left for Lewandowski to poke home.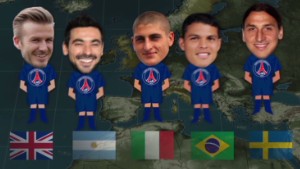 PSG: One year on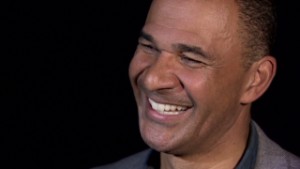 Gullit: Mourinho will return to Chelsea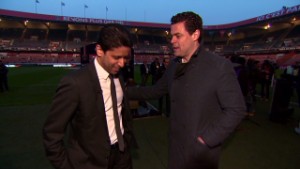 Behind the scenes at Paris St Germain
The buzz and energy with which Dortmund played appeared to overwhelm the Spanish champion, which was swept away with consummate ease.
But while Dortmund dominated, it was unable to add to its advantage and was made to pay as Real struck back with just two minutes of the half remaining.
With the home players still appealing for a penalty for what they considered to be a foul on Reus, the visiting team took advantage in devastating fashion.
Read: Dortmund drama keeps Champions League hope alive
A long ball was misjudged by Mats Hummels and Gonzalo Higuain ran clear to square for Cristiano Ronaldo to roll the ball home.
Ronaldo's strike, his sixth in six consecutive Champions League games, appeared to have left Dortmund in a daze.
But whatever Klopp said to his side at the break worked a treat as they produced one of the most enthralling second half displays in recent times.
It was Lewandowski who led the charge, firing home his second within five minutes of the restart after taking Reus' deflected effort in his path.
His third followed soon after, and when it came, it was worth waiting for.
Marcel Schmelzer's cross-cum-shot found the forward inside the penalty area and the striker produced an exquisite turn before sending an unstoppable effort into the roof of the net.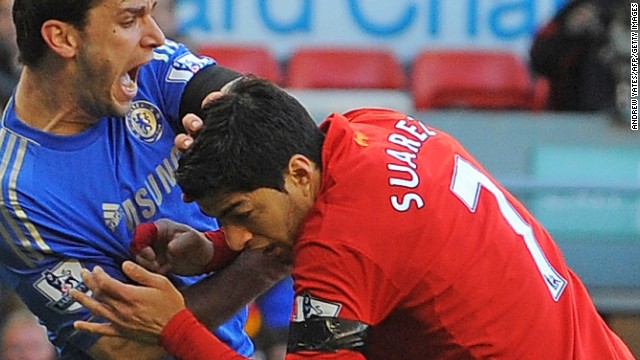 Liverpool's Luis Suarez has been banned for 10 games by the English Football Association for biting Chelsea's Branislav Ivanovic during Sunday's match at Anfield. It was the latest example of a player displaying questionable behavior in front of a vast array of television cameras. As football coverage has grown over the last two decades, so has the scrutiny placed on the stars of the "beautiful game." In this gallery, CNN highlights times when players have seemingly forgotten the eyes of the world are watching...
Suarez's reputation as a pantomime villain dates back to the 2010 World Cup in South Africa. The striker used his hand to block a goal-bound shot in the last minute of extra-time in a quarterfinal tie between Uruguay and Ghana. Suarez was given a red card and Ghana were awarded a penalty. But Asamoah Gyan missed the spot kick and Uruguay won the resulting penalty shootout to reach the semifinals, breaking African hearts in the process. Suarez also has previous when it comes to biting opponents, after he bit PSV's Otman Bakkal while playing for Ajax in November 2010. He was given a seven-match ban.
Manchester United's Eric Cantona suffered a moment of madness during an EPL match at Crystal Palace in January 1995. Cantona had been given a red card for kicking an opponent and, while making his exit from the pitch, the Frenchman jumped over the advertising boards and aimed a scissor kick at a fan who he claimed was shouting insults at him. Cantona was banned for nine months and also served 120 hours community service.
Paolo Di Canio has often courted controversy during his career. The Italian, who recently faced allegations of holding fascist views following his appointment as Sunderland manager, pushed referee Paul Alcock to the floor during a match against Arsenal in September 1998. Di Canio was given a red card and suspended for 11 games.
It is not just acts of violence which can make players unpopular. Brazil's Rivaldo was criticized, and ridiculed, following a group stage match against Turkey at the 2002 World Cup. Rivaldo went to the floor claiming Hakan Unsal had kicked the ball into his face, despite replays showing it had clearly hit him in the leg. Unsal was given a second yellow card and sent off, while Brazil went on to win the match 2-1. FIFA retrospectively punished Rivaldo with a fine, but the playmaker had the last laugh as Brazil went on to lift football's biggest prize for a record fifth time.
Portugal's Joao Pinto drew criticism during the 2002 World Cup after punching a referee in the stomach. Pinto, who had been given a red card during the match against tournament co-hosts South Korea, was suspended for six months by football's global governing body FIFA.
Zinedine Zidane. a world and European champion and a three-time FIFA World Player of the Year, ended his career in infamy at the 2006 World Cup. With the scores level at 1-1 in the final between France and Italy, the playmaker headbutted Italy's Marco Materazzi and was given a straight red card. France went on to lose the match on penalties and Zidane never played again. Materazzi later admitted to provoking Zidane by making remarks about his mother and sister.
Real Madrid defender Pepe has a notoriously short fuse. The Portuguese star was handed a 10-match ban in April 2009 for violent conduct, after kicking Getafe's Javi Casquero in the back while he lay on the floor. Moments before, Pepe had brought down Casquero to concede a penalty.
Belgian midfielder Axel Witsel was banned for eight matches after breaking Marcin Wasilewski's leg while played for Standard Liege against FC Brussels in 2009. Witsel has since joined Russia's Zenit St Petersburg.
Valentin Eysseric, who plays for French club Nice, was hit with an 11-match suspension following last month's match against Saint Etienne. The midfielder broke Jeremy Clement's leg and shattered several ankle ligaments following a shin-high tackle. Saint Etienne's fans have since displayed a banner saying "Support Clement" during their matches.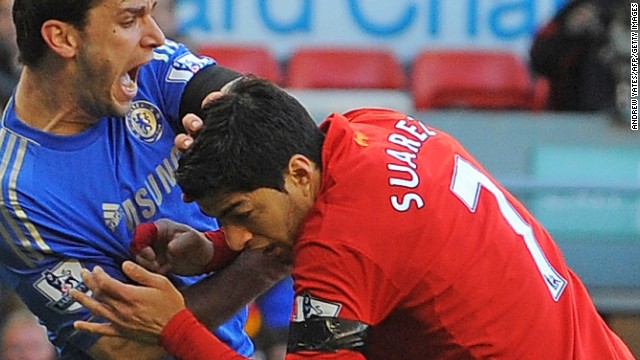 Moments of madness: Soccer stars behaving badly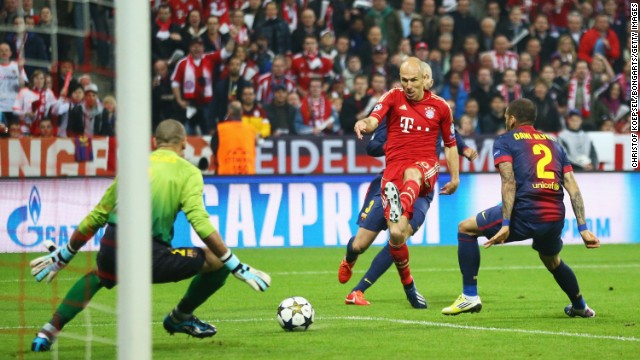 Arjen Robben wasted a glorious opportunity in the opening stages when he raced through the Barcelona defense before firing straight at Victor Valdes.
Bayern dominated the opening exchanges and Thomas Muller gave the German side a 25th minute lead when he seized on Dante's downward header to nod home at the far post.
Muller wheels away to celebrate as Barcelona duo Jordi Alba and Dani Alves look on.
Mario Gomez turned home Bayern's second four minutes after the break -- despite appearing to be in an offside position. The Germany international converted from two yards after Muller had headed towards goal.
Leo Messi, still clearly struggling with the hamstring injury he sustained during the quarterfinal tie with Paris Saint-Germain, failed to inspire the Catalan giant as Bayern dominated.
Robben added Bayern's third with 17 minutes remaining with a neat finish, despite teammate Muller clearly fouling Alba in the build up to the goal. Muller sent Alba sprawling as Robben went through on goal, but the effort was allowed to stand.
Bayern star Muller slid in to convert David Alaba's cross and round off an astonishing 4-0 win for the home side.
Bayern's Allianz Arena hosted last year's Champions League final where the German side suffered a heartbreaking penalty shootout defeat to Chelsea.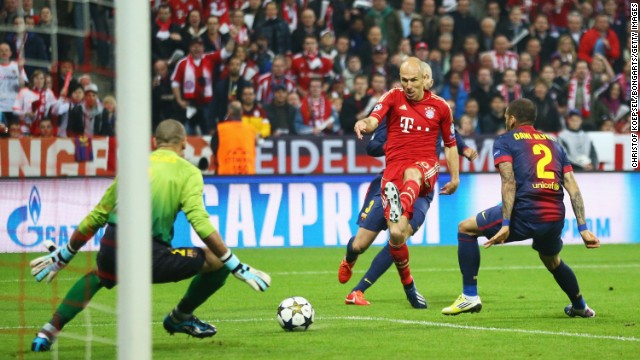 Barca blitzed by Bayern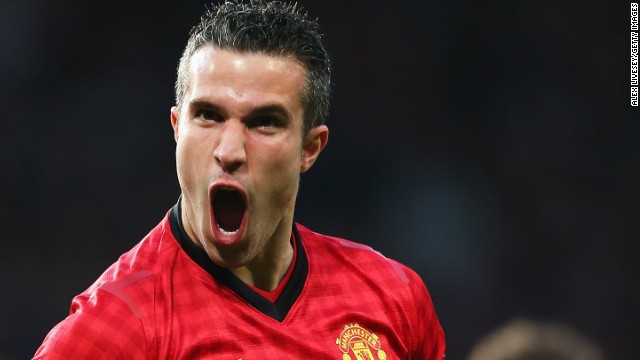 Manchester United striker Robin van Persie celebrates after scoring the opening goal the 3-0 win over Aston Villa as the Red Devils secured the English Premier League title.
The Dutch striker put United ahead after just 90 seconds as he finished off from close range following a knockback from Ryan Giggs which eluded the Villa defense.
His second was a spectacular volley after Wayne Rooney picked him out with a superb lofted pass.
The 39-year-old Giggs was also involved in the third goal as Van Persie netted for the 24th time in the Premier League this season to seal United's 20th English championship.
It was the 13th Premier League title for both Giggs and United manager Alex Ferguson, who gave the Welsh midfielder his debut in 1991.
United's fans had double reason to celebrate as the victory ended the hopes of rivals Manchester City, who won the title on a dramatic final day of last season.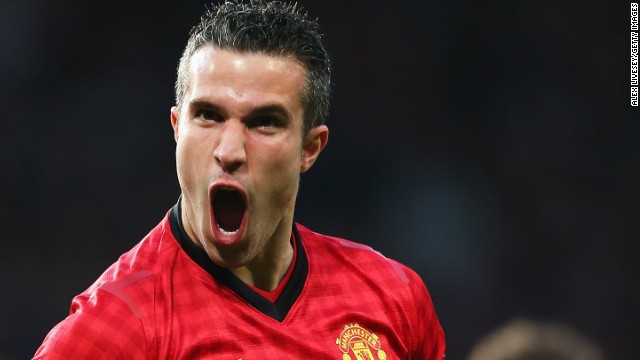 RVP hat-trick clinches Man Utd title
Read: Spanish giants kept apart
Dortmund were rampant and the hugely impressive Gundogan almost added a fourth when his fierce effort was brilliantly tipped away by Lopez in the Real goal.
That fourth goal was not far away, however, and when Xavi Alonso fouled Reus inside the penalty area, Lewandowski stood up to power home from 12-yards.
Not since the legendary Hungarian striker Ferenc Puskas in 1960 had anybody scored four times in a European Cup semfinal or final.
That tally could have been greater but Lopez produced another stunning save to push the Pole's fierce effort over the crossbar.
Real did rally late on with Ronaldo and Raphael Varane both going close, but Jose Mourinho's men must now hope for an incredible turnaround next Tuesday.
Only once has a team emerged victorious after conceding a three goal deficit in a Champions League knockout stage.
Read: Real Madrid usurp Man Utd as world's most valuable club
On that occasion, Deportivo La Coruna came back from a 4-1 defeat at AC Milan to win 5-4 on aggregate courtesy of a 4-0 home win.

Liverpool striker Luis Suarez (R) clashes with Branislav Ivanovic after appearing to bite the Chelsea player in the second half of Sunday's 2-2 draw.
Suarez then laughingly pats Ivanovic on the head after the Serbian complains to referee Kevin Friend.
Suarez grappled with Ivanovic before sinking his teeth into his arm.
Ivanovic earlier had words with Suarez as they walked off at halftime during the English Premier League match at Anfield.
Suarez gave Chelsea the lead for the second time when he handled the ball in his penalty area, allowing Eden Hazard to score from the spot. However, he was celebrating after his equalizer almost seven minutes into time added on.
The Chelsea players were furious that Suarez was still on the pitch after his bite on Ivanovic.
Suarez biting controversy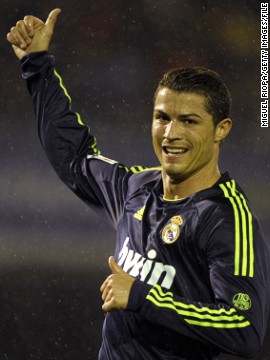 Real Madrid have usurped Manchester United as the world's most valuable soccer club according to Forbes. The Spanish giants, whose star player is Cristiano Ronaldo, increased their value by 76% over the past year to $3.3 billion.
Since Forbes started their study in 2004 this is the first time English Premier League club Manchester United have not appeared top. Despite bumper commercial deals with Chevrolet and Aon taking their value to $3.17bn they have to make do with second place.
Barcelona, who count arguably the world's best player Lionel Messi among their ranks, are third on the list, as they were in 2012. They almost doubled their value over the previous year -- the biggest rise out of any club in the top 20 -- to $2.6 billion.
Arsenal, who have qualified for the lucrative European Champions League for 15 successive seasons, remain fourth on Forbes' list. Led by Arsene Wenger, they have built up a substantial amount of cash reserves since their move to a new stadium. Their value stands at $1.32 billion.
German champions Bayern Munich, who are still on course for an historic treble, are fifth on the list with a value of $1.3 billion. Former Barcelona coach Pep Guardiola is joining the club at the end of the current season.
AC Milan are the only club in the top 10 to have gone down in value in the previous year but despite that their figure is put at £945 million.
Chelsea, owned by Russian billionaire Roman Abramovich, are seventh. Their value is $901 million and has gone up 18% in the past year. Their biggest name is striker Fernando Torres, who cost them $76 million from Liverpool in 2011.
On course for the title in Italy's Serie A, Juventus are valued at $694 million which puts them eighth on Forbes' countdown.
Big-spending Manchester City are ninth on the list with a value of $689 million. Since they were bought by Sheikh Mansour bin Zayed Al Nahyan, the new owner has spent an estimated $1.5 billion on the club. They won their first English top flight title for 44 years in 2012.
English club Liverpool, owned by John W. Henry's Fenway Group -- who also own the Boston Red Sox -- have a value of $651 million, which is up 5% on last year.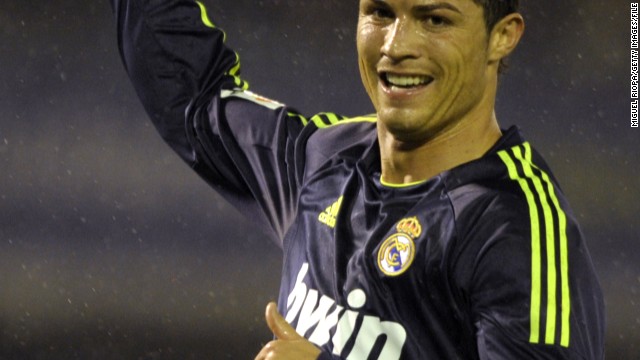 Real Madrid world's most valuable club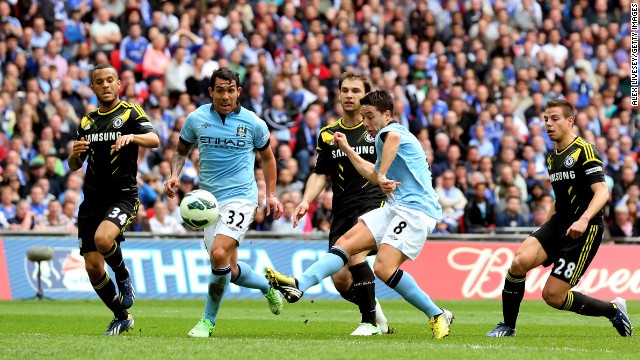 Samir Nasri gave Manchester City a 35th minute lead in its FA Cup semifnal against Wembley at Chelsea. The Frenchman darted into the penalty area before lashing the ball past goalkeeper Petr Cech.
Sergio Aguero's looping header just two minutes after the interval doubled City's lead as Roberto Mancini's men took complete control of the contest.
Demba Ba produced a moment of magic to bring Chelsea back into the game when he fired home an acrobatic strike with 66 minutes on the clock -- but Rafa Benitez's side was unable to find an equalizer as it crashed out of the FA Cup.
Robin van Persie ended his 10-game goal drought by firing Manchester United to a 2-0 win at Stoke City. The Dutchman scored a second half penalty to add to Michael Carrick's opener. United is now 15 points clear at the top with six games remaining.
Sunderland manager Paolo Di Canio celebrates his side's first goal during the 3-0 victory at arch rival Newcastle. Sunderland had not won at St James' Park for 13 years but goals from Stephane Sessegnon, Adam Johnson and David Vaughan gave it all three points.
Di Canio celebrates with his Sunderland players during their crucial victory. Sunderland is now three points clear of the relegation zone with five games remaining.
Cristian Tello scored twice as Barcelona, playing without talisman Lionel Messi, eased to a 3-0 win at Real Zaragoza to keep its title bid on track.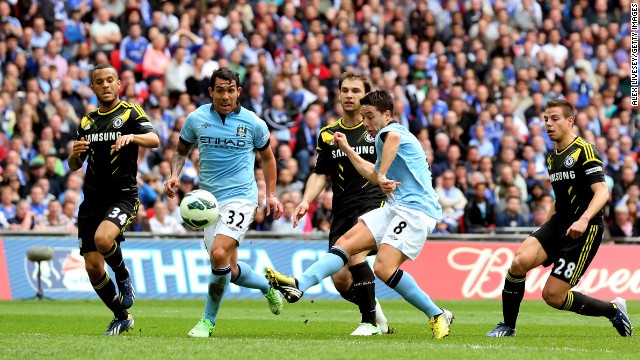 City leave Chelsea blue
"I think Dortmund were the best team by far," Real boss Mourinho told Sky Sports.
"They won every individual battle on the pitch, they were stronger physically and mentally so I think they deserve it. How did it go from 1-1 to 4-1? I don't know.
"Everything happened in a short space of time. We lost easy possession and we couldn't cope with their counter attack and their transition.
"We know everything about Robert Lewandowski, every detail possible and we lost him in three goals. It's very disappointing.
"When we lose and we don't deserve to lose, with me, it's a drama, when I do deserve to lose I accept it. Of course the boy deserves credit for what he did but we gave him every support for man of the match."
A 3-0 win would take Real through to the final and keep alive its hopes of winning "La Decima" -- the club's tenth trophy in the competition.
But the task looks nearly impossible following its abject showing in Dortmund.
"It will be very difficult in the return leg at home but we must remain confident and try to react," Real captain Sergio Ramos told reporters.
"When the draw for the semifinals was made a lot of people thought this was going to be easy for us, but this is a German team we are talking about. They are a great side."