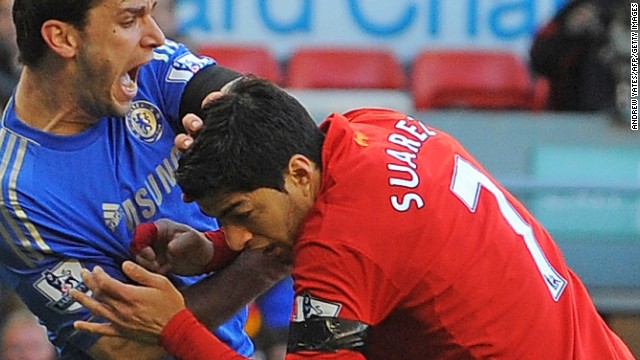 Liverpool's
Luis Suarez has been banned for 10 games by the English Football Association for biting Chelsea's Branislav Ivanovic
during Sunday's match at Anfield. It was the latest example of a player displaying questionable behavior in front of a vast array of television cameras. As football coverage has grown over the last two decades, so has the scrutiny placed on the stars of the "beautiful game." In this gallery, CNN highlights times when players have seemingly forgotten the eyes of the world are watching...
Suarez's reputation as a pantomime villain dates back to the 2010 World Cup in South Africa. The striker used his hand to block a goal-bound shot in the last minute of extra-time in a quarterfinal tie between Uruguay and Ghana. Suarez was given a red card and Ghana were awarded a penalty. But Asamoah Gyan missed the spot kick and Uruguay won the resulting penalty shootout to reach the semifinals, breaking African hearts in the process. Suarez also has previous when it comes to biting opponents, after he bit PSV's Otman Bakkal while playing for Ajax in November 2010. He was given a seven-match ban.
Manchester United's Eric Cantona suffered a moment of madness during an EPL match at Crystal Palace in January 1995. Cantona had been given a red card for kicking an opponent and, while making his exit from the pitch, the Frenchman jumped over the advertising boards and aimed a scissor kick at a fan who he claimed was shouting insults at him. Cantona was banned for nine months and also served 120 hours community service.
Paolo Di Canio has often courted controversy during his career. The Italian, who recently faced allegations of holding fascist views following his appointment as Sunderland manager, pushed referee Paul Alcock to the floor during a match against Arsenal in September 1998. Di Canio was given a red card and suspended for 11 games.
It is not just acts of violence which can make players unpopular. Brazil's Rivaldo was criticized, and ridiculed, following a group stage match against Turkey at the 2002 World Cup. Rivaldo went to the floor claiming Hakan Unsal had kicked the ball into his face, despite replays showing it had clearly hit him in the leg. Unsal was given a second yellow card and sent off, while Brazil went on to win the match 2-1. FIFA retrospectively punished Rivaldo with a fine, but the playmaker had the last laugh as Brazil went on to lift football's biggest prize for a record fifth time.
Portugal's Joao Pinto drew criticism during the 2002 World Cup after punching a referee in the stomach. Pinto, who had been given a red card during the match against tournament co-hosts South Korea, was suspended for six months by football's global governing body FIFA.
Zinedine Zidane. a world and European champion and a three-time FIFA World Player of the Year, ended his career in infamy at the 2006 World Cup. With the scores level at 1-1 in the final between France and Italy, the playmaker headbutted Italy's Marco Materazzi and was given a straight red card. France went on to lose the match on penalties and Zidane never played again. Materazzi later admitted to provoking Zidane by making remarks about his mother and sister.
Real Madrid defender Pepe has a notoriously short fuse. The Portuguese star was handed a 10-match ban in April 2009 for violent conduct, after kicking Getafe's Javi Casquero in the back while he lay on the floor. Moments before, Pepe had brought down Casquero to concede a penalty.
Belgian midfielder Axel Witsel was banned for eight matches after breaking Marcin Wasilewski's leg while played for Standard Liege against FC Brussels in 2009. Witsel has since joined Russia's Zenit St Petersburg.
Valentin Eysseric, who plays for French club Nice, was hit with an 11-match suspension following last month's match against Saint Etienne. The midfielder broke Jeremy Clement's leg and shattered several ankle ligaments following a shin-high tackle. Saint Etienne's fans have since displayed a banner saying "Support Clement" during their matches.
Luis the loose cannon
Helping hand
Cantona's karate kick
Paolo's push
Pinto's punch
Zizou's outburst
Pepe's punishment
Axel's assault
Valentin's vile lunge
STORY HIGHLIGHTS
Liverpool striker Luis Suarez hit with 10-game ban by English Football Association
Suarez has until Friday at midday GMT to appeal against punishment
Liverpool "shocked and disappointed" at decision
(CNN) -- Luis Suarez has been hit with a 10-game ban for biting Chelsea defender Branislav Ivanovic.
The Liverpool striker was found guilty by the English Football Association Wednesday following the incident which occurred during his side's 2-2 draw with Chelsea last Sunday.
An FA statement read: "A three-person Independent Regulatory Commission today upheld the FA's claim that a suspension of three matches was clearly insufficient and the player will serve a further seven first-team matches in addition to the standard three. The suspension begins with immediate effect.
"The Liverpool forward had accepted a charge of violent conduct but had denied the FA's claim that the standard three-match sanction was insufficient for the offense.
"The incident was not seen by the match officials and has therefore been retrospectively reviewed.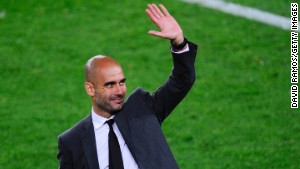 Do Bayern Munich need Pep Guardiola?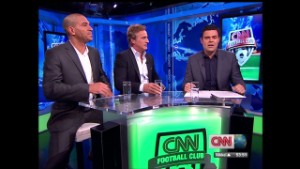 CNN FC: Do Bayern Munich need Guardiola?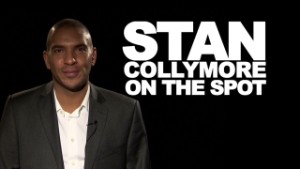 Aston Villa or Sharon Stone?
"Suarez has until midday on Friday, 26 April to appeal the additional suspension, above the standard three matches."
Liverpool managing director Ian Ayre was unhappy with the severity of the verdict.
He told the club's official site: "Both the club and player are shocked and disappointed at the severity of today's Independent Regulatory Commission decision.
"We await the written reasons tomorrow before making any further comment."
Read: Soccer stars behaving badly
Suarez, 26, had apologized for his actions and was heavily fined by Liverpool.
"I've spoken to Ivanovic on the phone so I could apologize directly to him," he tweeted. "Thanks for accepting."
He added: "For my unacceptable behavior the club has fined me.
"I have asked the club to donate the money to the Hillsborough Family Support Group for the inconvenience I have created to the Liverpool fans and to Ivanovic."
It would appear that Suarez's past record has been taken into account by the FA.
The Uruguay striker was given an eight-match ban and a $63,000 fine back in 2011 after being found guilty by the FA of racially abusing Manchester United's Patrice Evra.
Suarez also courted controversy in Holland while at Ajax where he was banned for seven games after biting PSV Eindhoven midfielder Otman Bakkal's shoulder during a match in November 2010.
The Uruguay star, who has scored 23 goals in the English Premier League, has even drawn criticism from British Prime Minister David Cameron.
"It is rightly a matter for the football authorities to consider," a Downing Street spokesman said. "As part of their consideration, I think it would be very understandable if they took into account the fact that high-profile players are often role models."
Suarez's ban is by no means the most severe handed out by the FA.
In 1998, current Sunderland manager Paolo Di Canio was banned for 11 games after pushing a referee while playing for Sheffield Wednesday.
In 2003, Manchester United and England defender Rio Ferdinand was suspended for eight months after missing a drugs test.
Another Manchester United star, Eric Cantona, was banned for nine months after launching a kung-fu style kick at a supporter during a game at Crystal Palace in 1995.
Former Australia goalkeeper Mark Bosnich was also punished with a nine-month suspension after testing positive for cocaine in 2003.