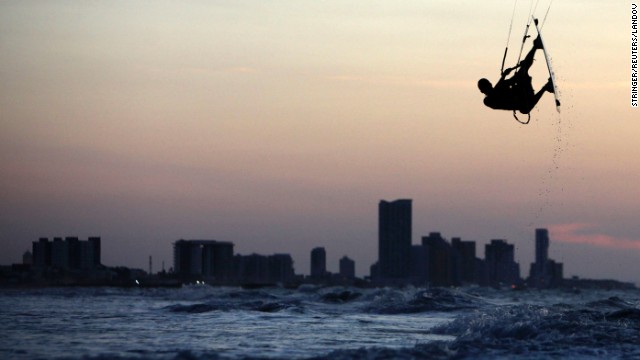 A coastal country with deserts and mountains between its borders, Colombia draws the adventurous tourist with its varied terrain. Bocagrande beach in Cartagena is popular with kitesurfers during the warm season, which lasts from December till April. Kitesurfer Ken Ruiz practices at Bocagrande beach in December 2012.
Thousands of people in Cali, Colombia earn their living from the salsa industry -- whether working at dance schools, ballrooms and party rooms or as tailors or other related jobs. Here, members of Argentina's "Bien chevere" dance school perform during the 7th World Salsa Festival held in Cali in September 2012.
The Caribbean port city of Cartagena hosted the Sixth Summit of the Americas in April 2012, during which leaders in the Americas discussed how to better connect the different countries.
A visitor walks past a statue of the Virgen del Perpetuo Socorro (Our Lady of Perpetual Help) in the Nemocon salt mine in September 2012. The mine is one of Colombia's most popular tourist attractions.
Colombian bullfighter Sebastian Vargas performs a pass during a bullfight at La Santamaria bullring in Bogota in January 2012.
The municipality of Medellin presented an artistic project called Heroes Without Borders, an exhibition of 23 photographs placed in different facades and roofs, to prevent the recruitment of children by illegal groups in January 2012.
A horse is pictured during a traditional folk festival in San Martin in the province of Meta in November 2012. The annual event has at least 272 years of history and commemorates the native people's struggle for freedom against Spanish colonization.
The 500-meter-long escalator in Commune 13 in Medellin, divided into several sections, was set up to facilitate the travel of residents living in the mountainside favelas. The notorious slums of Medellin have gone through urban and educational projects to improve the quality of life for residents.
Tourists walk past a sculpture by Fernando Botero in Cartagena's old city in April 2012.
Austrian paraglider pilot Othmar Dickbauer flies above the mountains in Roldanillo, Valle del Cauca department, Colombia, during the Paragliding World Cup Superfinal, January 2013.
Colombian policemen patrol on horseback near Cartagena's historic walls in April 2012.
A woman visits the aquarium of Explora Park in Medellin, Colombia, in March 2013. In 2012, Medellin competed with cities including New York and Tel Aviv, to win the title of "Innovative City of the Year" from the Urban Land Institute in partnership with The Wall Street Journal and Citigroup. The city's modern transportation system, including gondolas that shuttle residents from steep mountainside neighborhoods to the city below, was cited as a key factor.
A mural enlivens a wall in the midst of Medellin's hillside slums, near the celebrated architecture star Biblioteca Espana in January 2013.
A costumed performer takes part in a traditional folk festival in San Martin in the province of Meta in November 2012.
People sit outside restaurants and bars situated on the corner of a small square inside the city walls in January 2012 in Cartagena.
A general view shows Medellin from above in March 2013.
Touring Colombia
Touring Colombia
Touring Colombia
Touring Colombia
Touring Colombia
Touring Colombia
Touring Colombia
Touring Colombia
Touring Colombia
Touring Colombia
Touring Colombia
Touring Colombia
Touring Colombia
Touring Colombia
Touring Colombia
Touring Colombia
STORY HIGHLIGHTS
Sweep stereotypes aside: Colombia is much more than the Escobar gang legacy
Safety policies implemented in 2006 have vastly improved the security situation
The salsa city of Cali is renowned for high-energy dance clubs
Pueblitos (small villages) dot the countryside and make for great getaways
(CNN) -- There was a time when few travelers visited Colombia, when the country was synonymous with drug lords, when the only English you heard on the streets was spoken by American Marines.
That Colombia -- a country of conflict and cartels -- has largely disappeared, replaced by a rejuvenated capital of Bogota and a resilient culture that refuses to be bogged down by the dark days.
Premonitions and stereotypes should be swept aside before visiting this South American country of spectacular scenery. Today's Colombia is much more than the ugly Escobar legacy or its famed Andean coffee -- though a cup of café will most certainly reach your hands during a trip.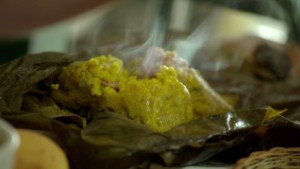 Bourdain calls this 'a thing of beauty'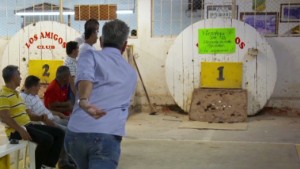 This bar game involves explosives
Here are some important things to keep in mind before visiting the country with the third-largest Spanish-speaking population in the world (about 46 million), after Mexico and Spain.
1. Medellin is the world's most innovative city, officially
Jutting out of a mountainside packed with russet cinder-block slums, the three black shards of Medellin's Espana Library stand out in a sea of shanties.
Completed in 2007, the Espana Library has become a calling card for the revitalized city, just one of the examples that led the Washington-based Urban Land Institute to name it the 2012 "Innovative City of the Year" in a competition co-sponsored by the Wall Street Journal and Citi.
Zipping up to connect the library and surrounding area to the city is the MetroCable, a novel approach to addressing poverty at the grass-roots level.
"Medellin is a city that works hard to tell the world of its capabilities and broadcast its impressive tourism opportunities," said Maria Claudia Lacouture, president of trade group Proexport Colombia.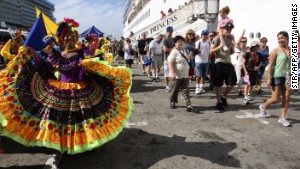 No more drug culture stereotypes please.
2. Drug culture stereotypes are false and offensive
Drop your ideas of a coke-soaked land still lost in the days of the Escobar gang.
While residents of Medellin can recall growing up in a battlefield, where even trips to buy groceries meant dodging violence, Colombia is no gangster's paradise.
The coca leaf is still chewed in some rural communities, and coca leaf tea is stocked for tourists, but suggesting that Colombia hasn't moved on from its inglorious past is considered ignorant and rude.
Colombia has persevered, though unfortunately so has the drug war, migrating closer to its end market -- the U.S.-Mexico border.
3. Bogota must be seen from Monserrate
Every big city has a perfect vantage point from which to appreciate its immensity. For Bogota, that magic spot is Monserrate.
Perched on a mountain dominating the city, Monserrate is home to a church where pilgrims visit a shrine devoted to El Senor Caido (Fallen Lord).
From the summit, Bogota's vast gray and red concrete expanse absorbs the green valley that frames it; the sight puts the sprawling proportion of this megacity into perspective.
Monserrate can be reached via an aerial tramway, funicular or by climbing on foot.
4. Security has dramatically improved
Since controversial policies implemented in 2006 by former President Alvaro Uribe encouraged paramilitary groups to "demobilize" after their conflict with communist guerillas, Colombia's security situation has vastly improved.
The country's new image has led to a rise in tourism, with bus trips (albeit on select routes) now considered safe for foreigners.
It's common to see military personnel at checkpoints outside cities, but this is once again an improvement that represents the government's control of the country.
5. Real Colombians drink cafe tinto
Colombia is synonymous with coffee, so it's little surprise that the morning beverage is in such high demand that leagues of women walk Colombian cities serving it.
At first glance, these women may appear equipped to snuff out pests, but their mobile packs aren't meant for exterminating bugs, they're meant for pouring hot coffee.
A real Colombian, you'll inevitably be told, takes the stuff black, or cafe tinto.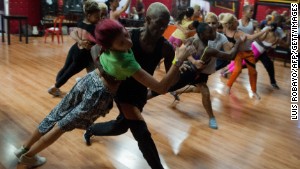 Most Colombians will be happy to show you some introductory moves on the dance floor.
6. Salsatecas are best when hot and sweaty
What's Colombia without salsa? Not Colombia.
Beginners can take salsa classes to get familiar with the basic steps. Those who can't be bothered with formal lessons will find Colombians to be warm people, even warmer when dancing. Most will be happy to show you some introductory moves on the spot if you're charming enough.
7. Pueblitos are favored weekend destinations
Pueblitos, or small villages, dot the Colombian countryside, serving up a colonial past and antiquated charm not found in cities.
From almost every major Colombian urban hub, pueblitos can be accessed via road, making for easy weekend trips.
Outside Bogota, Guatavita is a small town near Guatavita Lake that offers idyllic views of casitas, the small houses that exemplify Colombia's countryside.
8. Nothing is more Colombian than aguardiente
If you're looking for a stiff drink, a $6 bottle of aguardiente is the most Colombian way to find it.
All departments (administrative regions) in Colombia have license to produce their own aguardiente, a 60%-alcohol spirit that means "fiery water."
There's no Colombian celebration without aguardiente.
Even more local? The unforgettable guayabo (Colombian slang for hangover) de aguardiente.
Insider Guide: Best of Mexico City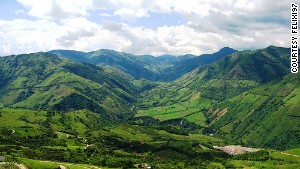 The neotropic Andean region.
9. Colombian climates vary wildly
Colombia may straddle the equator, but that doesn't mean you should leave your gloves and sweater at home.
Bogota and Medellin are in tropical highlands and can get chilly at night -- especially Bogota, where heavy jackets and scarves are the norm year-round.
Visit the coast around Cartagena, however, and you'll be sweltering.
This climatic disparity is reflected in Colombia's cultural composition. Locals come in as many varieties as the weather; there's no one look for a Colombian.
10. Cali is Salsa City
The gravity-defying female assets of Cali's nightclubs thrust out to such fierce degree that they can't be overlooked -- the sultry salsa city is renowned for its talent-laden, sexually dynamic dance floors.
Those seeking a more subtle experience can start with a viejoteca, where there's more actual dancing, less physical drama and fewer crazy drinkers.
Gallery: Chamber of mirrors and salt waterfalls at Nemocon salt mine