Hottie in seat 17D? Send her a drink!
April 25, 2013 -- Updated 0326 GMT (1126 HKT)
STORY HIGHLIGHTS
Virgin America launches seat-to-seat ordering service
Passengers can send cocktails and chat with perfect strangers
The "send to another seat" button makes meeting fellow passengers easy
(CNN) -- The best thing about flying? Gawking at good-looking strangers.
Maybe you spotted a Ryan Gosling clone in the departure lounge who set your heart aflutter. Or perhaps that mysterious tattooed woman who set off the metal detectors with all her piercings caught your fancy.
There's just one problem. Serendipity fails to strike. You board the plane and find your dream girl/guy isn't seated anywhere near you.
But there's good news for helpless romantics.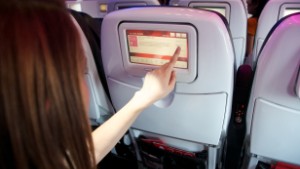 Virgin's in-flight entertainment system now doubles as Cupid.
Thanks to Virgin America's not at all creepy new service, passengers can use the airline's "Red" in-flight entertainment system to send a drink, meal or snack to the object of their affection.
So, once you've pinpointed your designated hottie with Virgin's digital seat map, what comes next? Browse the menu and decide what to send over.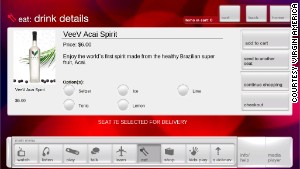 The "send to another seat" button makes meeting fellow passengers easy.
Maybe he looks like a Bombay Sapphire kind of a guy. And what lady can resist an ice cold Bud Light? She'll be yours in no time.
Follow up with a text sent through the seat-to-seat messaging system. The cheesier the better.
"This Bud's for you, sexy lady."
"Is there an airport nearby or is that just my heart taking off?"
Getting lucky
Virgin America launched the new seat-to-seat delivery option this week to mark the start of its Los Angeles to Las Vegas service, though it's available on all of the airline's U.S. flights.
The big man himself helped introduce the new feature with a video titled, "Sir Richard Branson's Guide to Getting Lucky."
"I'm not a betting man, but I'd say your chance of deplaning with a plus-one are at least 50%," he concludes.
The only problem we foresee is a surge in the number of passengers prowling up and down the aisles "going to the bathroom" for a fourth and fifth time.
12 in-flight innovations that will make your trip better

Today's five most popular stories
Part of complete coverage on
October 28, 2014 -- Updated 0149 GMT (0949 HKT)

Luxury Action will turn your travel scripts into reality and film them. As long as you're willing to travel to this country ...
October 27, 2014 -- Updated 0913 GMT (1713 HKT)

As entertainment capital of the world, Los Angeles draws some of the best comic talent on the planet. Here's where to see it live.
October 27, 2014 -- Updated 0342 GMT (1142 HKT)

Not many people choose flights based on the quality of an airline's catering -- but those who do should check out Saveur's Culinary Travel Awards.
October 27, 2014 -- Updated 0251 GMT (1051 HKT)

On the island of rice, curry, tropical fruit and fresh seafood, eating is an honor to the taste buds.
October 23, 2014 -- Updated 1558 GMT (2358 HKT)

Sparsely populated (by humans at least), this East Africa country offers so much more than just Mt. Kilimanjaro.
October 24, 2014 -- Updated 1432 GMT (2232 HKT)

It's crowded and outdated, but Berlin's hexagon-shaped Tegel air hub has won a place in the city's heart.
October 23, 2014 -- Updated 0847 GMT (1647 HKT)

Shrine to a dead cat and a homage to fromage among Dutch capital's eccentric exhibitions.
October 22, 2014 -- Updated 0603 GMT (1403 HKT)

Slovenian Kickstarter project encourages travelers to hop on their suitcase and cruise through terminals to connecting gates.
October 20, 2014 -- Updated 1808 GMT (0208 HKT)

The guidebook asked staff, contributors and authors for well-known and lesser-known recommendations.
October 20, 2014 -- Updated 1607 GMT (0007 HKT)

An airport in Asia has stolen the crown from Manila's Ninoy Aquino, voted 'world's worst' three years in a row.