Hottie in seat 17D? Send her a drink!
April 25, 2013 -- Updated 0326 GMT (1126 HKT)
STORY HIGHLIGHTS
Virgin America launches seat-to-seat ordering service
Passengers can send cocktails and chat with perfect strangers
The "send to another seat" button makes meeting fellow passengers easy
(CNN) -- The best thing about flying? Gawking at good-looking strangers.
Maybe you spotted a Ryan Gosling clone in the departure lounge who set your heart aflutter. Or perhaps that mysterious tattooed woman who set off the metal detectors with all her piercings caught your fancy.
There's just one problem. Serendipity fails to strike. You board the plane and find your dream girl/guy isn't seated anywhere near you.
But there's good news for helpless romantics.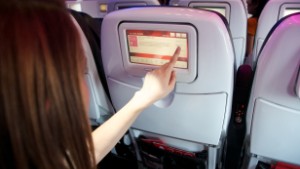 Virgin's in-flight entertainment system now doubles as Cupid.
Thanks to Virgin America's not at all creepy new service, passengers can use the airline's "Red" in-flight entertainment system to send a drink, meal or snack to the object of their affection.
So, once you've pinpointed your designated hottie with Virgin's digital seat map, what comes next? Browse the menu and decide what to send over.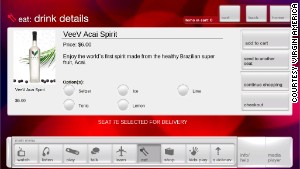 The "send to another seat" button makes meeting fellow passengers easy.
Maybe he looks like a Bombay Sapphire kind of a guy. And what lady can resist an ice cold Bud Light? She'll be yours in no time.
Follow up with a text sent through the seat-to-seat messaging system. The cheesier the better.
"This Bud's for you, sexy lady."
"Is there an airport nearby or is that just my heart taking off?"
Getting lucky
Virgin America launched the new seat-to-seat delivery option this week to mark the start of its Los Angeles to Las Vegas service, though it's available on all of the airline's U.S. flights.
The big man himself helped introduce the new feature with a video titled, "Sir Richard Branson's Guide to Getting Lucky."
"I'm not a betting man, but I'd say your chance of deplaning with a plus-one are at least 50%," he concludes.
The only problem we foresee is a surge in the number of passengers prowling up and down the aisles "going to the bathroom" for a fourth and fifth time.
12 in-flight innovations that will make your trip better

Today's five most popular stories
Part of complete coverage on
November 24, 2014 -- Updated 0118 GMT (0918 HKT)

These quirky and beautiful subway stops make standing cheek-to-cheek with 45 strangers almost seem fun.
November 21, 2014 -- Updated 1314 GMT (2114 HKT)

Luxury vintage Land Rover tours explore Bedouin backwaters without bashing up precious dunes.
November 20, 2014 -- Updated 0250 GMT (1050 HKT)

Cities around the world have closed the brew gap, but the Oregon city's innovative scene continues to lead the beer parade.
November 19, 2014 -- Updated 2249 GMT (0649 HKT)

From gourmet hotdogs to Sevillian tapas, the food served in these London restaurants is worth lining up for.
November 20, 2014 -- Updated 1545 GMT (2345 HKT)

Plans are underway to build the world's tallest -- and quite possibly most terrifying -- roller coaster at an Orlando, Florida, theme park due to open in 2017.
November 18, 2014 -- Updated 1932 GMT (0332 HKT)

The 7th Annual Cruise Critic Editors' Picks Awards highlight the top cruise lines for North American travelers in 18 categories.
November 19, 2014 -- Updated 0206 GMT (1006 HKT)

Joining the ranks of pilgrims tackling Adam's Peak rewards with a spiritual awakening, or at least a stunning sunrise.
November 18, 2014 -- Updated 1313 GMT (2113 HKT)

Beautifully designed travel document reveals image of Northern Lights when placed under UV light.
November 18, 2014 -- Updated 0525 GMT (1325 HKT)

New concept offering luxury rooms in ancient dwellings helps spare beautiful villages from falling into ruin.
November 21, 2014 -- Updated 2247 GMT (0647 HKT)

Are you the butcher or the cattle? Tainted meat-obsessed fans are following the tracks of their favorite "Walking Dead" survivors.
November 17, 2014 -- Updated 0521 GMT (1321 HKT)

People never cease to find amazing ways to make water more incredible than it already is. Here are some powerful examples