Hottie in seat 17D? Send her a drink!
April 25, 2013 -- Updated 0326 GMT (1126 HKT)
STORY HIGHLIGHTS
Virgin America launches seat-to-seat ordering service
Passengers can send cocktails and chat with perfect strangers
The "send to another seat" button makes meeting fellow passengers easy
(CNN) -- The best thing about flying? Gawking at good-looking strangers.
Maybe you spotted a Ryan Gosling clone in the departure lounge who set your heart aflutter. Or perhaps that mysterious tattooed woman who set off the metal detectors with all her piercings caught your fancy.
There's just one problem. Serendipity fails to strike. You board the plane and find your dream girl/guy isn't seated anywhere near you.
But there's good news for helpless romantics.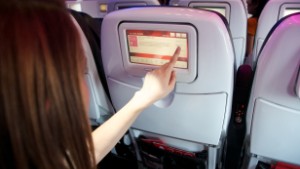 Virgin's in-flight entertainment system now doubles as Cupid.
Thanks to Virgin America's not at all creepy new service, passengers can use the airline's "Red" in-flight entertainment system to send a drink, meal or snack to the object of their affection.
So, once you've pinpointed your designated hottie with Virgin's digital seat map, what comes next? Browse the menu and decide what to send over.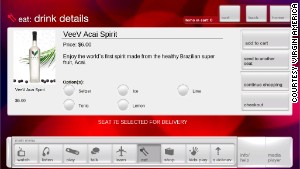 The "send to another seat" button makes meeting fellow passengers easy.
Maybe he looks like a Bombay Sapphire kind of a guy. And what lady can resist an ice cold Bud Light? She'll be yours in no time.
Follow up with a text sent through the seat-to-seat messaging system. The cheesier the better.
"This Bud's for you, sexy lady."
"Is there an airport nearby or is that just my heart taking off?"
Getting lucky
Virgin America launched the new seat-to-seat delivery option this week to mark the start of its Los Angeles to Las Vegas service, though it's available on all of the airline's U.S. flights.
The big man himself helped introduce the new feature with a video titled, "Sir Richard Branson's Guide to Getting Lucky."
"I'm not a betting man, but I'd say your chance of deplaning with a plus-one are at least 50%," he concludes.
The only problem we foresee is a surge in the number of passengers prowling up and down the aisles "going to the bathroom" for a fourth and fifth time.
12 in-flight innovations that will make your trip better

Part of complete coverage on
September 23, 2014 -- Updated 0231 GMT (1031 HKT)

Which cities provide the most memorable party times? A self-proclaimed "nightlife connoisseur" names his top 10.
September 22, 2014 -- Updated 0344 GMT (1144 HKT)

Whether you're looking for a post-meeting pint or a wild night out, creativity is on the menu at these hot Hong Kong venues.
September 22, 2014 -- Updated 1416 GMT (2216 HKT)

Artists and migrants are moving out as a once-crumbling neighborhood goes upscale.
September 20, 2014 -- Updated 0502 GMT (1302 HKT)

They irrigate our farms, are an important means of transport and a source of eco-friendly power.
September 19, 2014 -- Updated 0828 GMT (1628 HKT)

Open House festivals allow snooping in homes and landmarks normally closed to public
September 19, 2014 -- Updated 0422 GMT (1222 HKT)

Ancient competitions held and yurt town set up to rejuvenate nomadic cultures.
September 19, 2014 -- Updated 0102 GMT (0902 HKT)
Playful sea lions, fearless boobies and the only ocean-going lizards in the world -- these islands offer amazing experiences for naturalists and tourists alike.
September 18, 2014 -- Updated 1200 GMT (2000 HKT)

A foreign language can be the best aphrodisiac, so we traveled the world in search of the hottest accents.
September 22, 2014 -- Updated 0212 GMT (1012 HKT)

Hidden from the rest of the world for decades, Myanmar's Lethwei boxing is experiencing a revival globally.
September 17, 2014 -- Updated 1117 GMT (1917 HKT)

This aging cargo work whale makes more than 60 flights each week, carrying parts for all of the Airbus programs.
September 15, 2014 -- Updated 0026 GMT (0826 HKT)

Former brothels, public toilets and war bunkers now provide eccentric watering holes for those willing to drink deep.
September 12, 2014 -- Updated 0338 GMT (1138 HKT)

Whether filled with electric blue sulfur flames or hissing lava, these mega mountains offer incredible vistas.

Today's five most popular stories