Italy's president asks center-left lawmaker to form government
April 24, 2013 -- Updated 1324 GMT (2124 HKT)
STORY HIGHLIGHTS
NEW: Enrico Letta highlights need to tackle unemployment, political reform in Italy
President Giorgio Napolitano asks the center-left politician to form a government
Letta, of the Democratic Party, says he will consult with political parties
Italy has been locked in a stalemate since inconclusive elections in February
Rome (CNN) -- Italian President Giorgio Napolitano has asked center-left politician Enrico Letta to form a new government, the president's spokesman said Wednesday, raising hopes of an end to the country's political impasse.
Speaking after their meeting, Letta told reporters he would consult with parties Thursday and then would return to the presidential palace to "fully accept" the mandate.
The step comes four days after Napolitano, 87, was re-elected by Italy's Parliament on Saturday to an unprecedented second term.
Italy has been locked in a political stalemate since February's general election left a three-way split between the right, the left and a wild-card party.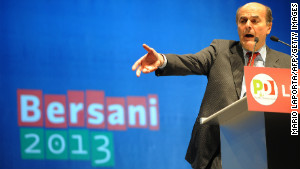 Italy's parliamentary paralysis?
A delegation led by Letta, a 46-year-old former deputy prime minister who belongs to the center-left Democratic Party, met with Napolitano on Tuesday.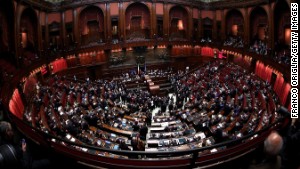 Who will be the next Italian president?
Letta said that he was surprised to receive the call from Napolitano on Wednesday morning but that he accepted the challenge "with great commitment."
"We are going through a very difficult time," he said.
Letta said the most important step was to tackle unemployment, especially among young people -- a problem that is pushing many young Italians to leave the country.
The second most pressing issue facing Italy is the need for political reform, he said.
READ MORE: Mired in financial troubles, Italian couple commits suicide
Constitutional changes are needed to reduce the number of parliamentarians and fix an electoral system that has kept the country locked in a political stalemate it can't afford, he said.
"We need to do this together with the largest participation possible," said Letta.
He also said the policy of austerity in the European Union needs to change.
Napolitano said he was "satisfied" because the road to forming the new government is finally open. The only way this can happen is through a "large coalition" that can ensure a majority in both houses of Parliament, he said.
Letta is very young for a prime minister by Italian standards but is very experienced, he added.
The former leader of the Democratic Party, Pier Luigi Bersani, tried to form a government last month but failed. He resigned after the re-election of Napolitano.
No one has taken over the leadership of the party, the dominant member of a leftist coalition.
CNN's Hada Messia reported from Rome and Laura Smith-Spark wrote in London.

Part of complete coverage on
December 12, 2013 -- Updated 1819 GMT (0219 HKT)

The sign language interpreter widely ridiculed for his performance at the Nelson Mandela memorial stands by his work.
December 12, 2013 -- Updated 1456 GMT (2256 HKT)

Behind the scenes in Cambodian karaoke bars -- a common front for child prostitution.
December 12, 2013 -- Updated 0446 GMT (1246 HKT)

A global risk firm surveys the most politically explosive countries.
December 12, 2013 -- Updated 1801 GMT (0201 HKT)

It's the battle of the tech titans. No, not Apple versus Samsung. Sony has gone head-to-head with Microsoft.
December 12, 2013 -- Updated 1509 GMT (2309 HKT)

On Tuesday, I was free. On Wednesday, I became a criminal. India's high court just made being gay illegal, writes Tushar Malik.
December 12, 2013 -- Updated 1046 GMT (1846 HKT)

A Japanese actor says playing villians in Chinese films has helped the China-Japan divide. CNN's Ivan Watson reports.
December 12, 2013 -- Updated 1612 GMT (0012 HKT)

New skyscraper-sized gas plant is the biggest thing on the waves.
December 11, 2013 -- Updated 1524 GMT (2324 HKT)

Pope Francis is Time's person of the year. His papacy has drawn adulation from people around the world for his man-of-the-people ways.

He was imprisoned for life but that did not quiet him. Nelson Mandela became South Africa's first black president, and an icon and inspiration.
December 12, 2013 -- Updated 1205 GMT (2005 HKT)

Turning 50 is a major milestone in a person's life -- and a country's history.
December 12, 2013 -- Updated 1907 GMT (0307 HKT)

Browse through images you don't always see in news reports, taken by CNN teams all around the world.

Today's five most popular stories