Serbia's president declines to define killing of 8,000 in Srebrenica as 'genocide'
April 26, 2013 -- Updated 0801 GMT (1601 HKT)
STORY HIGHLIGHTS
President Tomislav Nikolic apologized on Bosnian TV
"I kneel and ask for forgiveness," he said
About 8,000 Muslims, mostly boys and men, were killed in Srebrenica
The killings occurred over a period of five days in July 1995
(CNN) -- Serbia's president apologized Thursday for the 1995 massacre of 8,000 Muslims in the Bosnian town of Srebrenica, but declined to characterize the killings as an act of genocide.
"I kneel and ask for forgiveness," President Tomislav Nikolic told Bosnian TV. "I apologize for the crimes committed by any person in the name of Serbia."
Nikolic came under fire last year short after he was elected by declaring, according to published reports, there was no "genocide" in Srebrenica.
He has since been urged by Bosnian leaders to acknowledge the killings, which the prosecutors at the International Criminal Tribunal for the former Yugoslavia have described as a systematic extermination.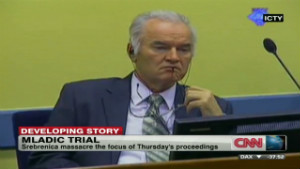 Srebrenica the focus of Mladic trial
Over a period of five days in July 1995, the Bosnian Serb army conducted a brutal takeover of the town. About 8,000 men and boys were rounded up and killed, with many buried in mass graves.
At the time of the massacre, Srebrenica had been designated a U.N. "safe area" for people, predominantly Bosnian Muslims, trying to escape the advancing Bosnian Serb army.
The people of Srebrenica, which sits a short distance from the Serbian border, were protected by just 100 lightly equipped Dutch peacekeepers. Without reinforcements, the Dutch were forced to stand aside while Serb troops took the town.
Then-Bosnian Serb commander-in-chief Gen. Ratko Mladic -- now on trial on charges of war crimes and crimes against humanity -- allegedly told one woman everyone taken out of Srebrenica would be reunited with their loved ones, according to Serbian TV footage previously shown in court.
Truckloads of men and boys were taken from Srebrenica to execution sites where they were bound, blindfolded, and shot with automatic rifles, prosecutors contend.
In the aftermath of the massacre, the United Nations gave NATO the authority to launch large-scale airstrikes against Serb targets, a move that eventually forced the Serbs to the negotiating table.
Journalist Matthew Day contributed to this report.

Today's five most popular stories
Part of complete coverage on
Ratko Mladic Trial
May 17, 2012 -- Updated 0658 GMT (1458 HKT)

With 8,000 murders in Srebrenica alone, the victims' widows and mothers of these atrocities occupy the moral high ground in this battle.
May 17, 2012 -- Updated 0700 GMT (1500 HKT)

Ratko Mladic is synonymous with the dissolution of Yugoslavia, the Balkan wars and the bloody assaults on Sarajevo and Srebrenica.
May 16, 2012 -- Updated 2233 GMT (0633 HKT)

As the trial of ex-Bosnian Serb Gen. Ratko Mladic began at The Hague, Nic Robertson described how the man himself showed little remorse.
May 15, 2012 -- Updated 1508 GMT (2308 HKT)

Why did it take so long to find Ratko Mladic? CNN's Atika Shubert reports.

Mladic's arrest in Serbia brought to an end a 16-year manhunt for the highest-profile suspect still at large from the Balkan wars of the 1990s.
April 6, 2012 -- Updated 1831 GMT (0231 HKT)

CNN's Nic Robertson and photographer Dave Rust talk about covering the Bosnian war 20 years ago.
April 6, 2012 -- Updated 1519 GMT (2319 HKT)

Nic Robertson follows up with two journalists who decided to stay in Sarajevo after the war. They describe the dangers of living in a city under siege.