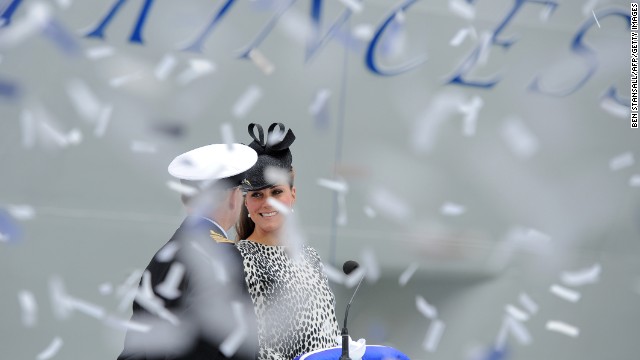 Catherine, the Duchess of Cambridge, and husband Prince William welcomed their first child on Monday, July 22. Last month she made her last solo appearance before the birth,
to christen a cruise ship
. Here, ticker tape falls as Catherine officially names Princess Cruises' new ship Royal Princess in Southampton, England, on Thursday, June 13.
Capt. Tony Draper gives Catherine a tour on board the Princess Cruises ship on June 13 in Southampton, England.
The Duchess speaks with guests as she arrives at a garden party on the grounds of Buckingham Palace in London on May 22.
From left, Prince William, Duke of Cambridge, Prince Harry, and Catherine, Duchess of Cambridge, smile during the inauguration of Warner Bros. Studios Leavesden on Friday, April 26, in London.
Catherine speaks during a reception at the National Portrait Gallery on April 24 in London.
During a visit on April 23 to the Willows Primary School in Manchester, the Duchess plants a willow tree with comedian John Bishop to launch a new school counseling program.
Catherine attends the National Review of Queen's Scouts at Windsor Castle on April 21.
Rear Adm. Simon Robert Lister and Cmdr. Steve Garrett greet Catherine and her husband, Prince William, as they visit the Astute-class Submarine Building on April 5.
Catherine visits the Donald Dewar Leisure Center to launch a new project for their foundation on April 4 in Glasgow, Scotland.
To mark the 150th anniversary of the London Underground on March 20, the Duchess of Cambridge visits the Baker Street Underground Station, wearing a pin that reads, "Baby on Board!"
William and Catherine attend a St. Patrick's Day parade on March 17 in Aldershot, England.
Catherine sits next to a dummy of the ship's mate at the Skipper's Table during her tour of the National Fishing Heritage Center, in Grimsby, England.
On her first public engagement since early January, the Duchess talks with the trustee at Hope House residential center, run by Action on Addiction for recovering addicts, on February 19 in London.
new portrait of the Duchess
during a private viewing at the National Portrait Gallery on January 11.
Prince William shakes hands with artist Paul Emsley as Catherine looks on after viewing his
Awaiting the royal baby
Awaiting the royal baby
Awaiting the royal baby
Awaiting the royal baby
Awaiting the royal baby
Awaiting the royal baby
Awaiting the royal baby
Awaiting the royal baby
Awaiting the royal baby
Awaiting the royal baby
Awaiting the royal baby
Awaiting the royal baby
Awaiting the royal baby
Awaiting the royal baby
Awaiting the royal baby