Greece to cut 15,000 jobs for bailout
April 29, 2013 -- Updated 0925 GMT (1725 HKT)
STORY HIGHLIGHTS
NEW: "This is going to be a success story," prime minister says
The vote clears the way for another $11.5 billion in loans
The Greek unemployment rate is already over 27%
EU and IMF officials say Greece is meeting its bailout targets
Athens, Greece (CNN) -- Greek lawmakers on Sunday agreed to cut thousands of government workers to secure another 8.8 billion euros ($11.5 billion) in bailout funds.
The vote clears the way for 15,000 civil servants to be fired by the end of 2014, the first time Greece's cash-strapped government has said it will cut its workforce of about 700,000.
The right to a permanent position once hired by the public sector had been protected by the Greek constitution before Sunday, and about one in four Greeks is on the public payroll. Cutting that figure is part of the loan agreement between the government and its creditors, the European Union and the International Monetary Fund.
But the layoffs will be coming when unemployment has skyrocketed to more than 27%. Previous austerity measures have cut pay for public workers as much as 30% and reduced pension benefits.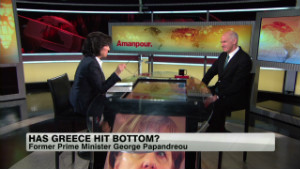 Has Greece hit bottom?
CNNMoney: Jobless misery deepens in Greece and Spain
Sunday's 168-123 vote came after heated debate in parliament and with protesters gathered outside. The civil servants union ADEDY said the measure will signify the end of the country's welfare state, but the three parties that make up the country's ruling coalition supported the layoff bill.
"We are going through a very difficult path, but this is going to be a success story," Prime Minister Antonis Samaras told reporters after the vote.
EU and IMF officials said earlier this month that Greece is on track to reach its bailout targets. But each round of austerity measures has fueled sometimes-violent demonstrations, and critics argue the tax increases and spending cuts imposed by struggling eurozone economies have driven up unemployment without spurring growth.
28 migrant workers wounded in shooting over wages in Greece

Part of complete coverage on
March 13, 2014 -- Updated 1157 GMT (1957 HKT)

Mobile World Congress spans the full spectrum of untethered gadgetry Explore this year's top trends with Stuff Magazine Editor Will Findlater.
February 28, 2014 -- Updated 1623 GMT (0023 HKT)

Cocoa-nomics: Why chocolate really doesn't grow on trees. CNN returns to Africa's cocoa plantations to examine the fight against child labor.
February 27, 2014 -- Updated 1958 GMT (0358 HKT)

CNN's Maggie Lake speaks to Lego CEO Jørgen Vig Knudstorp about why Lego continues to be a hugely popular toy.
February 27, 2014 -- Updated 2032 GMT (0432 HKT)

A Japanese rocket roared into orbit carrying what NASA calls its most precise instrument yet for measuring rain and snowfall.
February 28, 2014 -- Updated 2003 GMT (0403 HKT)

When you hail yourself as a "passionate advocate" for job-seekers, you probably ought not blast one of those job-seekers in a snide e-mail.
February 26, 2014 -- Updated 2201 GMT (0601 HKT)

Love that chocolate Haagen-Dazs ice-cream? But what about the way its makers treat their farmers? Oxfam reveals the ethics behind the brands.
February 20, 2014 -- Updated 1121 GMT (1921 HKT)

SnapScan is an award-winning app allowing buyers to pay with their smartphone -- no need to worry about carrying cash or lost credit cards.
February 18, 2014 -- Updated 1452 GMT (2252 HKT)

In the wake of recent credit card breaches, CNN's Richard Quest explores the threats of the non-cash economy. Is your money as safe as you think?
February 19, 2014 -- Updated 0833 GMT (1633 HKT)

Like many companies in China, Fu Shou Yuan uses celebrities to attract clients. Except, in this case, they're dead. They're in the funeral business.
February 19, 2014 -- Updated 1255 GMT (2055 HKT)

Coca-Cola is staying afloat as the soda market shrinks, and many point to a marketing strategy around the so-called "secret recipe."

Today's five most popular stories