UK ministers consider offering communities fracking sweeteners
May 3, 2013 -- Updated 1316 GMT (2116 HKT)
STORY HIGHLIGHTS
Ministers prepare to announce UK's shale-gas reserves are much larger than previously estimated
Britain's only fracking operation was suspended after two minor earthquakes in 2011
Fracking is extraction of gas and oil by pumping water at high pressure into shale rock
(CNN) -- The government is proposing to bribe communities with cheaper energy bills in exchange for dropping opposition to local fracking projects as part of plans to push ahead with shale-gas extraction.
Several options to cajole rural England to accept the contentious drilling schemes are being discussed as ministers prepare to announce that the UK's shale-gas reserves are much larger than previously estimated.
Fracking, an extraction technique that involves pumping water, sand and chemicals at high pressure into shale rock to release trapped pockets of oil and gas, has transformed the US energy market, triggering a production boom that pushed gas prices to 10-year lows last year.
Environmentalists worry that the process can pollute ground water and cause emissions of methane, a potent greenhouse gas.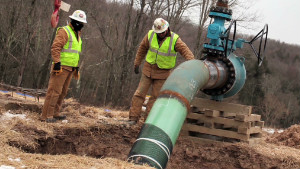 CNN Explains: Fracking
The government's paper on "community benefits" will propose policies that aim to persuade locals to drop their resistance to fracking in northwest and southeast England, where the largest shale-gas deposits are found.
The biggest incentive being discussed by the coalition is cheaper household energy bills for people in the area, according to those familiar with the discussions.
Neighbourhoods could also be offered funding for new sports clubs or community centres and other projects to improve local amenities.
The House of Commons energy select committee said on Friday that communities affected by shale-gas projects "should expect to receive, and share in, some of the benefits of development".
It suggested that local authorities hosting shale ventures should also be allowed to retain business rates.
The system would be similar to the "planning gain" whereby councils that give planning permission to property developments can force the developer to pay for certain infrastructure improvements, such as roads and schools. A separate paper will make a similar proposal for new wind farms.
The government could still face big protests against fracking sites, reminiscent of the widespread grassroots Tory hostility to onshore wind turbines and to the HS2 high-speed railway.
One Conservative MP, Laura Sandys, has said that planning applications for shale-gas drilling will "make onshore wind farms look like a walk in the park".
Britain's only fracking operation, by Cuadrilla Resources near Blackpool, was suspended after two minor earthquakes in 2011. It was allowed to resume last December.
Last year, the government commissioned the British Geological Survey to produce a new estimate of Britain's shale-gas reserves, which is understood to show that they are much larger than previously thought.

Part of complete coverage on
December 4, 2013 -- Updated 1338 GMT (2138 HKT)

Bolshoi Ballet artistic director Sergei Filin says no jail term for his attackers can give him back what he has lost: His eyesight.
December 4, 2013 -- Updated 1953 GMT (0353 HKT)

Michael Morton spent a quarter of a century in jail for killing his wife -- a crime he didn't commit.
December 4, 2013 -- Updated 1535 GMT (2335 HKT)
A fire that engulfed Paul Walker's Porsche did not erupt until a minute after the car crashed.
December 4, 2013 -- Updated 1236 GMT (2036 HKT)

When you've stood at the edge of space, regular life is always going to be a bit of a comedown.

Tensions between China and Japan are at their worst in half a century, the former top U.S. State Department official for East Asia told CNN's Amanpour.

Whatever business is generated in the West Bank seems to be derailed by the stalemate in peace talks and sporadic violence.
December 4, 2013 -- Updated 1048 GMT (1848 HKT)

How did an ex-mining town in northern France become an art haven?
December 4, 2013 -- Updated 1207 GMT (2007 HKT)

These photographic nuptials will either inspire, or mock, your own.

CNN's Amanda Davies gives her impression of the German Formula One racing driver and world champion.
December 3, 2013 -- Updated 1643 GMT (0043 HKT)

Heather Abbott is walking in four-inch heels seven months after losing her left leg in the Boston marathon bombing.
December 4, 2013 -- Updated 1208 GMT (2008 HKT)

Taking pot shots at Amazon's delivery drone ... CNN's Jeanne Moos reports on tickling the drone's funny bone.

Today's five most popular stories