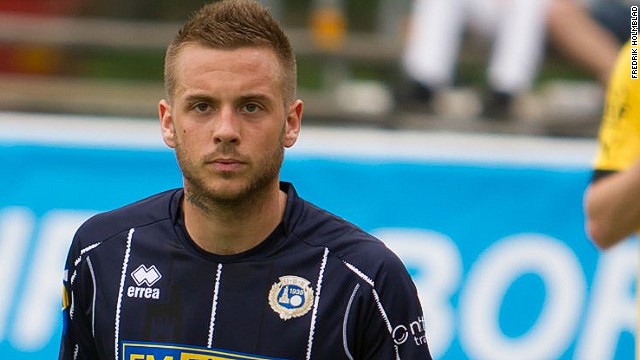 In 2011, Anton Hysen became only the second active footballer to come out as being gay -- more than 20 years after Justin Fashanu did so. While Fashanu was a high-profile star in England, Hysen plays in Sweden's lower leagues.
Hysen supported a campaign asking players to wear rainbow-colored laces to promote awareness of homophobia in football. However, Fulham's David Stockdale (pictured) was one of the few players at British clubs who took up the invitation.
Former United States and Leeds United striker Robbie Rogers used his website to announce he was gay earlier in 2013 -- but then promptly retired from football at the tender age of 25. However, just months later he returned to the game with Major League Soccer team Los Angeles Galaxy.
England international striker Fashanu, the country's first £1 million black footballer, could not live with the scars of his revelation. He committed suicide in 1998.
Former NBA player John Amaechi, who was raised in Britain, broke barriers as the first professional basketballer to announce he was gay in 2007. He made the revelations in his autobiography after retiring from the game.
Jason Collins of the Washington Wizards became the first active NBA player to announce that he is gay on April 29, 2013. The 34-year-old was made a free agent in July but said he wanted to continue playing.
Sport's biggest lesbian star is 18-time grand slam tennis champion Martina Navratilova, who announced she was gay shortly after gaining U.S. citizenship in 1981. Her revelation came relatively early in her career and she went on to win many more titles.
American four-time Olympic gold medallist Greg Louganis came out as gay when he was diagnosed with HIV in 1988. He told CNN's Piers Morgan in 2012 he believes in "equal rights for everybody."
Former Wales rugby union captain Gareth Thomas described the conflict between his sport and his sexuality when he came out in 2009, telling the Daily Mail newspaper: "It is barbaric. I could never have come out without first establishing myself and earning respect as a player."
Coming out
Rainbow Laces
Rogers retirement
Fashanu suicide
Breaking taboos
Collins' brave move
Tennis pioneer
Equal rights
Earning respect
STORY HIGHLIGHTS
Homosexual players in football remain scarce with Robbie Rogers the latest to come out and then retire
Footballers protect their own but cannot shield players from terrace abuse
Abuse for a gay player even in 2013 would be "intolerable"
Editor's note: "The Secret Footballer" is a current player who has chosen to write about his life in the English game. His book "I Am The Secret Footballer: Lifting The Lid On The Beautiful Game" is published by Guardian Books. Read more about him at www.thesecretfootballer.com. This article contains language that some readers may find offensive
(CNN) -- Childhood is confusing. It's difficult to fully understand things at the best of times and, occasionally, you'll experience something that is unlike anything that you've experienced thus far.
One such example came early for me. During our regular family drives, my father would play a cassette from an old BBC radio program that he'd first listened to as a kid growing up in the 1960s.
The show was called "Round The Horne" and it featured a couple of camp homosexual characters who went by the names of Julian and Sandy -- played by Hugh Paddick and Kenneth Williams.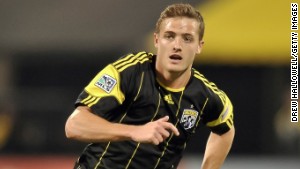 Ex-soccer star: Gay but lived stereotype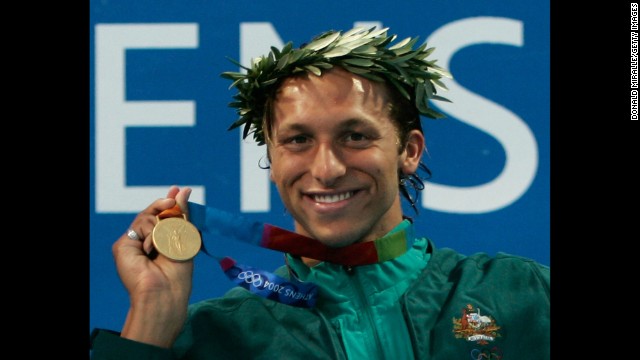 Swimmer Ian Thorpe, seen here in 2004 with one of his five Olympic gold medals, told an Australian news outlet that he is gay in an interview that aired on Sunday, July 13. Click through to see other openly gay athletes.
Former Missouri defensive end Michael Sam told ESPN and The New York Times that he is gay on February 9. Sam later became the first openly gay player to be drafted by a NFL team when he was taken by the St. Louis Rams in the seventh round.
Robbie Rogers became the first openly gay male athlete to play in a professional American sporting match when he took the field for Major League Soccer's Los Angeles Galaxy during a match against the Seattle Sounders on May 26.
"I didn't set out to be the first openly gay athlete playing in a major American team sport. But since I am, I'm happy to start the conversation," NBA player Jason Collins said in a Sports Illustrated article.
Sheryl Swoopes, a retired WNBA star and coach of the Loyola University Chicago's women's basketball team, came out in 2005.
Brittney Griner, selected No. 1 in the 2013 WNBA draft by the Phoenix Mercury, is openly gay.
In an exclusive interview with CNN, former San Francisco 49ers player Kwame Harris came out as gay after rumors circulated in the media.
Rugby player Gareth Thomas of Wales spoke about being gay to a British news channel in 2009.
Justin Fashanu became the first openly gay soccer player in Europe when he came out in 1990. Eight years later, he took his own life.
Tennis great Martina Navratilova came out in 1981.
After his retirement in 2007, basketball player John Amaechi announced he was gay.
After retiring from professional football in 1972, David Kopay acknowledged to the Washington Star that he was gay.
Villanova University's Will Sheridan came out to his teammates in 2003.
In 2012, U.S. women's soccer player Megan Rapinoe confirmed in Out magazine that she was a lesbian.
Champion figure skater Johnny Weir confirmed in his 2011 memoir, "Welcome to My World," that he was gay.
Australia's Matthew Mitcham came out in an interview with the Sydney Morning Herald in 2008.
In 2012, Orlando Cruz became the first active professional fighter to publicly announce that he was gay.
Openly gay British dressage rider Carl Hester helped his team win gold at the 2012 Olympics.
English cricketer Steven Davies announced he was gay in 2011.
Germany's Judith Arndt won the silver medal in cycling at the 2012 Olympics.
Billy Bean, a former Major League Baseball player, discussed being gay in a 1999 New York Times article.
Tennis legend Billie Jean King was outed by a former female partner in 1981.
In 2002, professional football player Esera Tuaolo came out on HBO's "Real Sports."
French tennis player Amelie Mauresmo came out in 1999.
Greg Louganis, who won four Olympic golds for the United States during his diving career, has been openly gay since 1995.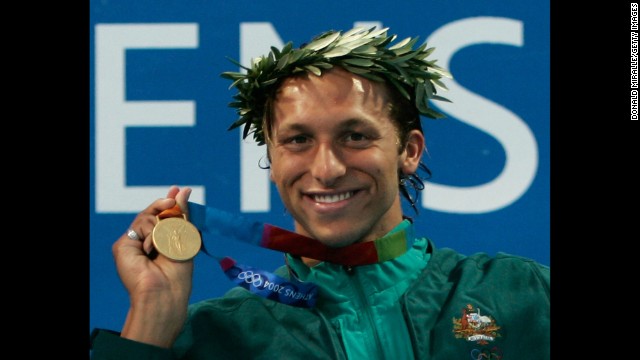 Photos: Openly gay athletes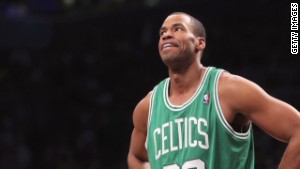 Sexuality a 'non-issue' for many clubs
The pair were out-of-work actors who could be found running various fashionable and niche enterprises that always started with the word "bona" -- such as "Bona Films."
The sketches usually began with a very middle-class Kenneth Horne knocking on a shop door and asking "Hello, anybody there?" before Paddick answered "Ooh, hello! I'm Julian and this is my friend Sandy!"
The audience loved them and their appearances became a highlight of the show thanks to a mixture of "Polari" language -- gay slang -- and ever more risque double entendres.
Perhaps their best-known sketch is when Horne is looking for legal representation and pops into a little shop called "Bona Law."
Horne: "Can you help me? I've erred."
Sandy: "Well, we've all erred, ducky. I mean, it's common knowledge, ennit, Jule?"
Horne: "Will you take my case?"
Julian: "Well, it depends on what it is. We've got a criminal practice that takes up most of our time."
Horne: "Yes, but apart from that, I need legal advice."
This was my first exposure to homosexuality and, because it was through humor, ably explained by my father, it meant that the only confusion around the subject came as I wondered why the kids in my school playground called each other "bender" or "queer."
As a 10 or 11-year-old kid, you ask yourself very obvious and basic questions about the things that you're unsure about. Why are the kids calling each other these names when the kid in question isn't funny? Gays are funny, aren't they?
Read: Shades of gray: The Secret Footballer on racism in soccer
It was, of course, down to an ignorance brought about by a lack of exposure at my age.
As you build up more encounters, so you build up a more complete picture of something. But the older I get, I do find myself continually amazed by the amount of people I meet who are still ignorant or underexposed to a whole range of things.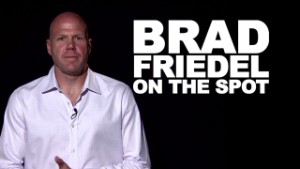 Friedel: 'Bale can be world's best'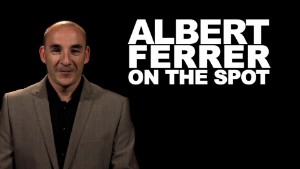 Ferrer: Spain can win 2014 World Cup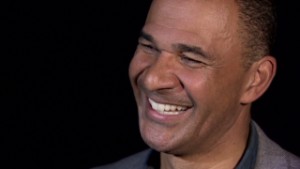 Gullit: Mourinho will return to Chelsea
It isn't necessarily their fault but it has a profound knock-on effect nonetheless.
The fact is that there are millions of gay people all over the world and if you're a fairly relaxed person like me, well, that's just the way it is. Big deal.
I'm not a religious fellow in any way whatsoever so, where homosexuality is concerned at least, Jesus Christ is not my barometer.
Then again, maybe I'm the ignorant one. Until I typed that last sentence, that thought had never occurred to me.
For some people, it is a big deal and I only really came into contact with that once I became a footballer.
Up until then, my life had been fairly colorful, to say the least.
Read: Down the rabbit hole: Depression in the Premier League
In football, homosexual players remain scarce.
There have been a couple of players who have "come out," most recently Robbie Rogers, the former Leeds United and United States forward, who took to his website to announce that he was gay ... and promptly retired from the beautiful game at the tender age of 25.
It was unfortunate for football and the gay community -- football is in desperate need of a gay icon -- yet was completely understandable.
"They (the players) often don't mean what they say," Rogers said. "It's that pack mentality. They're trying to get a laugh, they're trying to be the top guy. But it's brutal. It's like high school again -- on steroids."
Rogers was talking about a changing room that doesn't know that it has a gay player in its midst.
But I'm as certain as I can be that a changing room that does know that it has a gay player in its ranks would be a very safe place for a gay footballer.
That pack mentality works the other way, too. The group protects its own. It doesn't matter whether you are white, black, straight or gay. I'm as certain of that as I can be.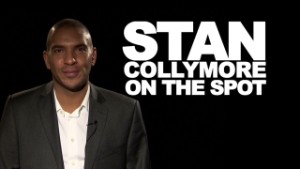 Aston Villa or Sharon Stone?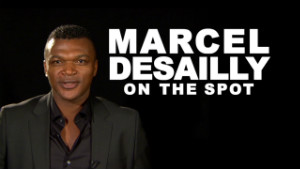 Marcel Desailly's Ghana regret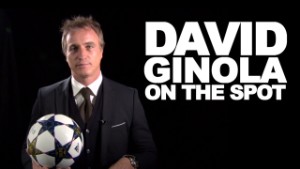 Ginola on why PSG are worth it
Sure, players will talk behind each other's backs, not necessarily in a disparaging way, but -- to the outside world at least -- the team is a united front.
There are no veils, curtains or walls in a changing room because every team has a player who will call a spade a spade.
Somebody who will point out that the king has no clothes on and, with one not-so-subtle comment, remove the awkwardness of almost any situation.
The first time my roommate met the man at our club who has one hand, he said to him: "Are you right-handed or left-handed?"
It was the ice-breaker everybody needed, especially for the man in question, who said that the worst thing about his disability is when people walk around him on eggshells.
Read: How English football cashed in on the rise of betting
But it is difficult, if not impossible, for even the tightest of squads to protect a player from the taunts of tens of thousands of fans.
Or, for that matter, even just a few people. As recently as 2008, a section of Tottenham Hotspur fans sang the following words to Sol Campbell as he lined up for Portsmouth against his former club:
"Sol, Sol, wherever you may be
Not long now until lunacy
And we won't give a f**k
When you're hanging from a tree
You're a Judas c**t with HIV."
It's easy to see why Robbie Rogers gave the answer he did when a journalist asked him what he thought the reaction might be if he were to line up for Leeds against, say, Millwall. "Woah!" Rogers exclaimed. "I can't even think about that." I can tell you now, it would be horrendous for him.
You know as well as I do that the abuse a homosexual player would receive from "fans" throughout the land would be intolerable.
That isn't to say that it wouldn't ease off, but would you want to be the player who goes first?
On England's south coast in Brighton -- an area with a large gay community -- the football team and its fans take a fair amount of stick both during home matches and at away grounds.
I've heard "fans" singing to their counterparts: "Who's the f****t in the pink?" And once during a home match: "Does your boyfriend know you're here?" -- which, I won't lie, made me smile because of the laughter it generated among the traveling Brighton contingent.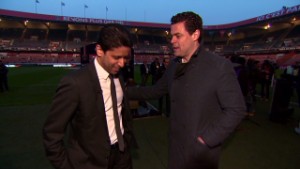 Behind the scenes at Paris St Germain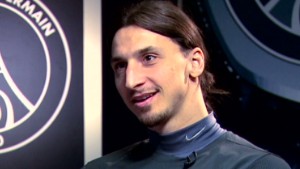 Exclusive: What makes Ibrahimovic tick?
Interestingly, there are few, if any, headlines written about it either as a social commentary or by a journalist going for a bit of sensationalism.
However, Brighton currently occupy a playoff berth in the Championship and, should they win promotion to the Premier League, I guarantee you that the headlines will begin in earnest next season -- something that will force the authorities to take a very public, zero-tolerating stance.
Perhaps that will turn out to be the first step on the ladder to a player "coming out."
Read: 'Secret Footballer' reveals life inside the English Premier League
Julian and Sandy broke down many of the social barriers that existed in post-war UK at a time when homosexuality was still illegal.
It stands up because the writing is exceptional and the risque tone of it is expertly delivered on stage.
Kenneth Williams, in particular, seemed to go about his role with such relish that it almost sounded as if he'd been freed from some terrible secret.
Many years later, after his death, his private diaries would reveal a man at tremendous odds with his own sexuality.
Imagine that; imagine not being able to live out the true meaning of your life with the same freedom as most other people. Imagine having to keep your true identity a secret.
I wouldn't wish that on anybody.