STORY HIGHLIGHTS
Boeing confirms that the part is from a 767 like the ones that hit the World Trade Center
The part was not lowered; officer used rope to maneuver it, police say
Human remains have been discovered in various spots around Lower Manhattan
New York (CNN) -- New York City officials will begin sifting through soil for human remains Tuesday at a site where a part believed to be from one of the 9/11 airliners was found.
A Boeing Company technician confirmed that the piece, discovered last week, is a support structure from a trailing edge flap found on the wing of a Boeing 767 like the ones that were flown into the World Trade Center on September 11, 2001.
It could not be determined from which of the two planes the part came, police said Monday.
The piece was found in an 18-inch gap between two buildings near ground zero. One of the buildings is 51 Park Place, the site of a controversial Islamic community center.
Surveyors who found the piece called authorities to report that they'd found "apparently damaged machinery," police said.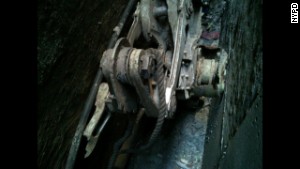 NYPD: Plane parts likely from 9/11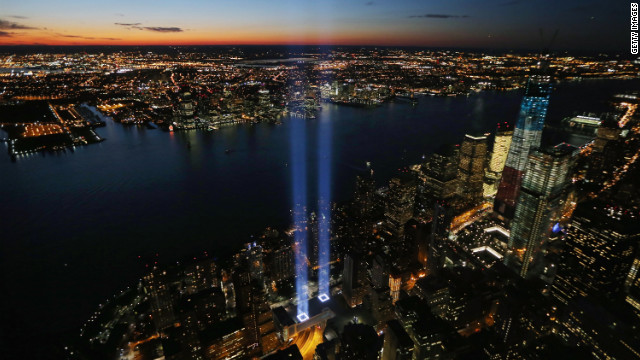 The "Tribute in Light" marks where the World Trade Center buildings stood to commemorate the 11th anniversary of the September 11 terrorist attacks on Tuesday, September 11. The 2001 attacks resulted in the deaths of nearly 3,000 people after hijacked planes crashed into the World Trade Center, the Pentagon in Arlington, Virginia, and a field in Shanksville, Pennsylvania.
U.S. Defense Secretary Leon Panetta, left, and President Barack Obama stand during a memorial service at the Pentagon in Washington. Obama attended the memorial service, near where American Airlines flight 77 crashed into the Pentagon, to honor the victims of the September 11 attacks.
A flag is held over the reflection pool during remembrance ceremonies on Tuesday.
The firefighters of New York City's Engine 33-Ladder 9 observe a moment of silence on Tuesday. The company lost 10 firefighters in the 9/11 attacks.
Khudeza Begum etches the name of her slain nephew from the memorial of the 9/11 attacks.
A woman cries as she stands over the reflecting pool at the World Trade Center site on Tuesday.
Jillian Suarez, left, consoles Eloy Suarez during observances of the anniversary of the 9/11 attacks on Tuesday.
A woman cries during the rememberance ceremonies at the World Trade Center site in New York on Tuesday.
Fire fighters pay their respects at the 9/11 Memorial during ceremonies on Tuesday.
U.S. military platoons operating out of Lindsey-Forward Operating Base in Afghanistan stand in formation Tuesday during a brief ceremony.
Scott Willens, who joined the U.S. Army three days after the terrorist attacks of 9/11, pauses at the South Pool of the 9/11 Memorial on Tuesday.
People pause near the World Trade Center site on Tuesday during a memorial to the victims.
New Yorkers pause near the World Trade Center site on Tuesday.
An honor guard carries an American flag Tuesday near the South Pool of the 9/11 Memorial.
David Peters displays his jacket depicting the Twin Towers at the World Trade Center site.
President Barack Obama and first lady Michelle Obama observe a moment of silence with White House staff on Monday.
A New York City police officer salutes a flag hanging from One World Trade on Monday.
A flag sits in a name on the 9/11 Memorial on Monday.
New York City's "Tribute In Light," a memorial to the victims of the 9/11 attacks, shines from One World Trade into the sky over Manhattan on Monday, September 10, as they are tested for ceremonies marking the 11th anniversary.
Pictures of loved ones killed in the attacks are displayed at a preview of the National September 11 Memorial Museum's memorial exhibition on Monday in New York.
Soldiers with the NATO-led International Security Assistance Force pray during a memorial ceremony in Kabul, Afghanistan, on Tuesday, September 11.
Flowers are left Monday at the Flight 93 National Memorial in Shanksville, Pennsylvania, prior to ceremonies commemorating the 11th anniversary of the 9/11 attacks.
U.S. Secretary of Defense Leon Panetta, right, participates in a wreath-laying ceremony in Shanksville.
Family members left messages to loved ones killed in attacks.
Defense Secretary Leon Panetta speaks during the wreath-laying ceremonies in Shanksville, Pennsylvania.
Germano Riviera carries the Flag of Honor, which displays the names of the victims of the September 11 attacks, across ground zero on Monday.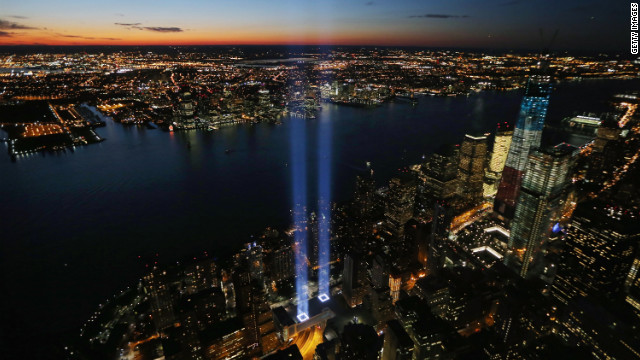 Photos: 9/11 victims remembered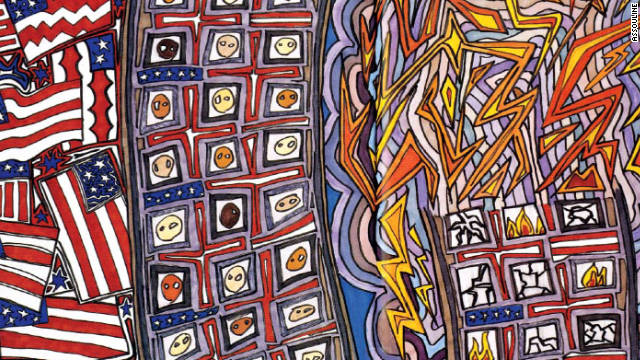 Commemorating the tenth anniversary of 9/11, Assouline showcases a collection of drawings from children who were affected by the attacks. This is Claire's artwork.
Children's artwork covers the book, "Art for Heart: Remembering 9/11," which contains the collection of drawings.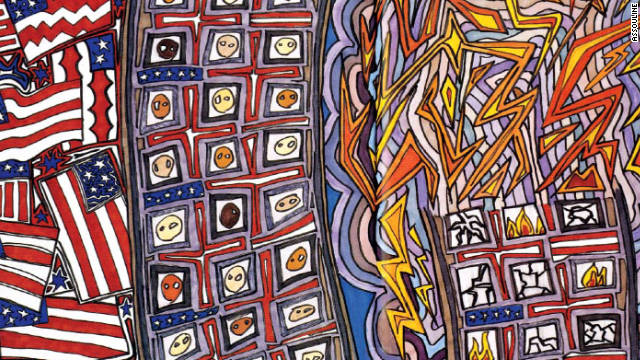 Photos: Children's art and 9/11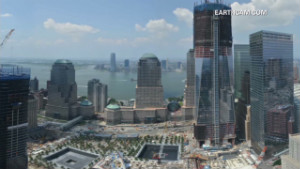 2012: Time-lapse: New WTC tower
Contrary to an initial theory that the piece could have been lowered by a rope found still wrapped to it, the police department clarified Monday that a police officer had attached the rope last week to maneuver the part to better see a serial number and other indicators.
The plane part is about 5 feet long, 4 feet wide and 17 inches deep, police Commissioner Ray Kelly said.
Investigators are still trying to determine how the support structure became wedged into such a small space.
"If you see how confined this space is, and you realize the chaos that existed on this street, I think it's understandable. It's not that surprising," Kelly said.
"It's very, very confined, and no construction work went on, or no clean up went on in this 18-inch space between the two buildings" after the attacks.
Still identifying 9/11 victims' remains
Family members upset
Some family members of 9/11 victims are outraged by the discovery.
Sally Regenhard, whose son Christian, a probationary firefighter, died when the towers collapsed, said: "I'm disgusted, because after 9/11, the proper search was never done. The whole aftermath was uncoordinated. It was inadequate."
Regenhard has been one of the leading voices and, at times, critics for the families of the 9/11 victims, pushing hard for a federal investigation and calling for a more comprehensive search for remains and debris.
"We advocated for a huge trajectory from that collapse," she said. "Human remains were thrown at least for a mile, but probably 2 or 3 miles from the site."
Police are treating the area as a crime scene and say the part of wreckage will remain there until a final home is chosen.
In the past, the National Transportation Safety Board has taken some parts, while others have become part of museums.
Sharif El-Gamal, president of Soho Properties, which owns 51 Park Place, said, "We are cooperating fully with the appropriate authorities to make sure this piece of evidence is removed with care as quickly and effectively as possible."
This is not the first time this building has had national attention. It was the center of many protests while Park 51, the Islamic center, was seeking permission to locate there in 2010. Critics said the center's proximity to ground zero was unacceptable, while supporters argued it was meant to bring people together.
Waiting for a match
In recent years, debris and human remains have been discovered in various spots around Lower Manhattan.
In the past few weeks, the Office of the Chief Medical Examiner has been sifting through 590 cubic yards of construction debris from around the World Trade Center collected as recently as 2011.
Close to 100 pieces of potential human remains have been found since the new sifting operation began.
The medical examiner will now try to identify these remains using DNA. About 60% of the more than 2,700 victims have had remains identified.
Some victim's family members are hopeful that this new pile of construction debris will contain the match they still wait for.
"It'll be difficult. All the emotions, all the thoughts come rushing back to you. It would be a relief to know that these sacred remains are no longer sitting in a landfill somewhere," said Michael Burke who lost his brother, Fire Department Captain William Burke Jr.
Yet not all family members are anxiously waiting for the phone to ring.
"I really didn't want to find anything out, anything after a certain point in time because it would only be rehashing things all over again," said Paulette Hasson, who lost her son Joseph, an employee of the firm Cantor Fitzgerald. "He's in a good place I'm sure and some day I'll see him, and I just feel like this is not something that I want to deal with right now. I don't feel that it will do anything for me if they find a bone fragment."
The total number of victims whose remains have been identified stands at 1,635, according to the Medical Examiner's office.
CNN's Chelsea J. Carter, Rob Frehse, Chris Kokenes, Mary Snow and Steve Kastenbaum contributed to this report.