Will any of Europe's other older royals step down?
April 30, 2013 -- Updated 2152 GMT (0552 HKT)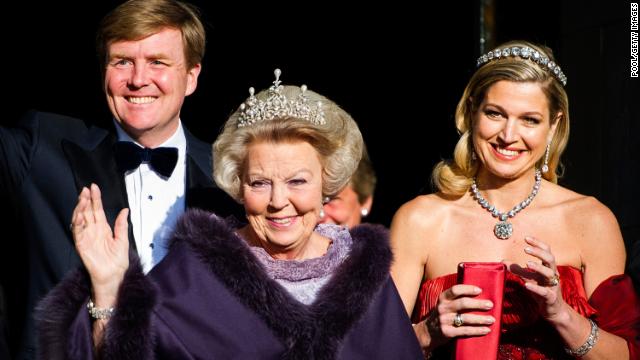 Prince Willem-Alexander of the Netherlands, left, became King Willem-Alexander on April 30 after Princess Beatrix, center, abdicated the throne. Click through to see other European royal heirs.
Prince Felipe of Spain, center, will one day take up his father King Juan Carlos' title.
Prince Daniel, center, pictured with his wife Crown Princess Victoria, is the heir to King Carl Gustav of Sweden.
Norway's Crown Prince Haakon, left, and Crown Princess Mette-Marit, second left, are next in line behind King Harald and Queen Sonja.
Crown Prince Philippe, right, is the heir to King Albert II of Belgium.
Left to right: Denmark's Crown Princess Mary and Crown Prince Frederik are next in line behind Prince Consort Henrik and Queen Margrethe.
The royal lines
The royal lines
The royal lines
The royal lines
The royal lines
The royal lines
STORY HIGHLIGHTS
Queen Beatrix of the Netherlands hands over the crown to her son
Older monarchs are on the thrones in Britain, Spain, Sweden, Norway, Denmark and Belgium
Some analysts say the younger generation is best suited for the demands of modern monarchies
(CNN) -- As royalty from different parts of the world converged on the Netherlands to watch the monarchy change hands, some of the guests there may have been thinking ahead to the day when they get the top job back home.
In Europe, most monarchs are getting old and have been on their thrones for years. Their offspring are grown up and are now waiting in the wings to take their respective crowns.
Britain's Prince Charles was in Amsterdam to watch Queen Beatrix hand over to her 46-year-old son Willem-Alexander. He was also in the Netherlands when Beatrix herself took the throne from her mother 33 years ago on Queen Juliana's abdication. Charles's new Dutch counterpart is Amalia, The Princess of Orange, who is nine.
Was Charles wondering when his turn would come? Perhaps, but that of course would involve the death of his mother, Queen Elizabeth II. One thing is for sure -- his 61-year wait as heir to the throne won't end with the abdication of his mother.
To the British royals, the word "abdication" brings back painful memories of the 1936 crisis when King Edward VIII was forced to relinquish his throne so he could marry the divorced American socialite Wallis Simpson and relinquished his throne. Queen Elizabeth will never abdicate. The other long-serving European Queen, Margrethe of Denmark also sees it as a job for life.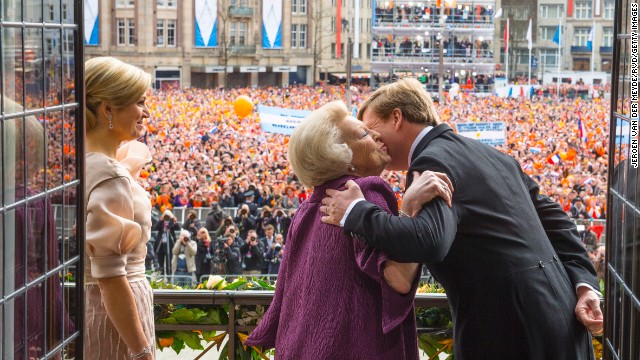 Princess Beatrix of the Netherlands kisses her son, the now King Willem-Alexander as the now Queen Maxima looks on during a short address to the public after Queen Beatrix abdicated ahead of the investiture of Willem-Alexander on Tuesday, April 30, in Amsterdam, in this image provided by Netherlands Government Information Service.
King Willem-Alexander and Queen Maxima prepare to leave after their investiture ceremony at New Church on April 30 in Amsterdam.
A man displays the Act of Abdication signed by Princess Beatrix, her son King Willem-Alexander and his wife Queen Maxima during the abdication ceremony.
Dutch King Willem-Alexander, Queen Maxima and members of the royal household take part in the investiture ceremony.
King Willem-Alexander stands during the investiture ceremony.
A general view of the celebrations for the investiture.
King Willem-Alexander and Queen Maxima pose with guests following their investiture ceremony.
Princess Beatrix waves to the crowd gathered on Dam Square from the balcony of the Royal Palace, following the official abdication ceremony.
The crowd watches investiture celebrations in Amsterdam.
King Willem-Alexander, Queen Maxima and their children, left to right, Catharina-Amalia, Princess of Orange, Princess Alexia, and Princess Ariane wave to the crowd gathered on Dam Square.
A cleaner vacuums the carpet outside the Royal Palace during Queen Beatrix's abdication ceremony.
A street vendor sells T-shirts during celebrations for the investiture.
The royal crown lies at the credence-table prior to the investiture of King Willem-Alexander.
Princess Beatrix sits with her grandaughter Catharina-Amalia, Princess of Orange, during the investiture ceremony.
Emirati businessman Sheikh Hamed bin Zayed al Nahyan, left, attends the investiture ceremony.
Spain's Crown Prince Felipe and his wife Crown Princess Letizia arrive at a reception hosted by King Willem-Alexander at the Royal Palace in Amsterdam following the investiture.
Former U.N. Secretary General Kofi Annan and his wife Nane leave the investiture ceremony.
Prince Charles, Prince of Wales and Camilla, Duchess of Cornwall, attend the investiture ceremony.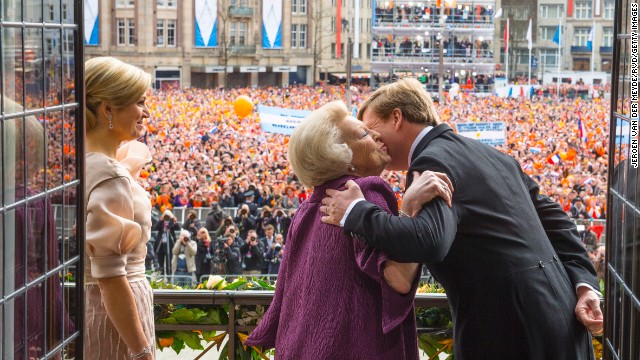 Photos: The Netherlands' new king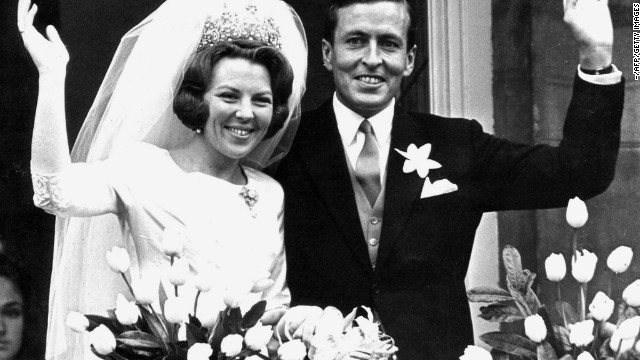 Newly wed Beatrix and Prince Claus in Amsterdam on March 10, 1966. Prince Claus died aged 76 on October 6, 2002 at a hospital in Amsterdam.
Prince Claus holds his son Willem-Alexander in 1968.
Beatrix is pictured in 1979 at Drakensteyn Castle, the year before she became queen.
Beatrix, Friso and Mabel pose at the Palace Huis ten Bosch with the couple's new baby, countess Luana, on April 24, 2005.
Beatrix walks with Prince Johan Friso's wife Princess Mabel as they arrive on February 24, 2012, at the University Hospital in Innsbruck, to visit Prince Johan Friso, who was seriously injured in an avalanche while skiing.
Willem-Alexander (right) talks to soldiers during a visit to Gilze Rijen airbase on November 13, 2012.
Willem-Alexander and Maxima pose with their daughters as the Dutch royal family celebrates Christmas 2012 in Villa la Angostura, Argentina.
Princesses Alexia, Catharina-Amalia and Ariane pose for Christmas celebrations in 2012.
Willem-Alexander, Maxima, Beatrix, Alexia, Amalia and Ariane appear at the annual winter photocall on February 18, 2013 in Lech, Austria.
Queen Beatrix attends the 50th anniversary celebrations of the European School, Bergen on March 12, 2013.
Willem-Alexander, Beatrix and Maxima arrive for the 125th anniversary of the Concertgebouw concert hall and orchestra in Amsterdam on April 10, 2013.
Orange cows are placed on a traffic island in Wassenaar, the hometown of Willem-Alexander and Maxima, on April 17.
A crown is hung in the center of Amsterdam on April 23, 2013 ahead of Beatrix's abdication.
An employee removes a portrait of Beatrix in a Rotterdam courtroom on April 26, ahead of her abdication.
An aerial view shows Drakensteyn Castle and its 20-hectare (49 acre) grounds, where Beatrix will live after her abdication. Beatrix bought the castle in 1959 and moved in four years later, continuing to live there after marrying her husband Prince Claus in 1966.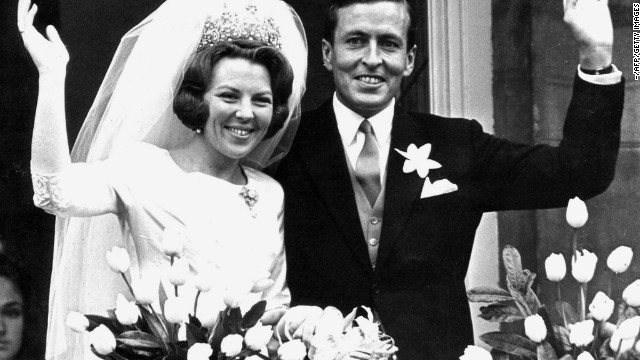 The Dutch royal family in photos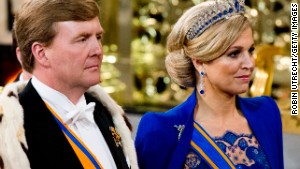 Dutch celebrate royal handover of power
However, both Margrethe and Elizabeth are handing more responsibilities to their heirs. One option might be for them to appoint their sons Princes Regent which would mean they would be in charge of royal duties while their mothers kept the title.
Crown princes and princesses across Europe look ready to take on the task of modern-day monarchy with all the burdens that some believe can only be carried by younger royals.
Opinion: Dutch monarchs teach world's royalty
In Spain, 75-year-old year old King Juan Carlos's popularity has waned. And that's led to suggestions, even among monarchists, that his heir, Crown Prince Felipe and his wife Letizia take over the throne.
In Sweden, King Carl Gustaf is 67. He's been on the throne for 40 years and has recently been scandalized in the press. His heir, Crown Princess Victoria is married to Prince Daniel and has a baby daughter, Princess Estelle, as the next two generations there take shape.
And over in Norway, King Harald is in his mid-70s with an heir who will be 40 in July. Crown Prince Haakon is married to Princess Mette-Marit. The couple have had two children.
iReport: Happy crowds applaud new king
All of these heirs also have something in common that makes them appealing to a modern, more relaxed generation. They have all married outside the aristocracy, making them more accessible and relevant to younger subjects.
But while the precedent of abdication has set in the Netherlands, it hasn't yet taken hold elsewhere. However, in an age when the pope resigns, don't be surprised if other older royals take some sort of cue from Beatrix.

Part of complete coverage on
December 5, 2013 -- Updated 1625 GMT (0025 HKT)

Mohammed Jamjoon interviews the American performer who stunned the Arab world by singing in Arabic.
December 5, 2013 -- Updated 1532 GMT (2332 HKT)

"Sometimes it just takes one incident to galvanize a society," says CNN's Sumnima Udas.
December 5, 2013 -- Updated 1426 GMT (2226 HKT)

Drones hover like a bee, flap like a bird and bounce like a ball. These awesome flying robots are taking unmanned flight in new directions.
December 5, 2013 -- Updated 1225 GMT (2025 HKT)

The mysterious "catacomb saints" were venerated by the Catholic Church and encrusted with gold and jewels -- before disappearing for centuries.
December 5, 2013 -- Updated 1228 GMT (2028 HKT)

A report in 1972 made the initial connection between cannabis and gynecomastia, otherwise known as "man boobs."
December 5, 2013 -- Updated 1315 GMT (2115 HKT)

The KAZA conservation area is working to make it easier to cross borders.
December 5, 2013 -- Updated 1256 GMT (2056 HKT)

He started his first business venture with capital of just $200 but today, he is one of Liberia's most prominent businessmen.
December 5, 2013 -- Updated 0009 GMT (0809 HKT)

North Korea is showing no signs of scaling back its fearsome labor camp system, says human rights group Amnesty International.
December 5, 2013 -- Updated 0501 GMT (1301 HKT)

A yellow jumpsuit worn by martial arts legend Bruce Lee in one of his final fight scenes goes on sale in Hong Kong on Thursday.
December 5, 2013 -- Updated 1051 GMT (1851 HKT)

Meet 24-year-old Marita Cheng: the talented technician bringing robots to your home.
December 5, 2013 -- Updated 0323 GMT (1123 HKT)

Japanese blogger Keisuke Jinushi started the "hitori date" (one-man date) blog two years ago.
December 4, 2013 -- Updated 2128 GMT (0528 HKT)

Even by the standards of supercars, the Porsche Carrera GT is something remarkable.

Today's five most popular stories