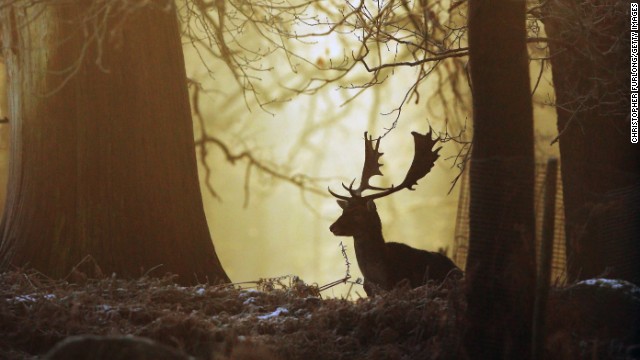 DECEMBER 28 -- ALTRINCHAM, UNITED KINGDOM: A deer waits in woodland as the rising sun begins to burn off overnight frost at the National Trust's Dunham Massey Park. Many parts of the UK had snowfall and below-freezing temperatures overnight.
DECEMBER 22 - LONDON, ENGLAND: Choristers of the St Paul's Cathedral Choir rehearse for their Christmas carol service at St Paul's Cathedral.
DECEMBER 19 - ROME, ITALY: A couple dance the tango in St. Peter's Square at the Vatican to celebrate Pope Francis' 78th birthday at the Vatican. Hundreds of tango dancers from all over the world gathered for a milonga to mark the occasion.
DECEMBER 17 - IRBIL, IRAQ: A young woman with the Kurdish flag decorating her face smiles as she takes part in celebrations for Flag Day in the capital of the autonomous Kurdish region.
high value areas developed in the Kurdish capital
since 2003, complete with their own mosque, shopping areas and schools.
DECEMBER 16 - IRBIL, IRAQ: A construction worker walks up the staircase inside a $20 million replica of the White House being built inside Dream City. The exclusive residential suburb is one of several
Maasai Olympics
near Mount Kilimanjaro. Maasai men and women from the Amboseli and Tsavo region compete for medals and prizes in the event which aims to replace lion hunting as the traditional warrior activity.
DECEMBER 15 - SIDAI OLENG WILDLIFE SANCTUARY, KENYA: A Maasai warrior competes in the high jump, in which athletes must touch a fixed line with the top of their heads, at the annual
DECEMBER 12 - LAHORE, PAKISTAN: A Muslim devotee dances to celebrate the three-day annual congregation of famous saint Data Ganj Baksh at a shrine. Thousands of people traveled from all over the country to attend the celebrations.
DECEMBER 11 - DHARAMSALA, INDIA: A novice exiled Tibetan Buddhist monk uses his mobile phone camera as people gather at the Tsuglakhang temple to mark the 25th anniversary of their spiritual leader, the Dalai Lama, receiving the Nobel Peace Prize. The Tibetan leader was awarded the prize in 1989 for his commitment to non-violence.
Nobel Peace prize winner
Malala Yousafzai, center, is displayed on a screen alongside previous winners in the Nobel Field exhibit at the Nobel Peace Center. The prize will be presented to and shared between the youngest recipient ever, 17-year-old Malala, and Indian children's rights activist Kailash Satyarthi today.
DECEMBER 10 - OSLO, NORWAY: An image of joint
DECEMBER 9 - MANAGUA, NICARAGUA: A man runs with a "toro encuetado," a structure resembling a bull and covered with exploding fireworks, as part of celebrations in honor of the Virgin of the Immaculate Conception on her feast day. The Virgin of the Immaculate Conception is Nicaragua's patron saint.
DECEMBER 8 - IRBIL, IRAQ: A Christian prays during a visit by the Archbishop of Lyon, French Cardinal Philippe Barbarin, at the Saint Joseph church in the capital of the Kurdish region of northern Iraq.
Landon Donovan raises the MLS Cup for the sixth -- and last -- time following LA Galaxy's victory over New England Revolution.
Nelson Mandela
. Today marks the first anniversary of his death at the age of 95 and events will be held around the country.
DECEMBER 5 - PRETORIA, SOUTH AFRICA: Traditional worshipers burn herbs in prayer at dawn at Freedom Park for former South African President
The world's longest-reigning monarch
is a deeply revered figure in Thailand, where his portrait hangs in government offices and many homes.
DECEMBER 4 - CHIANG MAI, THAILAND: A Thai women prepares for a parade and ceremony in honor of King Bhumibol Adulyadej's birthday.
DECEMBER 3 - KULANGHAM, INDIAN-CONTROLLED KASHMIR: An election officer checks a Kashmiri woman's identity before letting her cast her vote in the second phase of five-phase state elections at a polling station 68km north of Srinagar.
DECEMBER 2 - BUCHAREST, ROMANIA: A soldier with a camouflaged face watches an honor guard pass by prior to a military parade to mark Romania's National Day. Romanians braved the cold weather to watch the traditional parade, held outside the Palace of Parliament, formerly the House of the People, built during the rule of communist dictator Nicolae Ceausescu.
DECEMBER 1 - OSAKA, JAPAN: Ksenia Monko and Kirill Khaliavin of Russia perform during the gala exhibition of the NHK Trophy figure skating competition.
died this week after he was hit in the head
by a ball during a match. Fans across Australia have paid tribute to the sportsman by
leaving cricket bats outside their front doors
and using the Twitter hashtag
#putoutyourbats
.
NOVEMBER 28 - MACKSVILLE, AUSTRALIA: Cricket bats are placed at Donnelly Welsh Playing Fields in Macksville, New South Wales, in memory of Australian cricketer Phillip Hughes, who
NOVEMBER 27 - PARIS: Sheep graze at the Champ de Mars near the Eiffel Tower in Paris during a protest by farmers demanding an effective plan to combat wolf attacks on flocks.
NOVEMBER 25 - HONG KONG: A pro-democracy activist holds a yellow umbrella in front of a police line on a street in Mong Kok district on November 25, 2014 in Hong Kong. Police and authorities have
NOVEMBER 25 - SHADIPORA, INDIAN-CONTROLLED KASHMIR: Voters stand in a queue outside a polling station at Shadipora, on the outskirts of Srinagar, waiting to cast their ballots in the Jammu and Kashmir state assembly elections. Muslim separatist groups have called for a voting boycott.
Switzerland celebrate winning the Davis Cup
against France. The win is the first Davis Cup title for Switzerland and for
former World No. 1 Federer
, who has notched up victory in almost every other major tournament.
NOVEMBER 23 - LILLE, FRANCE: Roger Federer, Stanislas Wawrinka, Marco Chiudinelli, Michael Lammer and Severin Luthi of
NOVEMBER 21 - KATHMANDU, NEPAL: Nepalese Hindu devotees light oil lamps in memory of deceased family members during the Bala Chaturdashi festival at the Pashupatinath Temple. Devotees sow seven kinds of seeds around temple premises in the name of those who have passed away.
NOVEMBER 20 - KOBANI, SYRIA: Syrian Kurdish refugee children from Kobani, receive food rations in front of their living quarters separated by plastic sheets at a camp in Suruc, on the Turkey-Syria border. The area, also known as Ayn al-Arab, which has been under attack by the militant group ISIS, is being defended by Kurdish fighters.
NOVEMBER 19 - KUALA LUMPUR, MALAYSIA: A model wearing a creation by Calvin Thoo has make-up applied backstage at the Islamic Fashion Festival on November 18. The event seeks to raise awareness of Islamic expression and culture.
Glasgow School of Art
. The library, one of the world's finest examples of Art Nouveau, was devastated by a fire in May; Hollywood star Brad Pitt and "Dr Who" actor Peter Capaldi have joined the
appeal to help restore Charles Rennie Mackintosh's masterpiece
.
November 18 - GLASGOW, UK: Forensic archaeologists examine images salvaged from the Mackintosh Library at
NOVEMBER 17 - PRAGUE, CZECH REPUBLIC: People light candles at a memorial to students attacked by riot police during the Velvet Revolution in 1989. Czech citizens are commemorating the 25th anniversary of the revolution, in which hundreds of thousands of people took to the streets of Prague and other cities across what was then still communist Czechoslovakia to demand political reforms and greater freedoms.
NOVEMBER 14 - AMRITSAR, INDIA: Children dress up as key figures in Indian history for Children's Day celebrations at a school. The event coincides with the anniversary of the birth of India's first Prime Minister, Jawaharlal Nehru.
first spacecraft to make a controlled -- if bouncy -- landing on a comet
. The lander, sent from its mothership Rosetta, lost contact with scientists on Earth overnight, but has since begun sending back images and data.
NOVEMBER 13 - COMET 67P: The surface of Comet 67P/Churyumov-Gerasimenko, as seen from the European Space Agency's Philae lander, the
NOVEMBER 12 - KARACHI, PAKISTAN: Paramilitary soldiers perform during the 18th "passing out parade" at the Sindh Rangers Training Center.
NOVEMBER 11 - LONDON, ENGLAND: The ceramic poppy art installation by artist Paul Cummins and theater designer Tom Piper, entitled 'Blood Swept Lands and Seas of Red,' is seen lit up before sunrise in the dry moat of the Tower of London. The finished installation is made up of 888,246 ceramic poppies, with the final poppy placed today, Armistice Day. Each poppy represents a British and Commonwealth military life lost in World War I.
Defining Moments: Capturing our changing world
Defining Moments: Capturing our changing world
Hundreds to tango
U.S., Cuba relations
Celebrating Flag Day
Iraq's White House
Maasai Olympics
Devotion dance
Peace leader
Sharing peace
Explosive celebrations
In faith
Defining Moments: Capturing our changing world
#RememberMandela
Fit for a king
Time to vote
Romania's National Day
Graceful figure
Defining Moments: Capturing our changing world
Defining Moments: Capturing our changing world
Defining Moments: Capturing our changing world
Defining Moments: Capturing our changing world
Defining Moments: Capturing our changing world
Remembrance
Sheltered
Islamic fashion
Charred treasures
Velvet Revolution
Children's Day
Hi, Comet!
Jumping through hoops
'Lest We Forget'