Fake bomb detector maker made millions from trick
May 2, 2013 -- Updated 1414 GMT (2214 HKT)
STORY HIGHLIGHTS
James McCormick is the man behind the ADE 651 bomb detector
But the device is fake and contains "nothing inside," says Detective Inspector Heath
"He targeted countries where terrorism and violence was rife," Heath said.
McCormick made millions and spent his earnings on a luxurious lifestyle
(CNN) -- The ADE 651 stood for "Advanced Detection Equipment". And it certainly looked the part. Sleek black casing. A swivelling antenna that was said to detect everything from bombs to 100 dollar bills. A card that indicated what the device had found.
In video recorded by James McCormick, the man behind the skyrocketing sales of ADE 651, police in Niger can be seen using the device searching for explosives by a live minefield.
Just one problem: It doesn't work. British police say the ADE 651 is really the "Gopher" a novelty golf-ball finder with the label removed.
This device, independent tests show, has no better than a random chance at finding a golf ball, much less a bomb.
Maker of fake bomb detector gets 10 years in prison
"These devices contain absolutely nothing inside. There's no laws of science or physics that could make them work," Detective Inspector Edward Heath told CNN. "He is a conman. He uses sleight of hand, absurd sales tactics to actually con governments, officials, private individuals out of money to buy this device."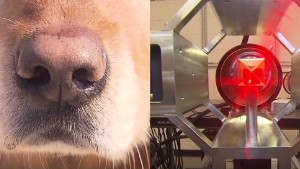 Dogs compete with tech to detect bombs
McCormick spent less than 18 months as an entry level policeman in the Liverpool area before becoming a salesman of radio equipment. With his sales patter and his brief time as a policeman, McCormick was a convincing pitch man.
In a training video to potential salesmen in India, McCormick can clearly be heard saying he "worked with explosives" during his time with the British police.
"He targeted countries where terrorism and violence was rife," Heath said. "They had such terrible problems with violence and terrorism, they were desperate for any measure to prevent them from happening. The countries that he targeted also didn't have proper testing methods or any scientific laboratories to make sure they worked. They very much took the trust of the person selling it. And James McCormick came across as an honest and reliable businessman. But in fact he was a con man."
It was the 'Made in the UK' label on the ADE 651 that tipped off British police. They found that McCormick had the components made separately in Britain, then assembled them himself at his office in an old dairy farm in Somerset, England.
Police investigators believe it cost him less than $60 to make each device. In at least one case, he sold them for as much as $300,000 a piece. He sold the devices to government agencies and private companies around the world.
But it wasn't just a good sales line that allowed McCormick, over a 10-year period, to become a millionaire from a fraudulent device. An Iraqi general has been jailed for procuring the ADE 651 through "unauthorized" channels. British police believe that McCormick paid off officials to buy the ADE 651 in bulk. Iraq's law enforcement agencies bought 6,000 of the devices to scan for explosives at checkpoints, many of them still in use today, potentially endangering lives.
It was a profitable business. His company made between $60 million and £80 million. He spent it on property, an $8 million luxurious historic home in Bath -- previously owned by Hollywood star Nicholas Cage -- with a swimming pool in the basement.
He also bought a million dollar yacht and holiday homes in Cyprus and Florida. Police are now trying to seize these assets.
"We will do our utmost to make sure that James McCormick never lives off the proceeds of crime," Heath said. "What we intend to do is make sure his assets are confiscated, so that he cannot live a life of luxury off his crime."

Part of complete coverage on
December 12, 2013 -- Updated 1819 GMT (0219 HKT)

The sign language interpreter widely ridiculed for his performance at the Nelson Mandela memorial stands by his work.
December 12, 2013 -- Updated 1456 GMT (2256 HKT)

Behind the scenes in Cambodian karaoke bars -- a common front for child prostitution.
December 12, 2013 -- Updated 0446 GMT (1246 HKT)

A global risk firm surveys the most politically explosive countries.
December 12, 2013 -- Updated 1801 GMT (0201 HKT)

It's the battle of the tech titans. No, not Apple versus Samsung. Sony has gone head-to-head with Microsoft.
December 12, 2013 -- Updated 1509 GMT (2309 HKT)

On Tuesday, I was free. On Wednesday, I became a criminal. India's high court just made being gay illegal, writes Tushar Malik.
December 12, 2013 -- Updated 1046 GMT (1846 HKT)

A Japanese actor says playing villians in Chinese films has helped the China-Japan divide. CNN's Ivan Watson reports.
December 12, 2013 -- Updated 1612 GMT (0012 HKT)

New skyscraper-sized gas plant is the biggest thing on the waves.
December 11, 2013 -- Updated 1524 GMT (2324 HKT)

Pope Francis is Time's person of the year. His papacy has drawn adulation from people around the world for his man-of-the-people ways.

He was imprisoned for life but that did not quiet him. Nelson Mandela became South Africa's first black president, and an icon and inspiration.
December 12, 2013 -- Updated 1205 GMT (2005 HKT)

Turning 50 is a major milestone in a person's life -- and a country's history.
December 12, 2013 -- Updated 1907 GMT (0307 HKT)

Browse through images you don't always see in news reports, taken by CNN teams all around the world.

Today's five most popular stories