Fake bomb detector maker made millions from trick
May 2, 2013 -- Updated 1414 GMT (2214 HKT)
STORY HIGHLIGHTS
James McCormick is the man behind the ADE 651 bomb detector
But the device is fake and contains "nothing inside," says Detective Inspector Heath
"He targeted countries where terrorism and violence was rife," Heath said.
McCormick made millions and spent his earnings on a luxurious lifestyle
(CNN) -- The ADE 651 stood for "Advanced Detection Equipment". And it certainly looked the part. Sleek black casing. A swivelling antenna that was said to detect everything from bombs to 100 dollar bills. A card that indicated what the device had found.
In video recorded by James McCormick, the man behind the skyrocketing sales of ADE 651, police in Niger can be seen using the device searching for explosives by a live minefield.
Just one problem: It doesn't work. British police say the ADE 651 is really the "Gopher" a novelty golf-ball finder with the label removed.
This device, independent tests show, has no better than a random chance at finding a golf ball, much less a bomb.
Maker of fake bomb detector gets 10 years in prison
"These devices contain absolutely nothing inside. There's no laws of science or physics that could make them work," Detective Inspector Edward Heath told CNN. "He is a conman. He uses sleight of hand, absurd sales tactics to actually con governments, officials, private individuals out of money to buy this device."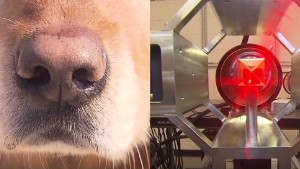 Dogs compete with tech to detect bombs
McCormick spent less than 18 months as an entry level policeman in the Liverpool area before becoming a salesman of radio equipment. With his sales patter and his brief time as a policeman, McCormick was a convincing pitch man.
In a training video to potential salesmen in India, McCormick can clearly be heard saying he "worked with explosives" during his time with the British police.
"He targeted countries where terrorism and violence was rife," Heath said. "They had such terrible problems with violence and terrorism, they were desperate for any measure to prevent them from happening. The countries that he targeted also didn't have proper testing methods or any scientific laboratories to make sure they worked. They very much took the trust of the person selling it. And James McCormick came across as an honest and reliable businessman. But in fact he was a con man."
It was the 'Made in the UK' label on the ADE 651 that tipped off British police. They found that McCormick had the components made separately in Britain, then assembled them himself at his office in an old dairy farm in Somerset, England.
Police investigators believe it cost him less than $60 to make each device. In at least one case, he sold them for as much as $300,000 a piece. He sold the devices to government agencies and private companies around the world.
But it wasn't just a good sales line that allowed McCormick, over a 10-year period, to become a millionaire from a fraudulent device. An Iraqi general has been jailed for procuring the ADE 651 through "unauthorized" channels. British police believe that McCormick paid off officials to buy the ADE 651 in bulk. Iraq's law enforcement agencies bought 6,000 of the devices to scan for explosives at checkpoints, many of them still in use today, potentially endangering lives.
It was a profitable business. His company made between $60 million and £80 million. He spent it on property, an $8 million luxurious historic home in Bath -- previously owned by Hollywood star Nicholas Cage -- with a swimming pool in the basement.
He also bought a million dollar yacht and holiday homes in Cyprus and Florida. Police are now trying to seize these assets.
"We will do our utmost to make sure that James McCormick never lives off the proceeds of crime," Heath said. "What we intend to do is make sure his assets are confiscated, so that he cannot live a life of luxury off his crime."

Part of complete coverage on
December 18, 2013 -- Updated 1635 GMT (0035 HKT)

The arrest and strip-search of the Indian diplomat accused of visa fraud, has sparked questions about the complex system of diplomatic immunity.
December 17, 2013 -- Updated 2310 GMT (0710 HKT)

A worker operating a machine in a family workshop in China accidentally cut off his hand -- which doctors grafted onto his lower calf.
December 18, 2013 -- Updated 0250 GMT (1050 HKT)

On the second anniversary of the death of former North Korean leader, Kim Jong Il, the nation held a memorial lauding his life and achievements.
December 18, 2013 -- Updated 1141 GMT (1941 HKT)

Open Corporates, a database containing crucial information on over 60 million companies, enables journalists to expose corporate corruption.
December 18, 2013 -- Updated 1013 GMT (1813 HKT)

What would you do if you had to wait 90 minutes for your pizza to be delivered? Launch your own pizza delivery store?
December 17, 2013 -- Updated 1955 GMT (0355 HKT)

Brad Pitt, Martin Bashir and Michael Jordan are among the stars who turned 50 this year.
December 18, 2013 -- Updated 1130 GMT (1930 HKT)

Kickstarter is one of the world's largest crowdfunding websites -- over 53,000 projects have been born.
December 18, 2013 -- Updated 1314 GMT (2114 HKT)

What do you need to map a billion stars? A billion-pixel camera certainly helps.
December 18, 2013 -- Updated 0831 GMT (1631 HKT)

Although an unlikely candidate, Saudi Arabian dairy has become one of the biggest in the Persian Gulf.
December 18, 2013 -- Updated 1721 GMT (0121 HKT)

Browse through images you don't always see in news reports, taken by CNN teams all around the world.
December 18, 2013 -- Updated 1104 GMT (1904 HKT)

Chris Aire is known as "the King of Bling," the jeweler whose dazzling creations are worn by the likes of Angelina Jolie and 50 Cent.

Today's five most popular stories