STORY HIGHLIGHTS
Young tennis star Grigor Dimitrov wants to shed his "Baby Federer" tag
Bulgarian hoping to climb up the rankings from career-high 28th this year
Reveals he always dreamed of being a tennis player as a child
Talks about his love of fine food and fast cars in life away from the court
Open Court is CNN's monthly tennis show. Click here for program times, news, videos and features.
(CNN) -- Built like a wrestler, when Grigor Dimitrov says "don't call me baby," you'd be advised to listen.
The 21-year-old has had enough with the tennis world labeling him as "Baby Federer" following comparisons with 17-time grand slam champion Roger Federer.
After winning the U.S. and Wimbledon junior titles in 2008, his coach Peter Lundgren at the time hailed Dimitrov as the next Federer -- a man who the former Swedish player had worked with previously.
It was supposed to be a compliment -- a warning to the rest of the world that Bulgaria had unearthed a tennis player ready to emulate one of the greatest to have ever picked up a racket.
But Lundgren's comment has weighed heavily on Dimitrov's shoulders ever since with the watching world awaiting his rise to stardom.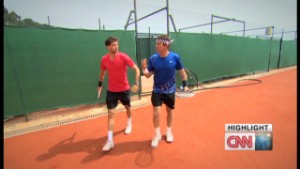 Pat Cash takes on Dimitrov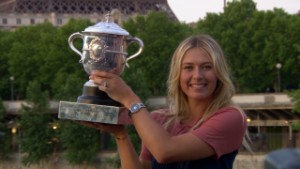 The story behind Sharapova's success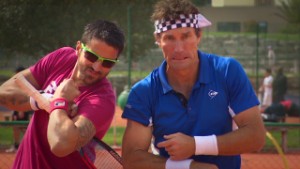 Tipsarevic's clay court master class
It was Lundgren who oversaw Federer's first 10 ATP World Tour titles and his first grand slam title win at Wimbledon at 2003.
Read: The man behind Maria's millions
And while Dimitrov would love to follow in the Swiss star's footsteps, he wants to make it clear that he is his own man -- not Federer mark two.
"You know, all the comparisons, I think that I definitely want people to stop with that," he told CNN's Open Court show.
"Of course we have some similarities here and there. I'm flattered with that and actually, I thought it was really cool at the beginning.
"But with time, I've realized what I am. It's something that is definitely not what the other person is, so I'm trying to build up my own style and when I'm on court, I do my own shots.
"I think that's eventually what everyone will see."
Read: Wimbledon bonus for tennis stars
Dimitrov has been plotting his rise to the top since the very first time he stepped onto a court as a child with his father Dimitar, a tennis coach in their native city of Haskovo.
His single-handed backhand, which is so unusual among players of his age group, was honed under his father's gaze.
"I actually never thought of any other sport," said Dimitrov, recalling his formative years.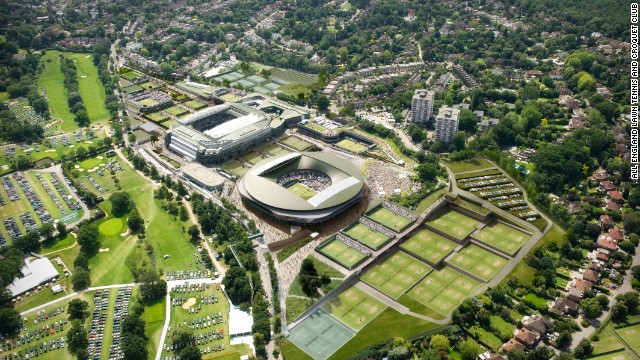 The All England Club, which organizes the Wimbledon Championship, has revealed that it will build a new roof on No.1 Court.
The iconic Centre Court has had a retracting roof in place since 2009, which has allowed players to continue their matches during rain showers.
The $152 million project will see a roof put on No.1 Court, which will take the number of covered seats at the venue to 26,500.
This is an artist's impression of the completed project, which is expected to be ready in time for the 2019 tournament.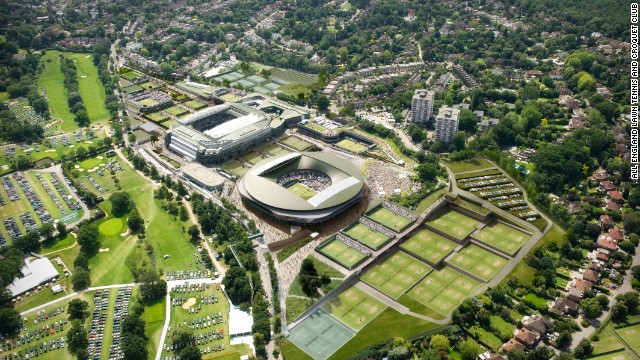 Wimbledon to put a lid on it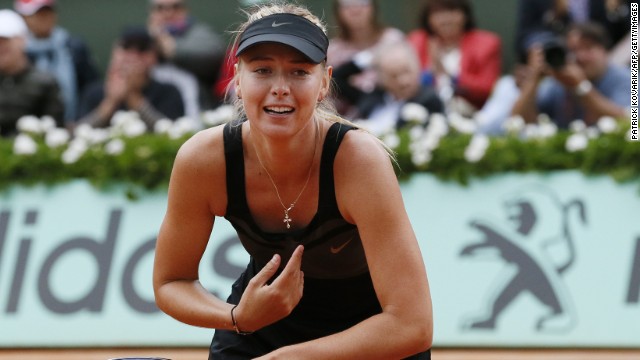 Maria Sharapova won the French Open last year to become the 10th woman to claim all four grand slams. But she plans on playing for several years before pursuing her business interests.
At Roland Garros, Sharapova won her first major after undergoing shoulder surgery in 2008. Some thought she would never triumph at a grand slam following the injury.
After a win in Montreal in July 2008, an MRI revealed that Sharapova had two tears in the tendon of her serving shoulder.
Sharapova attempted a comeback in 2009 when she played doubles in Indian Wells. But she still wasn't ready to return.
Once self described as a "cow on ice" on clay, Sharapova began her clay-court campaign last year by beating Victoria Azarenka in the Stuttgart final.
Sharapova defeated Li Na in last year's final of the Italian Open, the perfect buildup to the French Open. Sharapova and Li are the two highest-paid female athletes in the world and share the same agent.
Sharapova launched her own premium candy line, Sugarpova, with individual bags selling for $5.99. She has plans to expand to more markets, including Asia.
Max Eisenbud, Sharapova's agent, first met the player when she was 12 at the renowned IMG Academy in Bradenton, Florida. Sharapova still lives nearby.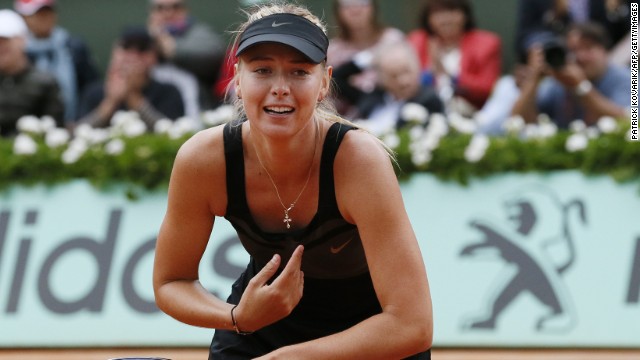 Tennis still Sharapova's top priority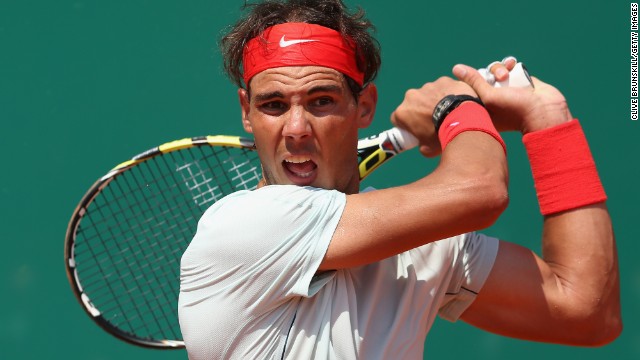 Rafael Nadal stayed on course for a record-extending ninth consecutive title at the Monte Carlo Masters after beating Philipp Kohlschreiber of Germany in the third round.
World No. 1 Novak Djokovic, beaten by Nadal in last year's final, was again forced to test his injured ankle as he came from behind to beat Argentina's clay specialist Juan Monaco in three sets.
Andy Murray, left, crashed out with a straight-sets defeat by Stanislas Wawrinka which means the British star will lose the world No. 2 ranking to the Swiss 13th seed's compatriot Roger Federer next week.
Jarkko Nieminen reached the last eight of a Masters event for the first time since 2006 as the 31-year-old Finn upset Argentine fifth seed Juan Martin Del Potro.
Italy's world No. 32 Fabio Fognini will make his debut in a Masters quarterfinal after his upset win over Czech fourth seed Tomas Berdych.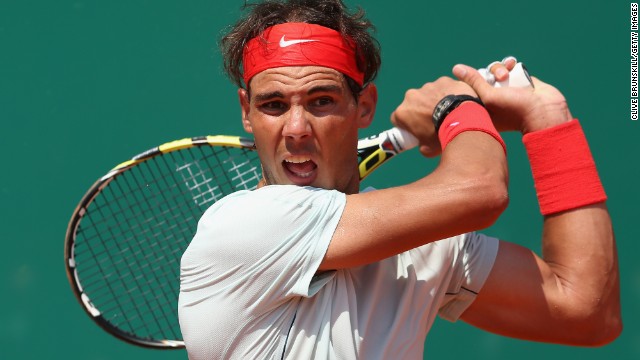 Nadal into Monte Carlo quarterfinals
"My father was a tennis coach and my mum was a former volleyball player, so I was in the sport area in general.
Read: Sharapova - Struggles made me stronger
"But the only thing I was always telling my parents was: 'I just want to play tennis.'
"Obviously, my dad showed me a few shots. I was six or seven and I was just playing regularly."
Such was Dimitrov's talent during his teenage years that he was soon off to France to train at the prestigious Patrick Mouratoglou Academy just outside of Paris.
It was there that he began to show glimpses of his future potential, winning a whole host of junior tournaments on his way to becoming the third youngest player to break into the world's top 100 in 2011.
But it was his decision to leave France to join up with the "Good to Great Academy" in Sweden last November which has helped propel his career to the next level.
Read: Tennis is a 'clean sport'
Working alongside ex-world No. 2 Magnus Norman and the former doubles partnership of Nicklas Kulti and Mikael Tillstrom, Dimitrov reached the Brisbane International final before losing to Briton Andy Murray in January.
"All the guys from Good to Great Academy are amazing and all of them have incredible experiences from the tour," Dimitrov said.
"They all have something to bring to the table so that makes it a lot more interesting.
"You take a little from this one, pick a little from that one, and then the next thing you know, you're getting sort of completed and, that helps you during the weeks."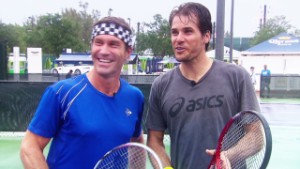 Tommy Haas: My daughter motivates me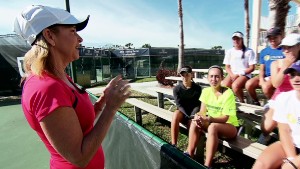 Chris Evert: Grooming future champions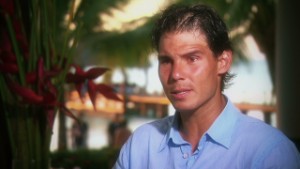 Rafael Nadal returns to the court
While Dimitrov has yet to propel himself into the top 10 -- he has reached a career-high 28th this year -- he has begun to show signs of improvement, most noticeably during last month's Monte Carlo Masters.
The young pretender gave Rafael Nadal one of the toughest tests on clay that the seven-time French Open champion has endured in recent years.
Read: Djokovic takes Nadal's Monte Carlo crown
A full-blooded display against the undisputed king of the surface was eventually curtailed by defeat in three sets, but the fruits of his labor were bared for all to see.
"I had kind of rough matches in the past weeks so it gave me of course a lot of confidence, even though I lost them," Dimitrov said.
"I felt quite good about myself and the way I was progressing and of course, these hours in the gym.
"They're just a must. You just kind of do it and it doesn't matter if it's Sunday or Saturday, you've just got to do what you've got to do.
"I mean basically, you've got to make it."
Read: Nadal survives Monte Carlo scare
Away from the court, and when he's not working out, Dimitrov has plenty of other interests to keep him busy.
While he remains coy on his private life, having been linked romantically to women's tennis stars Maria Sharapova and Serena Williams in the past, he is more than happy to divulge his other extracurricular activities.
"I enjoy good food," he said. "That's one of the things. I love good restaurants and I love cars and all these things.
"We're away for 25 weeks a year so you appreciate the time when you're off.
"If you can get it with friends and family and you know, people around that you thought you hadn't seen for a while, it's always good.
"Of course if you get the chance to go somewhere to get a few days away here and there, I mean I'd definitely get that."