Official: Human trafficking probe at Saudi diplomat's home
May 3, 2013 -- Updated 1447 GMT (2247 HKT)
STORY HIGHLIGHTS
NEW: Source says women charging Saudi attaché kept their passports, didn't pay them
Authorities investigate possible human trafficking
Official says probe is at home of Saudi military attache
Two women allegedly claim they were mistreated
Read a version of this story in Arabic.
Washington (CNN) -- Federal authorities are investigating a potential case of human trafficking at the suburban Washington home of a Saudi diplomat, officials said Wednesday.
Authorities were called Tuesday afternoon to an upscale neighborhood in McLean, Virginia, where they "removed two potential trafficking victims," U.S. Immigration and Customs Enforcement spokesman Brandon Montgomery told CNN.
A State Department official said the McLean house is the home of the Saudi military attaché.
The case is under investigation by Homeland Security Investigations, a unit within ICE.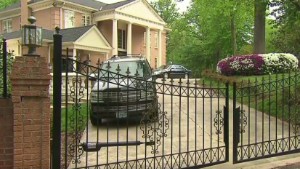 Two women removed from diplomat's home
The two women, who are from the Philippines and currently work at the Saudi Embassy in Washington, claim they were mistreated, according to the State Department official.
The women are charging, according to a different State Department official, that the Saudi attaché kept their passports, made them work extremely long hours and did not pay them. The source said they had not seen anything to indicate the women were physically harmed.
The official also pointed out these allegations are similar to several other cases they heard from domestic workers who work for diplomats from the Persian Gulf.
According to ICE, cases like this are very "victim-centric," meaning that once there is "confirmation of suspicions," authorities immediately go in and remove the victim and then begin the investigation.
There was no word on the identity of the Saudi diplomat who lived there.
The Saudi Embassy in Washington did not respond to requests for comment.
CNN's Dan Merica contributed to this report.

Today's five most popular stories
Part of complete coverage on
December 10, 2012 -- Updated 1443 GMT (2243 HKT)

This is the story of a young Bangladeshi boy who survived an appalling attack by a gang of men who tried to force him into begging.
December 4, 2012 -- Updated 1137 GMT (1937 HKT)

How a genuine human tragedy triggered chain of goodwill -- changing a young boy's life, as CNN's Sara Sidner reports.

It was a short e-mail -- a few simple lines. It came from a U.S. businessman, inspired to help a young boy who had been viciously attacked.

When a taxi driver admonished CNN's Sara Sidner for giving money to a beggar in India, she soon understood why he had.

Sara Morales has been to hell and back. She was forcibly recruited by the main guerrilla group in her country when she was just a young girl.

An estimated 300,00 girls and women have been forced into the sex trade in India's Andhra Pradesh -- only 3,000 have been rescued so far.

As part of the Freedom Project CNN this year returned to Egypt's Sinai Desert where people-smugglers abuse, rape and hold for ransom desperately poor refugees.

A band of Bedouin tribal chiefs near Egypt's border with Israel have started to fight back against the brutality of the area's people smugglers.

From Coca-Cola to Microsoft, some of the most recognizable brands in the world of business have joined forces in the fight against human trafficking and slavery.