Bangladesh vs. the U.S.: How much does it cost to make a denim shirt?
May 3, 2013 -- Updated 1130 GMT (1930 HKT)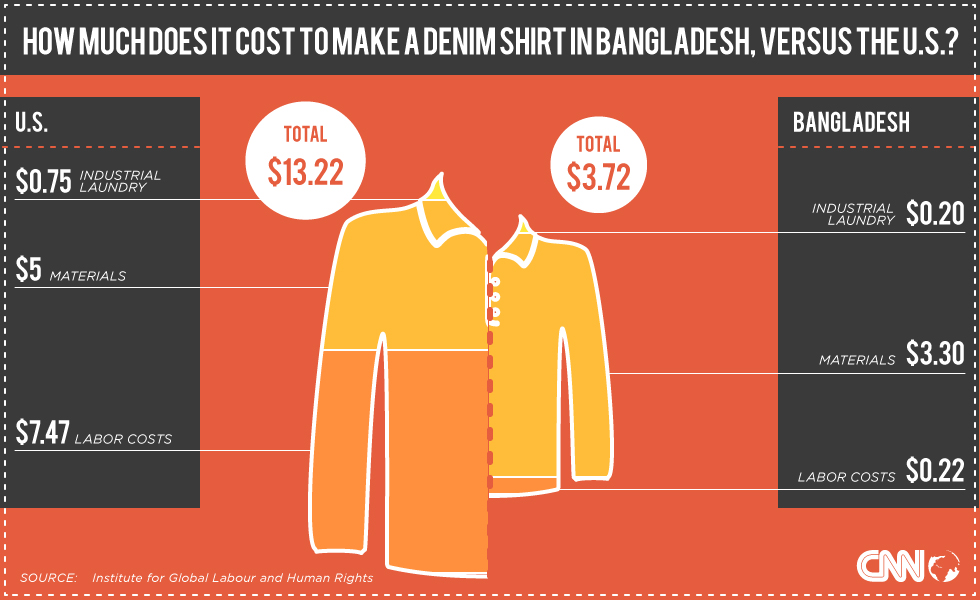 STORY HIGHLIGHTS
The eight-storey Rana Plaza garment factory collapsed in Bangladesh last week
More than 400 workers were killed, highlighting issues with safety and wages
Our graphic illustrates the cost of making a denim shirt in the U.S. and Bangladesh
(CNN) -- The collapse of the Rana Plaza garment factory in Bangladesh last week, which killed more than 500 workers, has highlighted serious issues with safety and poor pay for garment workers in the country. As our graphic illustrates, there are stark contrasts in the cost of making clothes in Bangladesh, compared to the U.S.
The garment industry accounts for 77% of Bangladesh's exports -- a $20 billion industry for the nation.
The European Union, Bangladesh's largest trade partner, said Tuesday that it was considering trade action against Bangladesh. U.S. State Department spokesman Patrick Ventrell said businesses that operated in the collapsed building "appear to have links to numerous companies in the U.S. and Europe." He added they would work with U.S. companies on "improving working conditions, including in Bangladesh."
READ MORE: The bloodshed behind our cheap clothes
READ MORE: Prime minister says Bangladesh is reforming its garment industry

Today's five most popular stories
Part of complete coverage on
Tragedy in Bangladesh
May 15, 2013 -- Updated 2136 GMT (0536 HKT)

Reshma, the last survivor of the collapse, describes 17 harrowing days buried underground in pitch-black darkness.
May 13, 2013 -- Updated 0749 GMT (1549 HKT)

A well-placed pool of water and an air pocket appear to have combined to help a young woman survive in the rubble for more than two weeks.
May 9, 2013 -- Updated 1915 GMT (0315 HKT)

Questions remain over who was ultimately responsible for the Bangladesh tragedy. Is the huge profit buyers make on clothes ethical?
May 3, 2013 -- Updated 1130 GMT (1930 HKT)

It costs more than three times as much to make a denim shirt in the U.S. as it does in Bangladesh. We break down the numbers.
May 2, 2013 -- Updated 2027 GMT (0427 HKT)

CNN's Christiane Amanpour asks Bangladesh's prime minister why more wasn't done to prevent a building collapse which killed more than 400.
May 3, 2013 -- Updated 1050 GMT (1850 HKT)

Prime Minister acknowledges nation's garment industry is beset with problems, but says her government is trying to fix them.
May 7, 2013 -- Updated 1908 GMT (0308 HKT)

A nurse who was meant to be on the Boston Marathon finishing line finds herself treating trauma victims in Bangladesh.
May 2, 2013 -- Updated 2151 GMT (0551 HKT)

CNN's Richard Quest talks to the editor of Women's Wear Daily, James Fallon, about the garment industry in Bangladesh.
May 2, 2013 -- Updated 0923 GMT (1723 HKT)

CNN's Jim Boulden reports on the growing pressure on clothing companies after a Bangladeshi garment factory collapsed.
May 1, 2013 -- Updated 1004 GMT (1804 HKT)

Journalist David Bergman discusses why the Bangladeshi government said no to international rescue offers.
May 3, 2013 -- Updated 1348 GMT (2148 HKT)

Despite the many warnings of dangerous cracks in the walls. thousands were still sent to work to proceed with business as usual.
April 30, 2013 -- Updated 1004 GMT (1804 HKT)

After so much horror and heartache, the death of one woman they were trying to rescue was too much for emergency crews.
May 28, 2013 -- Updated 1905 GMT (0305 HKT)

Fire breaks out in the rubble of a collapsed Bangladesh building, and one girl recalls the choice she was given: Your hand or your life.