Syrian government reclaims parts of Homs
May 2, 2013 -- Updated 1717 GMT (0117 HKT)
STORY HIGHLIGHTS
Government troops now have direct access to an opposition stronghold, activists say
People in the Old District fear reprisals, the Revolutionary Council of Homs says
A government effort to retake Homs was launched in recent weeks
(CNN) -- Syrian troops took control of large swaths of territory in the flashpoint city of Homs Thursday, encircling an opposition suburb, an activist group said.
President Bashar al-Assad's forces retook the Wadi al-Sayah neighborhood, giving the troops direct access to the Old District of Homs, an opposition stronghold, the Syrian Observatory for Human Rights said.
"Rebels in Wadi al-Sayah are fighting to stop the government troops from entering the Old District of Homs and are helping 200 families flee the area toward the Old District, "activist Abu Bilal told CNN.
Eight hundred families and nearly 500 wounded people in the Old District now fear for their lives and many worry they will become victims of reprisal attacks and even sectarian killings, the Revolutionary Council of Homs said.
Report: 13 injured in stampede at Turkey-Syria border crossing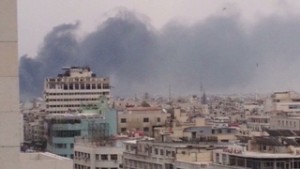 Central Damascus hit by bombs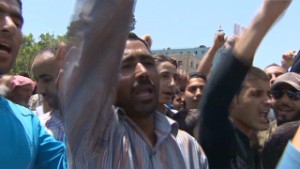 Damascus bombing spurs anger at U.S.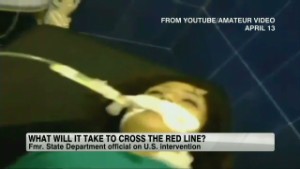 How red must the red line be in Syria?
"The suburbs of Homs today are under a greater threat than ever before," the statement added, "Every decision maker and leader capable of helping us will be judged by God, people, and history,"
A bastion of resistance against the regime, the Old District of Homs supports the campaign by rebels to overthrow the government and often provides material support to the fighters of the Free Syria Army.
"The families in Old Homs feel disappointed in everyone and the opposition, but they remain steadfast in their resilience and will not flee." Abu Bilal said.
In recent weeks, government forces launched an offensive to regain Homs, the country's third largest city, where the opposition has been in control of central districts for more than a year. The fighting put many civilians under the threat of constant bombardment and a suffocating siege with limited access to food staples, electricity and water.
For Syria, chemical weapons also a 'red line,' information minister says
Syrian troops destroyed an explosive device warehouse and killed and injured a number of terrorists in Homs, state media reported Thursday. The government refers to opposition forces as terrorists.
CNN is unable to independently confirm reports of casualties in Syria because access by international media is heavily restricted.
Homs became a symbol of the uprising against the Assad government as massive street protests against the authoritarian regime were staged in 2011, and it later became the site of a relentless assault by the Syrian government that the opposition said was aimed at destroying a nascent rebel fighting force at the expense of the civilian population.
The government claims its troops are eliminating terrorist groups that have infiltrated Homs, and it seeks to protect the civilian population from acts of violence and weed out arms obtained illegally by radicals.

Part of complete coverage on
Syrian crisis
March 4, 2014 -- Updated 1328 GMT (2128 HKT)

Syria has submitted a revised proposal "that aims to complete the removal of all chemicals" from the country before the end of April.
February 18, 2014 -- Updated 1032 GMT (1832 HKT)

CNN's Arwa Damon reports on ISIS defector who says destroying ISIS as critical as defeating regime.
February 18, 2014 -- Updated 0353 GMT (1153 HKT)

The U.S. wants a United Nations resolution that will, among other things, bring humanitarian aid for refugees in Syria.
February 17, 2014 -- Updated 1259 GMT (2059 HKT)

When the radical Islamist militia ISIS arrived in the Syrian town of Addana a year ago, many welcomed them. What followed changed their minds.
February 17, 2014 -- Updated 1449 GMT (2249 HKT)

CNN obtained video clips from Syrian activists documenting the atrocities committed by members of the Islamic State in Iraq and Syria, known as ISIS.
February 18, 2014 -- Updated 2017 GMT (0417 HKT)

On Crossfire, Danielle Pletka discusses what the U.S. needs to do to resolve the Syria crisis.
February 6, 2014 -- Updated 0101 GMT (0901 HKT)

Her almond-shaped brown eyes shine through her sunken face as a doctor lifts her sweater to reveal a tiny rib cage pushing against her skin.
February 4, 2014 -- Updated 1746 GMT (0146 HKT)

The Zaatari refugee camp in Jordan is home to around 100,000 Syrian refugees. CNN spent several days meeting the residents of the camp.
January 22, 2014 -- Updated 1959 GMT (0359 HKT)

Renowned war crimes prosecutors and forensic experts have found "direct evidence" of "torture and killing" by the Assad regime.

Traumatized children who have witnessed the horrors of war are being helped to read -- and rebuild a normal life. CNN's Becky Anderson reports.
January 23, 2014 -- Updated 1207 GMT (2007 HKT)

A battle zone tour organized by the Syrian government for CNN and several other media outlets Wednesday was more than bizarre.
January 22, 2014 -- Updated 1735 GMT (0135 HKT)

CNN's Atika Shubert meets with the family of a little girl who was wounded in Syria, now living in a refugee camp.
January 27, 2014 -- Updated 1456 GMT (2256 HKT)

110 year old, Jabari Alawali walked for over 10 hours to reach Jordan from Syria.
Today's five most popular stories