'Iron Man 3' smashes opening box office record in China
May 3, 2013 -- Updated 0654 GMT (1454 HKT)
STORY HIGHLIGHTS
'Iron Man 3' has record-breaking opening day in China
First-day box office sales topped $21 million
The Chinese version has extra scenes not in the original
Hong Kong (CNN) -- "Iron Man 3" has set a new box office record in China, taking 130 million yuan ($21 million) on its opening day.
The appeal may have something to do with additional scenes added into the Chinese version of the film. The extra four minutes of footage feature product placement for a Chinese-branded milk drink and two new characters, Dr Wu and his assistant, played by top Chinese actors Wang Xueqi and Fan Bingbing, respectively.
Gitesh Pandya, editor of BoxOfficeGuru.com, described the scenes as "borderline propaganda" in an interview with CNN's Andrew Stevens. But the inclusion of the scenes, he said, gave the film access to the Chinese market that other Hollywood studios lack.
The Walt Disney Company and Marvel Studios teamed up with Beijing-based DMG Entertainment for the third installment of the Iron Man series. DMG Entertainment is also a co-distributor in China, where some filming took place.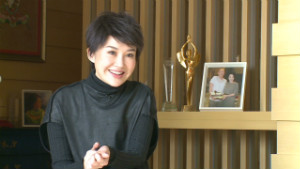 China's Hollywood dream
With China surpassing Japan as the world's second largest movie market last year, studios that successfully appeal to Chinese audiences can reap sizeable profits. But navigating around the country's censorship and other restrictions has proved a challenge for some.
READ MORE: Iron Man passes $300 million internationally
When "Red Dawn" was released in China last year, a scene showing an invasion by Chinese forces was changed to the North Korean army, and a shoot-out scene set in Chinatown in "Men in Black 3" was cut entirely.
"The American studios are desperate to get into China," said Pandya. "And they're looking for new ways to profit from this growing market. The population of just the middle class alone is much bigger than the entire United States population, so there's tremendous potential there."
Pandya predicts the movie's gross profits in China will reach well over $100 million.
Robert Downey Jr. spoke of his fascination with Chinese culture during a promotional tour for the film in Beijing last month. "I'm interested in all things Chinese and I live a very Chinese life in America," he said.
Globally, "Iron Man 3" has already raked in more than $300 million since it premiered in London on April 18. The film opens in the U.S. on Friday.
Michael Bay's "Transformers: Dark of the Moon" set the previous opening-day Chinese box office record in 2011, grossing 110 million yuan ($17 million).

Part of complete coverage on
March 3, 2014 -- Updated 1033 GMT (1833 HKT)

Mobile World Congress spans the full spectrum of untethered gadgetry Explore this year's top trends with Stuff Magazine Editor Will Findlater.
February 28, 2014 -- Updated 1623 GMT (0023 HKT)

Cocoa-nomics: Why chocolate really doesn't grow on trees. CNN returns to Africa's cocoa plantations to examine the fight against child labor.
February 27, 2014 -- Updated 1958 GMT (0358 HKT)

CNN's Maggie Lake speaks to Lego CEO Jørgen Vig Knudstorp about why Lego continues to be a hugely popular toy.
February 27, 2014 -- Updated 2032 GMT (0432 HKT)

A Japanese rocket roared into orbit carrying what NASA calls its most precise instrument yet for measuring rain and snowfall.
February 28, 2014 -- Updated 2003 GMT (0403 HKT)

When you hail yourself as a "passionate advocate" for job-seekers, you probably ought not blast one of those job-seekers in a snide e-mail.
February 26, 2014 -- Updated 2201 GMT (0601 HKT)

Love that chocolate Haagen-Dazs ice-cream? But what about the way its makers treat their farmers? Oxfam reveals the ethics behind the brands.
February 20, 2014 -- Updated 1121 GMT (1921 HKT)

SnapScan is an award-winning app allowing buyers to pay with their smartphone -- no need to worry about carrying cash or lost credit cards.
February 18, 2014 -- Updated 1452 GMT (2252 HKT)

In the wake of recent credit card breaches, CNN's Richard Quest explores the threats of the non-cash economy. Is your money as safe as you think?
February 19, 2014 -- Updated 0833 GMT (1633 HKT)

Like many companies in China, Fu Shou Yuan uses celebrities to attract clients. Except, in this case, they're dead. They're in the funeral business.
February 19, 2014 -- Updated 1255 GMT (2055 HKT)

Coca-Cola is staying afloat as the soda market shrinks, and many point to a marketing strategy around the so-called "secret recipe."

Today's five most popular stories