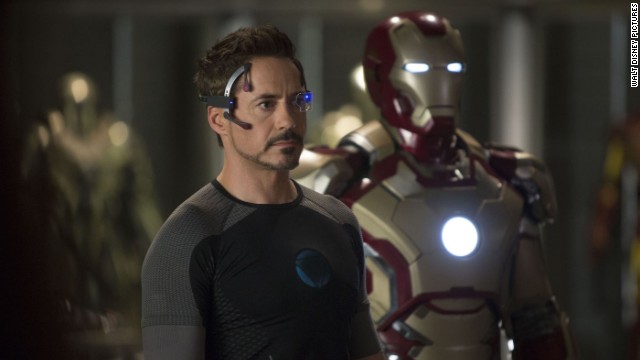 Robert Downey Jr. has brought Tony Stark's Iron Man to life in 2008, the film's 2010 sequel and last year's "The Avengers." He's now back on the big screen in "Iron Man 3."
Mark Ruffalo got his turn in the stretchy purple pants in "The Avengers." Eric Bana and Edward Norton played Bruce Banner in "Hulk" (2003) and "The Incredible Hulk" (2008), respectively. Bill Bixby played David (yes, not Bruce) Banner and Lou Ferrigno his monstrous alter ego in the TV series that aired from 1977 to 1982.
Following in Tobey Maguire's footsteps -- err, spider webs -- Andrew Garfield stars in 2012's "The Amazing Spider-Man." He'll play the part again in the sequel, to hit theaters in 2014.
Halle Berry's Storm and Hugh Jackman's Wolverine became fan favorites when "X-Men" hit theaters 12 years ago. The pair later appeared together in "X2" (2003) and "X-Men: The Last Stand" (2006). They'll soon be back together on the big screen in 2014's "X-Men: Days of Future Past." (Wolverine also starred in 2009's "X-Men Origins," and even made a hilarious appearance in 2011's "X-Men: First Class.")
The late Christopher Reeve worked the Krypton native's red cape in 1978's "Superman" (and its three sequels). Brandon Routh took over in 2006's "Superman Returns," and Henry Cavill will do the honors in 2013's "Man of Steel."
Chris Evans, who first donned red, white and blue for 2011's "Captain America: The First Avenger," continued his fight against evil in 2012's "The Avengers." He'll reprise his role again in 2014's "Captain America: The Winter Soldier" and "The Avengers 2," which is expected to hit theaters in 2015.
Following Michael Keaton in 1989 (and 1992), Val Kilmer in 1995 and George Clooney in 1997, Christian Bale has been driving the Batmobile since 2005's "Batman Begins." He received rave reviews for "The Dark Knight" and "The Dark Knight Rises."
Chris Hemsworth plays Thor in the 2011 film of the same name. The actor, who also appears as the hammer-wielding Norse god in "The Avengers," will next star in "Thor: The Dark World," which is due out in November.
Lynda Carter's Wonder Woman fought crime on the small screen in "The New Adventure's of Wonder Woman," which premiered in 1975. Several "Wonder Woman" reboots have since tried and failed.
Ron Perlman went red for Guillermo del Toro's "Hellboy" in 2004 and "Hellboy II: The Golden Army" in 2008.
"Captain America" wasn't Chris Evans' first time battling evil in a form-fitting blue suit. Evans, Ioan Gruffudd, Jessica Alba and Michael Chiklis took on Victor von Doom (Julian McMahon) in 2005's "Fantastic Four." They teamed up again in the 2007 sequel to defeat the Silver Surfer.
Ryan Reynolds became the Green Lantern in 2011 and has, presumably, been fighting evil ever since.
Iron Man
The Hulk
Spider-Man
Storm and Wolverine
Superman
Captain America
Batman
Thor
Wonder Woman
Hellboy
Fantastic Four
Green Lantern
Teenage Mutant Ninja Turtles